REPORT – Normandy Business School was established in Dubai last September. An important issue for the establishment and for the United Arab Emirates, which benefits from French expertise.
Far from the grays of Caen, Le Havre or Paris, the students ofEM Normandy live a good life 7,000 kilometers from France, 60 young people inaugurated the latest jewel of the Normandy business school: the campus of Dubai, United Arab Emirates. In the "knowledge park" neighborhood, next to the "internet city" and the "media city", all higher education institutions are grouped together, such as the Australian University of Wollongong, the British Hult BS business school or the Middlesex University of London.
In total, 14,000 students live together and can benefit from a doctor's office, a pharmacy, a driving school and even a café. "It has everything you need!", explains Hendrick Lohse, development director at EM Normandie. With neighbors Google, Huawei or even Microsoft, that's all.
One bachelor and two master's degrees for 2023
On the 3rd floor of the 14th building in the area near Palm Jumeirah, the 3rd and 4th year students of the Grande Ecole program who have come on exchange attend classes, like their friends who have stayed in France, in Dublin or Oxford. Except that heating has been replaced by air conditioning and down jackets have given way to t-shirts and sunglasses. "I chose an exchange in Dubai because I wanted to stay at an EM Normandie campus. I preferred to choose the one that was further from France"shares Charlotte, 20, a 3rd year student, arrived last September.
Six classrooms make up the 1,400 m² campus, which offers a magnificent view of the prestigious 7-star Burj Al Arab hotel. Abu Dhabi, Sharjah, Ajman, Fujairah, Ras el Khaïmah and Oumm al Kaïwaïn: each named after one of the country's other six emirates.
Among these classes, the "fab lab" is equipped with various technologies: virtual reality headsets, 3D printers, modern video conferencing equipment… A "center (library), soundproof workspaces and meetings or other games . room with a keyboard, table football and a ping-pong table are available to students. One feature stands out: like all higher education institutions in the United Arab Emirates, two small prayer rooms are accessible, one for boys and the other for girls.
" READ ALSO – These French schools are set up in the United Arab Emirates
By the beginning of the next school year, nine permanent professors should make up the local faculty. In 2030, the school plans a total of twelve teacher-researchers. From the student side, bachelor in international management will open in September 2023. A few months later it will be the turn of the masters "International logistics and port management" AND international marketing and business development which will be exported to the Dubai campus headed by Khaireddine Mouakhar, previously director of the Caen campus. Barely installed, the business school is already actively preparing the continuation of the Emirates adventure. Three more masters and an MBA will be released in a few years. Also, within three years, 705 students should study in Dubai, "with 70% international and 30% mobile"says Elian Pilvin, general manager of EM Normandie.
Diversification of lessons in Dubai
For school, this institution in Dubai is promising: "The city's 300,000 residents are French-speakers and more than 600 French companies are established in the UAE. We have areas of expertise such as logistics in the port sector. And we are the first French business school to open its campus in Dubai and have accreditation from the country's federal government for our bachelor's degree."says Elian Pilvin.
" READ ALSO – Discover business school rankings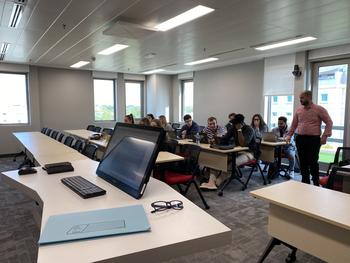 The city also sees great interest in him. For Ammar Al Malik, director of Tecom Group, owner of the "knowledge park", "Internet city" and "media city", "Having a French business school set up here promotes the diversity of education in Dubai." "We want to create an ecosystem with the best institutions for our students. The creation of EM Normandie also allows us to build relations with France», adds the Emirati, dressed in traditional dress, himself a graduate of the French management school Insead. Not to mention the importance of bringing schools and businesses closer together: "Big companies are located in front of the "knowledge park", which is an opportunity for students, but also companies looking for new talents".
A challenge for COP 28
The establishment of EM Normandie will also enable French expatriates to be able to stay close to their families for their studies. "Until now, our children returned to their country of origin to study. Now, this is no longer the case with the range of schools and universities available»says Valérie Hawley of the UAE-based French Chamber of Commerce and Industry.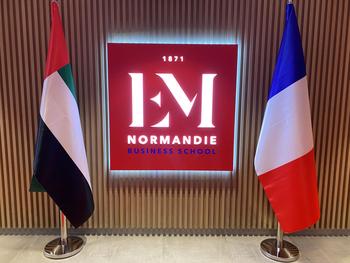 In five years, COP 28, an international conference on global climate goals, will be organized in Dubai. A challenge for the Norman school which is involved in the ecological transition. In addition, workshops will be planned on campus to support the French affiliates in Dubai in designing their governance strategy for the COP.