As the cryptocurrency market matures, education and research become an absolute must. Unfortunately, most investors succumb to the enticing promises of crypto projects without thinking about the tip of the iceberg.
Despite its growth, the crypto market is still poorly understood, making it fertile ground for misinformation and FUD (fear, uncertainty and doubt).
In 2022, CryptoLiteracy.org, a crypto education platform, tested 1,000 Americans, Brazilians, and Mexicans on their crypto knowledge. 91% of participants in the pre-test failed. The observation is clear: most investors are speculating.
This alarming situation can be explained by two things: first, many investors only think about making money as soon as possible. And the second, the crypto market is heavily influenced by social media and advertising. Therefore, most investors run the risk of pulling out at any time, which can have disastrous consequences in the market.
Hype: A Double-Edged Sword for Crypto
Just take a look at social networks to understand this Bitcoin, Ethereum and other altcoins unleash all passions. Of course, this buzz attracts investors from all over the world, but it also attracts malicious actors who seek to get rich by any means.
Contrary to popular belief, crypto is legal in most countries, but not regulated enough. So when you decide topour in in crypto, you do so at your own risk.
Between 2014 and 2018, crypto education was not accessible to everyone and most investors had to spend hours searching for answers to their questions. Today information is much more accessible and anyone can understand crypto.
Want to know everything about crypto? Consult our section "Learn" to access our latest crypto tutorials.
Crypto education is important for both the average investor and legislators. Without Crypto Education, Regulators cannot sort fact from fake. And if they continue to make decisions blindly, governments risk harming not only the crypto market and its various players, but also their own economic sovereignty.
Technological innovation also has a key role to play in crypto education. In the early 2000s, the digitization of businesses and commerce marked an entire generation. Everyone was looking to learn and benefit from what was considered a digital revolution.
However, the real digital revolution has just begun and technological innovations will allow us to take it to the next level and see crypto investing in a new light.
The importance of crypto education
Thousands of crypto projects and tokens are born every week. That's why it's more important than ever to do your research beforehandpour in. According to Report Crypto Investment Literature from Bybit and Toluna, the research methods required for a crypto investment are different from those of traditional investments.
According to data shared with BeInCrypto, of the 10,500 participants from the 19 markets studied, 1,748 present themselves as "crypto investors". The main objective of the survey was to test the level of knowledge of the participants about investing in crypto. The second objective was to know the timing and research methods used by investors.
As shown in graph below, most Americans are buying crypto without doing enough research. In effect, 64% of North Americans search less than two hours in advancepour in in crypto projects.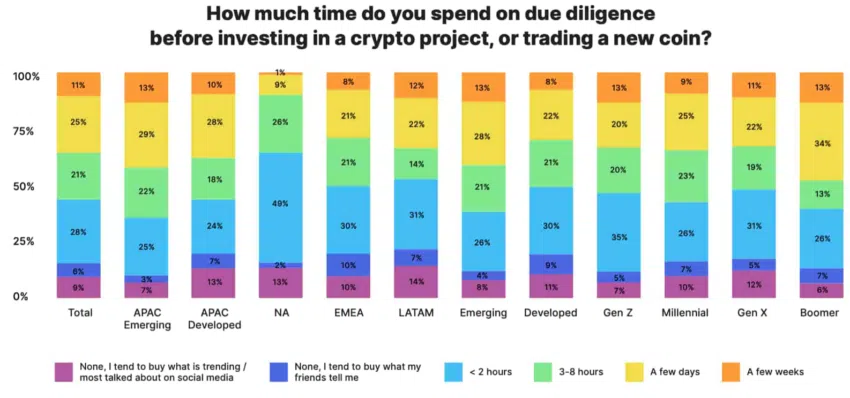 In terms of age groups, the boomers [les personnes nées entre 1946 et 1964] seem more cautious when it comes to investing in crypto. In fact, baby boomers are 20% more knowledgeable than other generations, as they pay more attention to technical aspects. According to the survey, 34% of adults spend several days researching beforehandpour in.
Similarly, many participants have made their crypto investment decisions based on factors such as the reputation of the founding team, as well as the names and credibility of those backing the project. Worse yet, only 9% to 35% of participants focused on consensus mechanism the projects in which they have invested.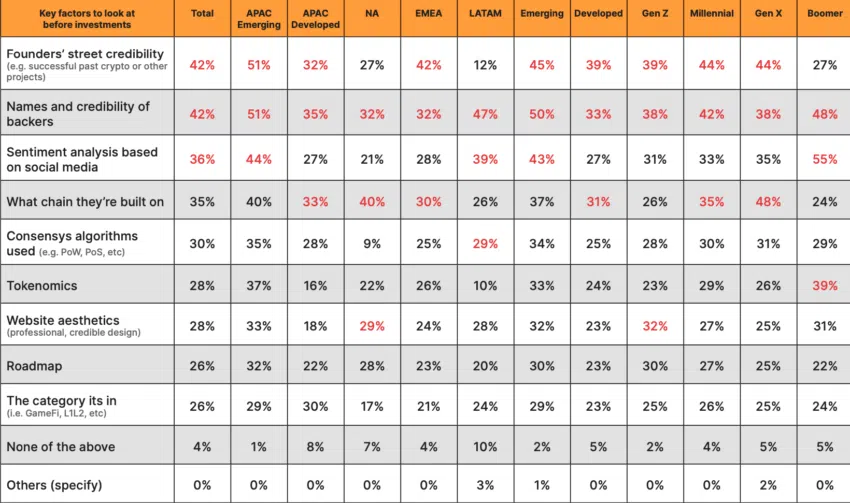 However, making a crypto investment decision based solely on the reputation of the project or its founder is a fatal mistake. FTX and its founder Sam Bankman-Fried are the perfect example. Indeed, research and education are the foundation of any crypto investment.
Moral of the story: Money is often said to be a form of power, but financial literacy is even more powerful than money.
Disclaimer
All information on our website is published in good faith and for general information purposes only. Any action taken by the reader based on the information found on our website is entirely at his own risk.