Students from engineering schools, business schools, CSR or environmental training are invited to take part in a challenge: identify a building in their neighborhood to be renovated, then propose an action plan.
This is the second edition of this competition, which the Airwell group is organizing in partnership with Agorize. Entitled #rénove ton quartier, it is about encouraging students from engineering schools, but also from business, in CSR or environmental training to think in small groups about renovating a building located near where they live.
First of all, they will have to form a small group of 2 to 5 students, then choose together one or two buildings to renovate, around their home or located in Saint-Quentin-en-Yvelines ( where the headquarters of the Airwell Group). Students have until March 6 to register and present their project. They must explain in the submitted file how the renewal of these places is important from a social, environmental or other point of view. "This may concern schools, gymnasiums, gyms… but don't hesitate to make a difference by targeting establishments that are not common to stand out!" says Airwell on the contest's website.
Students will be able to choose one of these four categories to register: sustainable renewal, solidary and inclusive renewal, innovative renewal or open category.
Ten teams will be selected to participate in the second phase of the challenge.
The second step: creating an economically sustainable action plan
The selected teams will have the opportunity for 6 weeks to deepen their reflection and create a real action plan for energy renewal in co-construction with a mentor to identify potential energy savings. This action plan should be able to convince decision makers that this renovation should benefit from subsidies. The aim is that the energy savings made thanks to this renovation can finance the work, with the help of subsidies.
From May 2 to 9, half of the teams will be selected to participate in the finals.
A grand finale on June 15 in Montigny le Bretonneux and possible hires
The five finalists will present a 10-minute presentation, followed by a 5-minute question-and-answer session to prove the technical and financial feasibility of their project to a jury of BPI members.
Students who receive the first prize will be provided with a drone per participant, the second with an electric scooter, the third with a connected watch. All candidates can be offered a job… Indeed, the Airwell group intends to recruit one of the candidates for the deployment of its new Leezy offering for communities and businesses to meet compliance issues: regulation, efficiency and savings of energy.
Airwell is also an Airwell Academy training center
For students more interested in the heating and air conditioning professions, Airwell also has its own training center in Valencia. A center that has recently integrated virtual reality in its teaching methods, thanks to a partnership that was signed during the Batimat fair in October 2022 with the startup LearnMeUp, the gold medal of the awards for innovation in the training and services category.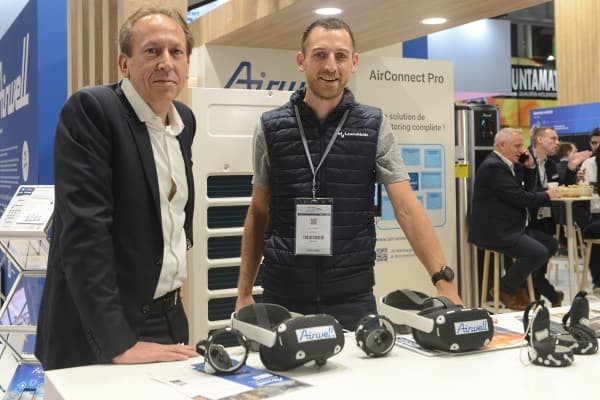 At Batimat in October 2022, Laurent Roegel, CEO of the Airwell group and Ludovic Malick, co-manager of the start-up LearnMeUp, happy with this new partnership signed during the show. Photo © Emilie Wood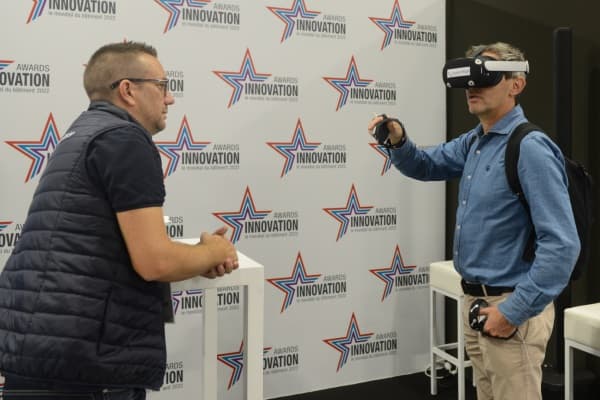 Olivier Marchi, the other manager of the startup LearnMeUp, has the virtual headset tested by Batimat visitors. © Emilie Wood
The module developed by LearnMeUp complements the practical work carried out in physics within the two Airwell Academy training centres. Virtual reality makes it especially possible for students to experience situations that would be difficult to practice in real life. In addition, virtual reality adds an enjoyable and dynamic side to training.
Airwell Academy also offers customized training trips, to a location of your choice.
Source: batirama.com / Emilie Wood / Photo Batimat 2022 © Emilie Wood