It's time to treat yourself to Orange's special sale web box promotion. For every subscription to one of the service provider's Internet subscriptions, the customer gets 6 months of free access to the Paramount+ streaming platform. Also, at the moment, all Orange fiber and ADSL boxes are on promotion for 1 year. Something to have fun without breaking the bank.
Livebox Fibre: the cheapest internet box with Paramount+ from Orange
First Orange internet box to include 6 months free access to Paramount+ is Livebox. Available in both fiber and ADSL versions, the online subscription appears at €22.99/month for one year then €41.99 (fiber) and €36.99 per month (ADSL).
It is important to note that to be eligible for the 6 months offered on Paramount+, the customer must make the request when subscribing. Also, the Paramount+ streaming platform is billed at €7.99/month after the 6 free months have passed. However, the subscription is not mandatory unlike that of Livebox which is subject to a one-year commitment obligation.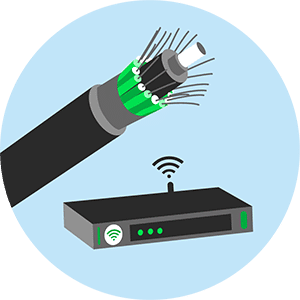 from
€22.99
Paramount+
As for the advantages of the box with Paramount+ in its fiber version, subscribers benefit from an Internet connection that can reach speeds download and upload up to 500 Mb/s. Meanwhile, the wireless connection is of very good quality as it is based on the Wi-Fi 5 standard.
Users also enjoy other benefits such as unlimited phone on landlines and Orange TV with a bouquet of 140 channels. These are included with the on-demand 4K Ultra HD decoder.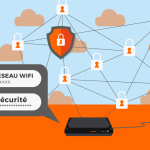 Read also
How to change the Orange WiFi password of your Livebox?
Read more
For individuals who wish improve their internet connection at home taking advantage of the Paramount+ series and movie catalog, there are still two boxes on sale at Orange: Livebox Up and Livebox Max. In their fiber version, these two internet offers include increased theoretical speeds.
In addition, if Paramount+ is always free for 6 months, these two internet boxes also require a 12-month commitment. Go back to the upgrades of each of these boxes on sale.
from
€29.99
with Paramount+
The first internet box to offer increased speed on Orange is Livebox Up. Downlink users get up to 2 Gb/s shared and uplink users get up to 600 Mb/s. a Wi-Fi 6 repeater is shipped to the customer, if required. This promotional box is available from €29.99/month for one year and then €49.99 per month.
Finally, the latest internet box with Paramount+ from Orange is called Livebox Max. This subscription offers the best of fiber optics with speed up to 2 Gb/s in Download and 800 Mb/s in Upload. In addition, the online subscription includes the new Livebox 6 with Wi-Fi 6E. In fact, in addition to enjoying an ultra-fast wired connection, users benefit from the best of wireless connections. This online offer appears at €34.99/month for the first year and €54.99 per month thereafter. This is the premium offering with the most features and the best performance available from Orange.
Summary of the advantages of boxes with Paramount+ from Orange:
enjoy Paramount+ series and movies for 6 months for free;

benefit from a reduced price for one year;

three boxes for sale for different needs;

unlimited phone;

Orange TV with 140 channels.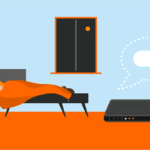 Read also
Orange Internet Box: How to set up your Livebox?
Read more
Learn more about affiliate links
Our team selects the best offers for you. Some links are tracked and may generate a commission for MySmallPackage without affecting the price of your subscription. Prices are for information only and are subject to change. Sponsored articles are identified. Click here for more information.