By Clotilde Chenevoy | of
| The whole channel
Republik Retail surveyed the innovation lab at the Retail Big Show. Discover our selection of startups that bring a little extra to make commerce more interactive and efficient.
Booth.ai uses Generative AI to industrialize the production of visuals
Generative AI is one of the new technologies that will truly shake up the retail world. Midjourney is one of the solutions that has caused the biggest ink leak and allows from a text – a request according to the jargon – to create images. The solution will dig into its databases. In the Innovation Lab, Booth.ai has leveraged generative AI to help brands and retailers easily create visuals to showcase their products. The platform has an image library that will be referenced with product images. Thus, creation time is minimized for brands and thus customers have more photos to project themselves.
Byondxr builds virtual stores
The Metaverse is one of NRF's strongest subjects. Byondxr is part of this trend and has developed a solution to create virtual stores that allow you to discover products in a more immersive way, without having to use a virtual reality headset. Printemps had tested this principle last year. Byondxr already works with big names including L'Oréal, which for example has created more than 40 Lancôme affiliated stores in 40 countries.
To create a digital point of sale, brands and retailers can take inspiration from the current stores they have or completely renovate. Once the "hull" has been determined, it is also necessary to recreate online courses in order to present the products in a new, more playful way. The product sheet should also be redesigned in form and content. The price of the project will also depend on the number of items that will be made clickable. The end of the customer journey resumes in an e-commerce site logic, with a classic purchase. Byondxr announces about 3 months to create a virtual store.
Squadded facilitates social shopping among consumers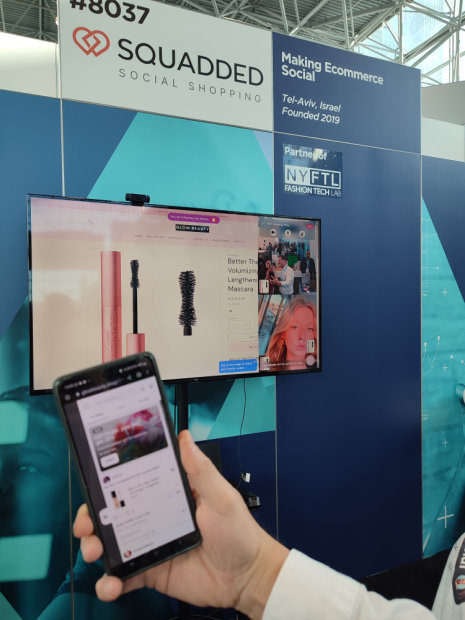 Squadded is a social commerce platform that facilitates exchanges between consumers by mixing direct and social shopping and allows you to bet on UGC: User Generated Content. This customer-pleasing content helps improve online conversion rates. In the case of Squadded, brands can grant the right (or privilege) to customers who are fans of the brand to become influencers on their page. They then have a guardian solution to create their live which will be hosted on the brand's website. Customers can watch these videos live or on replay and also subscribe to ambassadors they like. It is possible to create private or public groups, with 5 people living at the same time and up to 1000 connections to view the images. The price consists of a monthly subscription with a variable cost depending on the volume.
BigThinx turns customers into avatars
To make online shopping more fun, BigThinx lets you transform customers from photos to avatars. Specifically, two full-length photos and one face photo are required. After this operation is performed, the customer sees himself walking through the virtual store. But the big feature of BigThinx's technology is its avatar trying on clothes. A more fun way to discover products.
Tronic switches loyalty programs to NFT
After the metaverse, NFTs are another hot topic at NRF. Tronic has created a platform for brands to take their loyalty program into the world of web3 and NFT. The loyalty card is kept in a wallet. The advantage of this solution compared to the classic model is that it is possible to know through the portfolio the other NFTs that the client has and in this way to deduce his passions or other brands that he values. Everything is GDPR compliant because there is no personal data about the customer, we are on the mark. Tronic also offers a module so that the wallet is also an access key to the brand's e-commerce site.
Arht Media creates interactive holograms
Arht Media has created a solution to create interactive holograms in minutes. On one side, the person who will become a hologram must stand on a white background with a camera in front of him. On the other hand, there is some kind of box connected to the Internet and with a plug which reproduces the image in holographic form. Streaming is instant. In the famous holographic receivers there is a camera and a microphone, which makes it possible to create an interaction and an exchange. This device, which costs $65,000, can be used to organize flags or even conduct remote training. Arht Media has already installed its solution in Italy and the United States.
Hivery uses AI and data to tailor the assortment locally
Hivery has created a platform that helps category managers perfect their assortments for each store, or by creating groups of points of sale. To do this, the solution relies on weekly sales histories, product attributes and store planograms. Hivery blends its three data sets to identify which items should be placed at the point of sale and in what quantities. The system takes into account additional rules to reflect its trading strategy, such as allowing 30% space for his brand.
Lisa offers low-code social commerce
Lisa, a German start-up already working with Zalando, has created a solution to add live streaming to an e-commerce site in low-code mode. The start-up announces that it has in stock all possible scenarios to facilitate the deployment of this service without asking too much of the IT Department. Moreover, according to the founders, one of the distinguishing points compared to other social commerce solutions is that the customer never leaves the video stream, so as not to lose the relationship with him. An especially important point when you are on a mobile navigation. Thus, if during a live, the user wants to consult a product sheet, the tool displays the information on the images of the live stream. Lisa's pricing breaks down with a monthly license and a variable depending on volume.
Fit Match creates avatars to help with size selection
Fit Match relies on 3D to help customers find the right product size. The start-up has created an algorithm that analyzes images captured with a smartphone and thus generates an avatar. These measurements are then compared to a brand's catalog to provide a size and product recommendation. The startup claims a 4x higher conversion rate with its solution.
Fit Match is currently running a test with Macy's which offers in its underwear section to find out their bra size. Two scenarios are possible. The operation is done with a seller holding the smartphone, while the customer is in underwear. And through Fit:Match Self integrated into the Macy's app, customers can independently create their own avatar.