Speeds, latency… the latest nPerf barometer of mobile internet connections lets us learn more about the performance of operators.
nPerf publishes its barometer of mobile internet connections in mainland France. The opportunity to take stock of the operators' performance in 2022, and therefore to find out who is starting 2023 on top. The specialist is interested in the performance of the mobile networks of each operator, namely Bouygues Telecom, Free, Orange and SFR. It will give a score to each one, based on various criteria: success rate, speed, latency, navigation and YouTube video streaming.
Once again, Orange is the operator that offers the best mobile internet performance. He received a score of 92,088 nPoints, having a relatively comfortable lead over his followers. The incumbent has topped this barometer for the sixth year in a row since nPerf publishes its own barometers.
The best 2G – 5G network in France is in Orange
According to nPerf, Orange has the best mobile network of all technologies (from 2G to 5G). The carrier does better than its rivals in almost every area measured except latency. Bouygues Telecom with 34.11 ms and SFR (34.96 ms) do better than Orange, while free it is at a good distance (43.02 ms).
On the speed side, Orange is widening the gap with downlink speeds (Download) average speed of 96.10 Mb/s. The same observation for average upload speed (Upload), which reaches 13.10 Mb/s. The operator has the highest percentage of success (89.23%) and the best percentages in browsing (74.54%) and video streaming on YouTube (85. 05%).
Gaps are closing
From a general perspective, nPerf notes that the effects of 5G "Still feeling clear". The latest generation of the mobile network improves the speed, latency and quality of surfing and streaming (on YouTube). A valuable trend for the four operators who are all improving their performance.
There is a 43% increase in download speed, from 58.75 Mb/s to 84.01 Mb/s. A strong increase was observed in the first half of 2022, while the results tend to "to be decided in the second half of 2022". It will be interesting to follow the progress over the next year, and especially to see if uploading progresses. Although upload speeds have improved (+22%), operators are struggling to break the 10 Mb/s average, all technologies combined.
The awakening of 5G
Along with speeds, latency appears to be 5G's strong point. The fifth generation promises very short latency times which should allow access to new uses. 5G is sometimes dreamed up as an alternative to fiber, but this nPerf study confirms that it still has a long way to go. In cellular networks, latencies are about 3 times higher than FFTH networks, at 30 ms versus 10 ms in FTTH. While an improvement in overall latency times (+10%) has been observed, 5G connections are still not reaching their full potential.
Rightly, nPerf reminds that the current 5G is still based on 4G and its non-independent architecture. In the coming months and years, it will be interesting to check whether 5G keeps its promises with the deployment of "independent" (independent) networks.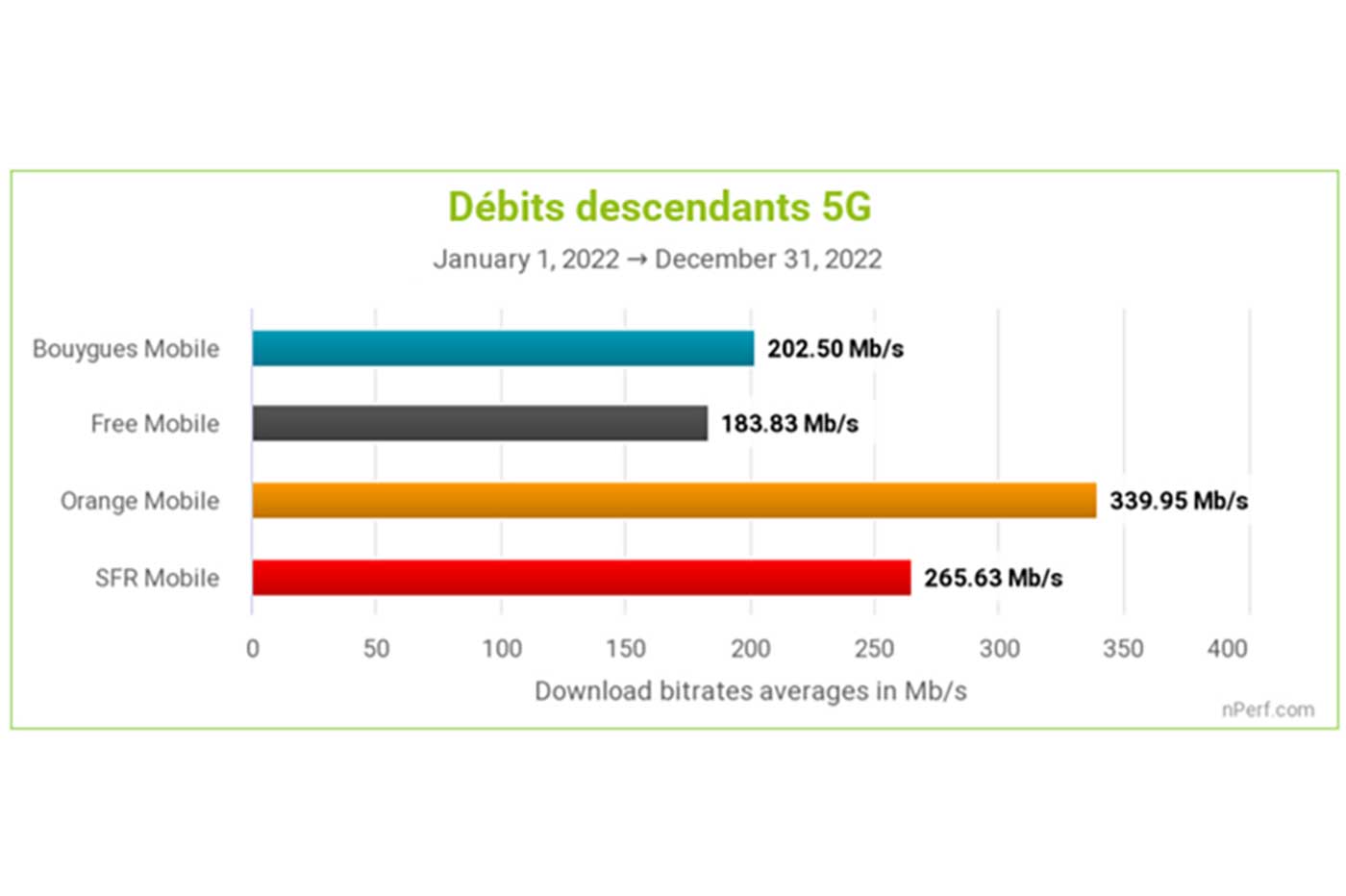 The barometer also offers a zoom in on 5G, focusing specifically on downlink speeds. At this point, Orange confirms its lead with an average download speed of 339.95 Mb/s, while its closest follower (SFR) shows 265.63 Mb/s.in duty it also gets the best nPerf 5G score with 124,046 nPoints, but it's far from surpassing its competitors. SFR ranks second (122,073 nPoints) while Bouygues Telecom is not far behind, accumulating 121,804 nPoints. The latter even outperforms Orange in four categories (loading speed, latency, navigation and YouTube video streaming).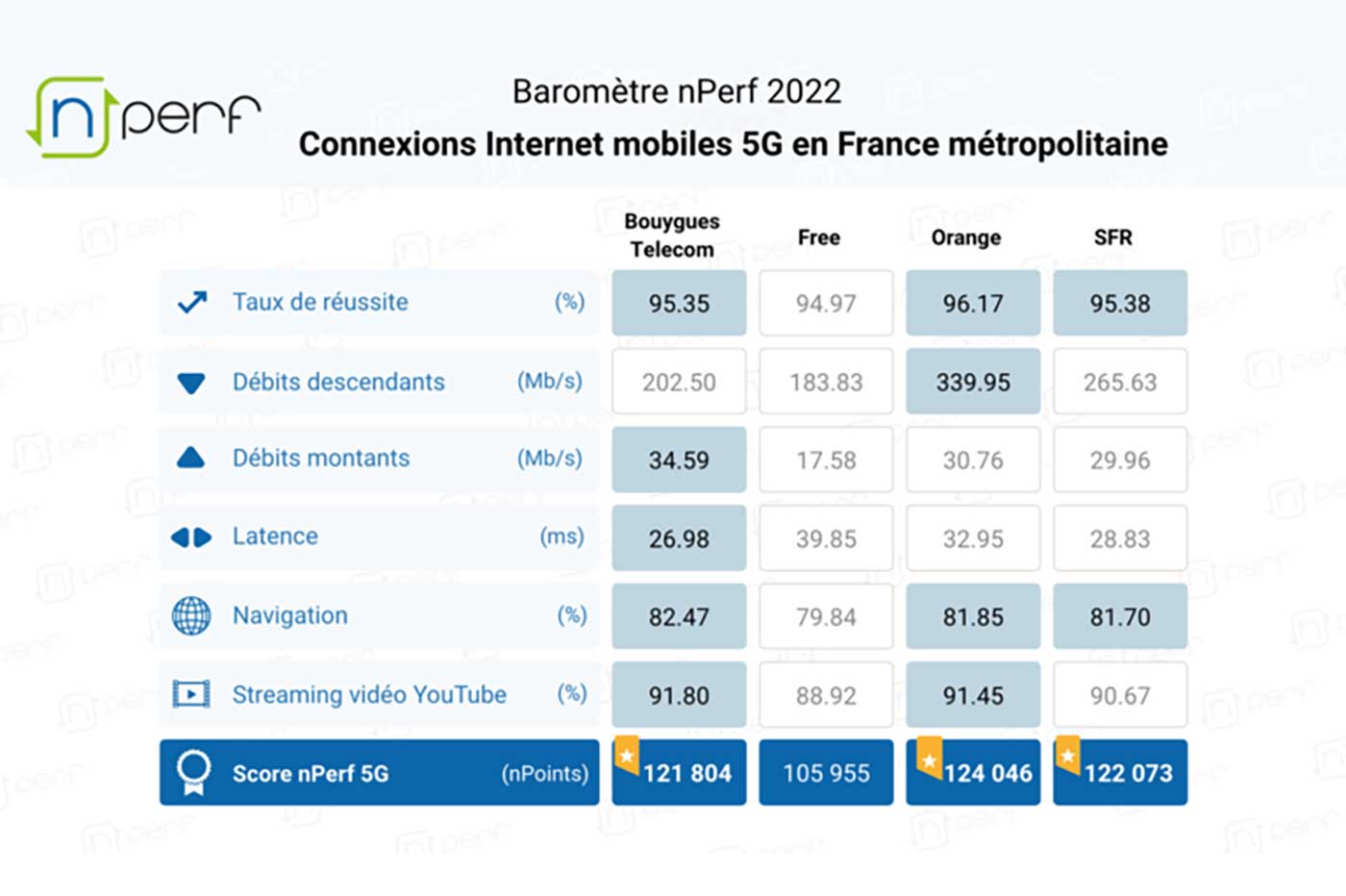 Falas, which has the largest number of 5G antennas activated in France, is dead last.
What to expect in 2023?
Impressive in downstream 5G speeds, Orange is still on top. The incumbent, however, sees competition closing in and years of unchallenged dominance seem behind him. Indeed, nPerf notes that Orange is being tracked by at least one operator for every use. Free is getting closer to downlink and uplink speeds, while Bouygues Telecom is responsible for latency and throughput. Promises to be confirmed so that Orange can be dethroned.
*To establish its 2022 barometer, nPerf relies on a total of 1,203,476 speed tests, 514,067 browsing tests, and 478,000 YouTube streaming tests. Significance filtering was applied to avoid any bias in the study. All barometer details are available here (PDF).