A first-class international meeting place, Fipadoc has become an international reference point for documentaries in 5 years. Its next edition will be even more important as it inaugurates the Documentary Year, a system initiated by CNC and Scam which will unfold over 12 months.
Laurent Boutonnat, CNC president, officiates the launch of the documentary year © Nathalie Klimberg
Launched on January 24, this Documentary Year will honor a television and film genre supported by the institution in the amount of 70 million euros per year.
Laurent Boutonnat, CNC president at the opening of the press conference that introduced the 2023 meeting recalled that "the documentary is carried by a sector of excellence with ambitious and essential projects to enlighten our society".
An outstanding edition of 2023 in several respects…
The impact of the Festival continues to expand as it registers this year +20% registered films +30% international films.
SPI and Uspa have also become full financial partners of this Biarritz meeting, which will offer an expanded format from January 20 to 28, to meet public demand and professional enthusiasm.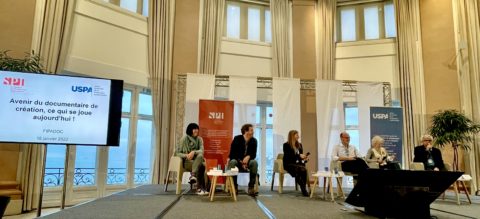 The new partners also received three Festival awards: INA-madele for the audience award, Enedis for the short film award and France Médias Monde for the Young Creation Award.
This fifth edition will present a total of five new series and one hundred and seventy-seven documentary works: 100 films, 5 new documentary series and 4 online documentary series, 25 short films and 25 digital experiences. It will also expand in terms of formats, in the sense that it will explore all forms of documentary narrative: from cinema, television and series, to virtual reality, podcasts and even the connection to music creation.
"The documentary uses all the grammar of cinema and expresses itself in a multitude of forms incredible allowing him to touch the heart of our societies. We wanted FIPADOC to embody the environment for this property and meeting place", recalls Anne GEORGET, President of FIPADOC.
FIPADOC's European commitment will be confirmed with a Territory FOCUS dedicated this year to the Baltic States (Estonia, Latvia, Lithuania) and Finland, which will reveal the documentary wealth of this region. Ukraine will also be the guest of honor of FIPADOC withThe VISIONS D'UKRAINE selection was presented out of competition.
Four professional days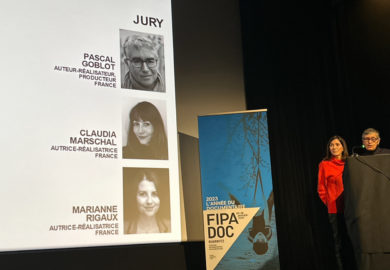 In their 5th edition and on the occasion of the Year of Documentary, FIPADOC Professional Days, which take place from January 23 to 26, are enriched with new equipment to meet the expectations of different professions, closer to the challenges of industry. …
The meeting will strengthen its awareness and information approach regarding Impact strategies with the collaboration of Think Film and thanks to the new support of ADEME. The IMPACT Lab will support six projects in defining an IMPACT strategy and campaign.
– For the first time, a prize of 3,000 Swiss francs will be awarded to the best project by the Storyboard Collective Foundation.
– A roundtable on funding IMPACT campaigns will also be the occasion to announce financial support for impact strategies.
FIPADOC will also offer a spotlight on the short documentary film ecosystem with a round table which will present its challenges and the main players (CNC, regional funds, festivals, broadcasters), through several case studies. This roundtable will conclude with a presentation by OP DOCS (New York Times) and LYFTA (Finland), in English.
In another area, for the first time a roundtable will address directors directly from the point of view of story and artistic and creative matters. Musical creation will also be honored for the first time with the Crescendo… Alongside the Music Documentary Competition, La Sacem and La maison du Film are launching this unique operation at FIPADOC to promote film music composers. If the winners will come and present their musical universe to film and audiovisual professionals.
This edition will also inaugurate the first social meetings of the documentary in partnership with: AUDIENS, AFDAS and Thalie Santé.
Always a place for immersive experiences…
The public and professionals will be able to find the SMART space in Bellevue dedicated to the discovery of 25 digital documentary experiences (VR, AR, 360, etc.). This year, they will also be able to participate in Gaudi – l'atelier du divin, a fantastic virtual reality device presented outside the competition.
Fipadoc 2023 – January 20 to 28 – Professional day from January 23 to 26
Information and registration here