At the beginning of the year, Internet users are particularly interested in artificial intelligence. If for many it was just a concept, with ChatGPT, users will discover the practical side of AI. It is also interesting to see that this trend has spread quickly in the crypto world. Thus, for almost a week, we have observed a dizzying growth of cryptocurrencies related to artificial intelligence.
Signs of AI: Points of Tomorrow?
AI tokens are popular in the crypto market right now. Many projects related to the topic have seen huge increases in the market in recent days.
This situation is the result of a new trend that has dominated the technological landscape for a few days. In effect, Internet users would have fallen in love with a prototype chat agent that uses AI, ChatGPT. Tech giants are also of the capabilities and capabilities of this tool. Yesterday, the giant Microsoft announced that it wants pour in $10 billion in ChatGPT.
In our first weekly tops and flops section cryptocurrencies of the year, two AI-powered altcoins were the top performers last week. Fetch.ai (FET) surged 67.65% in 7 days while SingularityNet (AGIX) gained 47.14% over the same period.
This observation is reinforced when we move to the category " AI and Big Data on the CoinmarketCap data aggregator. We can see that the average price of AI tokens has increased by 7.75% over the last 24 hours.
The Artificial Intelligence Liquid project is also going great. In the daily data, the crypto would have already advanced by 96.3%. Similarly, the trading volume increased by a staggering 1018.71% on the day.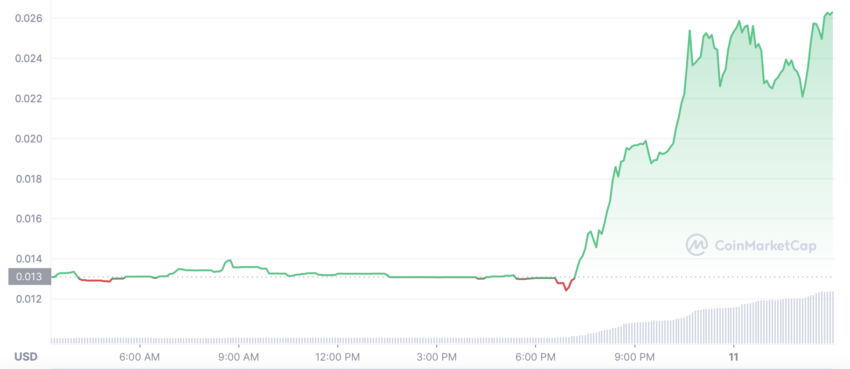 By the way, Artificial Intelligence Liquid defines itself as a project that wants to develop a decentralized protocol that allows the creation of an intelligent metaverse inhabited by NFT interactive and intelligent (iNFTs).
Will this trend last?
The performance of AI tokens has not only been driven by the hype around ChatGPT; An important role in their growth was also played by the general technical recovery of the market. However, the sustainability of the performance of these altcoins will depend on the continuation of the trend of enthusiasm for artificial intelligence, but also on the evolution of prices in the cryptocurrency market. The effect of the second factor is even more important when we know that crypto-assets have been evolving in the bear market for almost 14 months.
However, AI tokens are likely to remain very promising cryptocurrencies because artificial intelligence, machine learning and other automated computing techniques represent the future of the tech world.
The moral of the story : After DeFi, the metaverse and gaming altcoins, AI tokens may be the next to shine.
Disclaimer
All information on our website is published in good faith and for general information purposes only. Any action taken by the reader based on the information found on our website is entirely at his own risk.