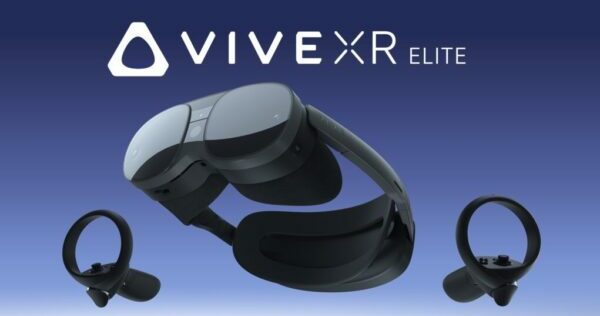 VIVE XR ELITE
HTC VIVE continues to push the boundaries of innovation, revealing today its new all-in-one consumer flagship, the VIVE XR Elite. This helmet combines skills needed for mixed reality (MR) and virtual reality (VR) in a compact, lightweight, powerful and highly versatile device: perfect for gaming, fitness, work and more.
"The VIVE XR Elite represents the next step in the progression towards the fully immersive web, going beyond today's virtual reality with mixed reality video content to open up a new dimension of realism in learning and play," says Cher Wang, co-founder. and president of HTC Corp. "This advanced yet compact device offers the best of all worlds to consumers, providing the ideal physical gateway to the universe of experiences offered by VIVERSE, our version of the metaverse, with the widest variety of content, up to all standards latest like WiFi. 6E."
The VIVE XR Elite includes an RGB color camera and a handheld tracking system, which enables a whole new dimension of MR scenarios. And so many possibilities:
Play games where the characters run over the furniture in his house
Have real-time overlays on musical instruments like piano so you can learn
Have the ultimate workstation with multiple virtual screens while still being able to use your real-world keyboard and mouse.
Comprehensive content for everyone
VIVE XR Elite offers the largest set of launch titles ever from HTC VIVE, with 100 new MR and VR content at launch. New and more classic games will be available: Demeo, Hubris, Yuki, Maestro, Les Mills Body Combat, FigminXR, Unplugged, Finger Gun and many more. After launch, there will be new content like Everslaught: Invasion and later in the year full MR games like Eggscape.
VIVE XR Elite can easily connect to a PC via USB-C to access PCVR content from VIVEPORT and Steam. It also supports wireless PC streaming via WiFi or the latest generation – WiFi 6E with low latency and breathtaking graphics.
It's also possible to wirelessly stream content from a compatible Android phone to the VIVE XR Elite, opening up a whole new world of entertainment. Through the headset, the user will be able to watch on his personal 300-inch cinema screen. This includes services like Netflix and Disney+ or games like Fortnite. A Bluetooth controller can be connected to his phone for a complete gaming experience.
Powerful, versatile, comprehensive.
VIVE XR Elite takes versatility to a whole new level. It has a stylish modular design that can easily be transformed into a pair of glasses – just remove the battery and install the VIVE XR Elite temple pads. The physical configuration can be changed to best suit the user's situation, be it at home, in the office or on an airplane.
Thanks to the redesigned hinge, the elongated temples of the VIVE XR Elite adapt to the shape of the head both at the front and at the back. The USB-C connection cable is on the right side, for easy connection to a power source such as a battery or airplane seat.
Intuitive control with precise tracking
The headset has all the necessary features to provide an optimal experience in both VR and MR:
Four cameras with a wide field of view,
An exceptional spatial accuracy of 6DoF,
A depth sensor,
hand tracking,
Capacitive detection of finger movements in the controller
The VIVE XR Elite features both physical controllers and hand tracking, providing the precision essential for gaming, productivity and even learning scenarios. The VIVE hand tracker is also compatible with hand tracking, or can be linked to objects you want to track on the XR.
Compact design, superior performance
The visual impact is clear with a wide 110 field of view, 4K resolution translating into a crisp image, all running at a 90 Hz refresh rate. VIVE XR Elite features adjustable lenses so everyone can enjoy a clear image with greater comfort. An integrated adjustable IPD slider located on the outside of the helmet allows you to find your ideal fit without removing the helmet.
With its compact design, VIVE XR Elite strikes the perfect balance between comfort and performance. The complete helmet weighs only 625g including the battery which is placed at the back for balance and is curved for optimal comfort. Provides up to two hours of full XR use. Portable, it's hot swappable for a seamless experience. It has a 30-watt fast charging system and charges with USB-C power.
The battery also has a removable fabric gasket, attached with magnets to make it easy to clean or replace with a new gasket. The sound is enhanced by the addition of larger drivers that allow for more immersion with improved bass, better balance, and more precise driving sound, not to mention better clarity for the best sound experience ever on the XR. And this, without external solutions.
VIVE XR Elite marks HTC VIVE's continued commitment to corporate social responsibility. Its environmentally friendly packaging is made with 99.9% paper, 99% recycled materials and is 100% recyclable.
Enter VIVERSE.
VIVE XR Elite brings together the best of HTC VIVE's hardware and software innovation to dive right into XR with VIVERSE, making the experience easier and more immersive.
The user starts in a customizable two-story social space that acts as a launching pad for their adventures – just look at the shelf in their space to launch their favorite XR games and experiences or look at the paintings on the wall and use them as portals to new worlds. A dedicated living space allows you to invite your friends to spend time together and, to maintain the balance between professional and private life, it is possible to go to the second floor to consult your agenda for the day. HTC is working with various technology and content partners to bring to life its vision of an open, interactive and imaginative VIVERSE.
Development and optimization of VIVERSE
VIVERSE continues to show leadership by supporting the OpenXR and WebXR standards and is accessible from a wide range of connected devices that support a web browser. HTC has partnered with character creation company VRoid Studios, which makes it easy to integrate avatars into VIVERSE using the open VRM standard. The Sketchfab 3D modeling platform is another technology partner, which allows users to import a wide range of 3D objects for free into their VIVERSE home base.
HTC is also collaborating with Lamina1 to accelerate the realization of an open metaverse ecosystem for our company. HTC's Viverse platform will use Lamina1's layer 1 tools to enable more efficient distribution and management of assets across worlds and platforms so that users can carry their digital assets (avatars, clothing, works of art, etc.) .) as they cross the metaverse. Lamina1 was co-founded by Snow Crash author Neal Stephenson, who coined the term "metaverse" in the early 90s, and crypto pioneer Peter Vessenes.
From €1,399.00
The VIVE XR Elite is available for pre-order starting January 5 via vive.com and participating authorized resellers. Delivery of pre-orders is expected to begin in late February.
The VIVE XR Elite comes with the headset, 2 controllers and the headset battery holder. The latest HTC VIVE headset has been launched with a promotional offer of an XR game/content bundle.
The VIVE XR Elite will also be available for professional users. More information will be released later this year, and HTC VIVE will also launch a face and eye tracking tool in 2023.
SOURCE: PRESS RELEASE – MONET RP