Electric vehicle architecture reduces the need for front grilles and frees up space for designers to assert their style and brand through lighting.
And because the car, increasingly autonomous, will have to communicate with its environment, lighting will be an increasingly essential lever in the years to come. Clear, real-time information can be shared with other users through smart pixel surfaces. They make it possible, for example, to inform users about the vehicle's charge level or even, in the future, to provide information on traffic conditions. This information will be transmitted inside the vehicle to warn the driver in the event of an emergency using light signals.
Comprehensive onboard experience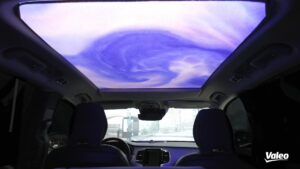 Another immersive experience offered to the visitor: the entrance a vehicle whose lighting transforms the on-board experience.
Interior lighting reinvents itself and extends across all surfaces to create a more immersive experience for passengers. It has many uses: providing navigation information, visualizing music, creating personalized and relaxing atmospheres… Immersion is possible thanks to a polysensory approach (sight, sound, touch).
The immersive interior facade – award-winning technology at CES 2023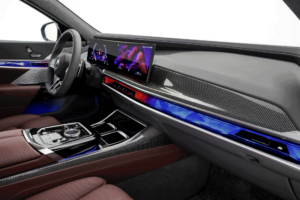 Interactivity and safety are at the heart of this unique crystal-shaped decoration system, which integrates a human-machine interface, dynamic lighting and backlight solutions. When the system is activated, the "metal" decor becomes transparent and the interactive interface appears. Lighting is used to create ambiance with animations and also includes features for greater safety, such as warning signals. The system has a metallic appearance when turned off and a brilliant diamond appearance when turned on. The attractive design and combination of features provide a very specific and influential brand signature.
Thermal systems of data centers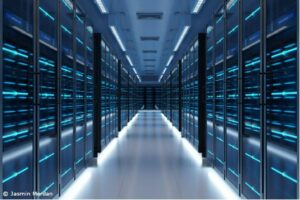 Data centers are experiencing double-digit growth, driven by the development of 5G, artificial intelligence, cloud, gaming, streaming and even data management.
With its expertise in battery cooling systems, of which it is the world leader, Valeo announces an agreement with ZutaCore to study and industrialize a new method of cooling data centers in order to increase their performance and reduce the environmental impact of data centers. This solution can consume up to 5 times less energy than air cooling solutions and would make it possible to integrate 5 times more computing power in a given volume.
Smart Pole: French Tech is building the city of tomorrow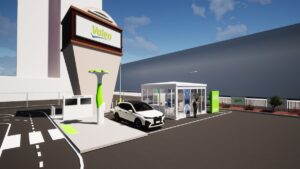 Valeo is presenting for the first time a smart bollard at CES, an innovative concept created with its partners Equans, GHM, Eclatec and Lacroix City, to make movement safer for all users of the city of tomorrow: pedestrians, droids, autonomous ships, micro. -mobility…
The city of tomorrow will be greener and smarter.
Ultrasonic sensor belt, smart lighting including ground projection, charging station, composite material, etc. Smart Pole is a concentration of sensors and technologies, which allows detection of the environment around the pole, intelligent lighting of public space (adapted to the real need), ensuring the passage of pedestrians in urban areas.
lidar