Reduced production in the EU, the importance of sustainability, milk prices higher than in recent years, global production and consumption driven by developing countries, demand for quality European dairy products: find the EU Commission's market forecasts of milk until 2032.
The European Commission provides, in its agricultural perspective 2022-2032, its forecasts for the milk and milk products market for the next ten years. For this, he first recalls the transformations that have marked the sector during the last ten years within the EU: strong intensification and specialization, which have led to a 20% increase in productivity average dairy cow.
They have been accompanied by an expansion of farms (58 cows per farm in 2020, compared to 38 in 2010) and a reduction in the dairy herd, an increase in dependence on purchased feed, a decrease in labor demand, more controlled production (milking robots, automated feeding, etc.).
Sustainability, animal welfare, health and quality concerns have dictated consumer choices in recent years, leading to the rise of alternative production systems. And "these sustainability factors are expected to continue to shape EU milk production over the next ten years", with a growing organic or non-GMO systemsstates the report of the Commission.
It predicts a 10% decline in the dairy herd between 2022 and 2032, particularly in intensive systems, particularly "due to environmental concerns". Increased scrutiny of animal welfare "can lead to better animal care and contribute to increasing productivity ". This would reach 0.9%, twice less than between 2012 and 2022.
Towards a decline in EU production and a new price equilibrium
But increased yields are unlikely to compensate for reduced herds, so "total milk production in the EU could down 0.2% per year until 2032″. The decline should be greater for the more developed countries of the Union.
Most of this production must be converted into cheese and whey powder. Community consumption is expected to increase for cheese, new fresh dairy products and whey used in food, while it may remain stable for butter and shortening.
€450/1000 l for the average price until 2032
Yes for PRICE ? According to the Commission, the market will establish a new equilibrium in dairy product prices around 2025 and they will rise again within the EU thereafter. The prices of cheese and whey powder lead (respectively + 0.7% and + 2.4% per year compared to the high prices of 2020-2022).
"This would allow the price of raw milk to find a new balance, between the current records and the average of previous years", €450/1000l on average until 2032″, and to "cover rising costs by creating added value through differentiated products".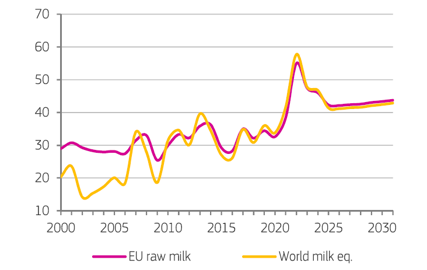 The EU must maintain its place in the global milk trade
As in the decade 2012-2022, world milk production should increase annually by approximately 2% per year between now and 2032. The decline in European production will be offset by the development of production in Asian and African countries, thanks to "increasing of their livestock and improving productivity" to increase their self-sufficiency.
Africa must consume nine times more dairy products than it did during the decade ending, in relation to its "increasing population and incomes"; a significant increase in consumption (+35%) is also expected in Asia, excluding Japan and China.
On the trade side, the European Union and New Zealand will remain the largest exporters (24% market share each) and the US will strengthen its third position thanks to increased milk production by 2032. Countries that import milk products will remain so, but slightly less than before thanks to the increase in their domestic production. it global decline in imports promises to be particularly important for powders (2.3 points for fat-free powder and – 2.1 for fatty powder).
World exports of cheese, whey and butter, on the other hand, could increase. Finally, the Commission emphasizes that medium-term income growth and global awareness of sustainability issueshealth and food quality should "stimulate demand for high-quality dairy products" in Europe.