As part of the K-Metaverse 2022, we interviewed several startups in the world of VR, AR and XR. Metaverse Content Global Cooperation is a project supported by South Korea's Ministry of Science and ICT so that national metaverse companies can expand internationally. The second company we came across is Zion Network. or beginning Korea offering medical training and first aid in VR.
What is the Zion Network?
The Zion Network was founded in 2015 by content planners, designers and developers. Zion Network is a small but strong startup that has so far created sustainable content turning it into a 150,000 Euro company in 2017. Zion Network has built their skills by creating over 100 virtual reality and augmented reality content before being selected as a UNITY ITP company in 2022.
It is a company that has strengthened its internal stability through various collaborations with the government. They have a patent and an application related to augmented reality. A type of patent related to the user's location database. And two types of applications related to hand tracking and voice recognition in the field of virtual reality. Currently, the main business is medical education VR content based on hand tracking and mobile AR content based on motion recognition.
Why is Zion Network a unique solution?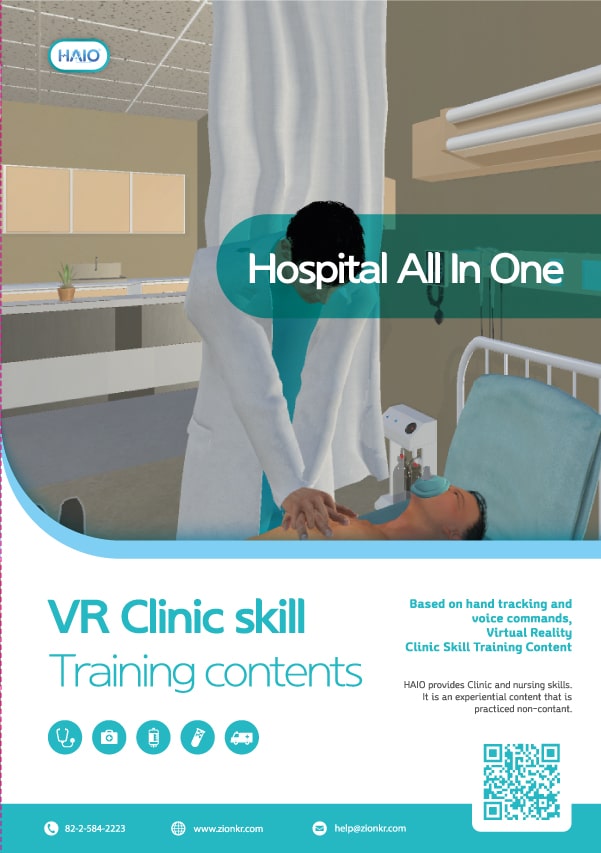 Zion Network's primary business targets are medical and nursing colleges and hospitals. Their product is indeed HAIO (Hospital All In One). HAIO is VR content with voice recognition and hand tracking technology, which was produced as a solution for distance practice in medical and nursing schools after the outbreak of COVID-19.
HAIO's basic video training is CPR (Cardio Pulmonary Resuscitation) training for a patient who was taken to the hospital, saved from choking, but unconscious. Students will have to deal with emergencies that come in the virtual emergency room in VR. They will be immersed in a practical environment similar to a real hospital, which is completely different from general university training. Based on voice recognition, the virtual characters will instantly respond to the student's instructions. And finally, the user will be trained to handle emergency situations.
HAIO hand tracking technology recognizes finger joints, so a controller is not required. In this way, users can use their hand freely. This allows for an even more comprehensive workout.
Zion Network is in discussions to produce sepsis content with the Mayo Clinic in Minnesota, USA.
We want to contribute to the educational environment that favors medical personnel in many countries such as USA, UK and Germany. We are looking for partners or buyers from medical/nursing schools, hospitals and medical device companies.
The global medical industry predicts that the content market of virtual reality will grow by 42% by 2024 and that it will form a market of 1.7 billion dollars by 2024. HAIO's goal is to supply 650 medical schools worldwide. The basic content of HAIO is BLS RCR. By 2023, the company aims to sell $150,000 to more than 70 medical schools worldwide.