Canadian consulting firm GSS combines predictive technologies and collaborative design in its projects to solve complex challenges and improve lives.
An engineering consulting firm that translates innovation into concrete solutions
GSS consulting company, founded in 2005 in the greater Montreal area, provides services primarily in North America. It supports its clients in their optimization efforts within two types of projects: infrastructure modernization and operations management. Thus, it aims to improve the conditions of users and workers, while developing efficient systems in the long term. To do this, it proceeds in three iterative phases: design, simulation, then deployment accompanied by organizational learning.
GSS promotes the values ​​of integrity, respect and solidarity, taking an objective look at systems and operations, and relying on collective intelligence to develop solutions. It is perceived as an innovative company, both through its advanced technological tools and through its collaborative intervention approach that facilitates the sustainability of established solutions. She works in particular with universities and applied research laboratories in collaborative design and artificial intelligence. GSS is also about "quality by design", a systems approach that aims to identify the root causes of problems at the design level, rather than only and continuously addressing the symptoms.
Health system capacity issues
Before the pandemic, in Quebec and Canada, the health system was already experiencing capacity problems, both in terms of manpower and space. Several factors contribute to this: the aging of the population, the increase in the prevalence of chronic diseases and cancers, progress in medicine in terms of treatment and diagnosis, but also gaps in the design of spaces.
The pandemic has forced, in an accelerated manner, a rapid reorganization and adaptation of spaces, highlighting the importance of patient circles and the division of clientele. However, these operational issues must be considered during the design phase.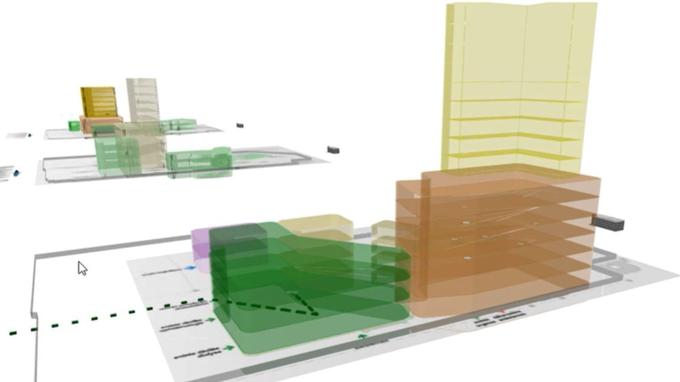 GSS and collaborative design
GSS proposes that when designing infrastructure or during redevelopment, a rigorous foresight exercise (over a 10 to 15 year horizon) with the right stakeholders and the right tools to ensure that the architecture facilitates the patient experience. . The method to achieve this is called collaborative design or "thin design".
In concrete terms, when planning the modernization of an infrastructure, all the people involved (workers, users, investors, architects, engineers, contractors, etc.) come together on the drawing board and design is done collaboratively. The main thesis of the GSS firm is that before designing the spaces it is necessary to take time to reflect well and to decide the processes and ways of operation in the future.
This collaborative design has already proven its worth during the major planning project for the new hospital complex (NCH) of the CHU de Québec, bringing together the clinical, teaching and research activities of two major hospitals in Québec City. Additionally, this is the first large-scale project in Canada to integrate Lean Design throughout the work. GSS consultants supported the client and the government in operationalizing the approach.
Subsequently, several hospital modernization projects were inspired by this flagship project: McGill University Health Center's Lachine Hospital, the new Vaudreuil-Soulanges Hospital,Maisonneuve-Rosemont Hospital in Montreal and in France, the technical platform BAURéaLS (Emergency, Resuscitation, Operating Rooms and Logistics) at the Lyon Sud hospital. Recently, the Société québécoise des infrastructures has carried out pilot tests on the modernization of secondary schools.
During the modernization of Hôpital Maisonneuve-Rosemont in Montreal, no less than 80 to 150 participants met to experiment around 3D models produced in close collaboration with architects.
Digital Twins or "Digital Twins"
The second GSS "weapon" for optimizing concepts and operations: predictive technology known as "digital twins". It makes it possible to test investment decisions or infrastructure transformation through simulation of operations. In the field of health, digital twins make it possible to simulate the organization of care, spaces and work, issues that are even more crucial during the pandemic.
GSS digital twins will soon be virtual reality environments powered by connected objects and artificial intelligence systems that will allow users and healthcare professionals to navigate and visualize the impact of design choices on operation. By testing a variety of future scenarios, the flexibility and adaptability of spaces can be built into the equation early in the process.
Digital twins are also attracting a lot of attention in the airport field as well as in supply chain management. Coupled with "Lean Design", the method has been successfully applied to the organization of airport terminals and the design of clinical and logistics platforms.
In addition, GSS has provided training, coaching and support programs for managers working to improve work organization for more than 15 years. With around twenty employees, the company is now looking to expand into Europe by partnering with French companies to publicize its model and inspire professions. In full growth, GSS is also looking for young talent who want to join an innovation firm to imagine, explore and shape a better world for future generations.
---
Content designed and proposed by L'Agence Delta. The editors of Le Figaro did not participate in the production of this article.
---