The Academic Director of the National Education Services (DASEN) for the Gard, Philippe Maheu, was visiting the Albert-Einstein High School in Bagnols this Thursday on the occasion of Industry Week.
Bagnolais High School is part of one of three business campuses in Gard, with one campus in this nuclear territory focusing on processes and technologies in sensitive environments. With this tool, the establishment evolves into an ecosystem with the local economic world, because "We work for the same thing, you don't train students to train them, but for them to have a job tomorrow"notes Bruno Girard, director of the attractiveness and recruitment center for the Southeast perimeter for Orano.
The nuclear giant recruits no fewer than 800 people a year in the south-eastern perimeter, more than half of them on permanent contracts. Suffice it to say that the sector has great needs and is struggling to fill positions, while a phase of colossal projects opens in the coming years. Therefore, the idea is to promote training leading to nuclear work, "Well paid professions, better than in the tertiary sector, professions of the future"highlights DASEN in front of a BTS Nuclear environment class.
Modern equipment
To train those who will deal with these professions, the Region and National Education have provided the tools: virtual reality room, a technology used in companies in the sector to train their employees, workshop fully equipped with production lines, engines, systems hydraulics for BTS. Manufacturing systems maintenance option… In the engineering sciences section, many 3D printing machines have allowed students to produce their own motorized robots from open source plans that they themselves have adapted to their needs. The robots are then used by the preparatory students.
"This Einstein campus is a piece of excellence", insists Philippe Maheu. And we "a connection between young people and companies, in relation to higher education and scientific research", he adds. Thus, the campus works with the association Le Collectif, which brings together business groups from the Rhone Gard, and in particular has set up a mentoring action within the high school Einstein and the private vocational high school Sainte-Marie de Bagnols, also a member from the campus. "Every incoming student has a mentor, a professional, with meetings and company visits throughout the year", develops Corine Negre, operational director of the campus. In the same way, the same actors organize every year a morning of meetings between young people and companies, the other one will be held on January 21.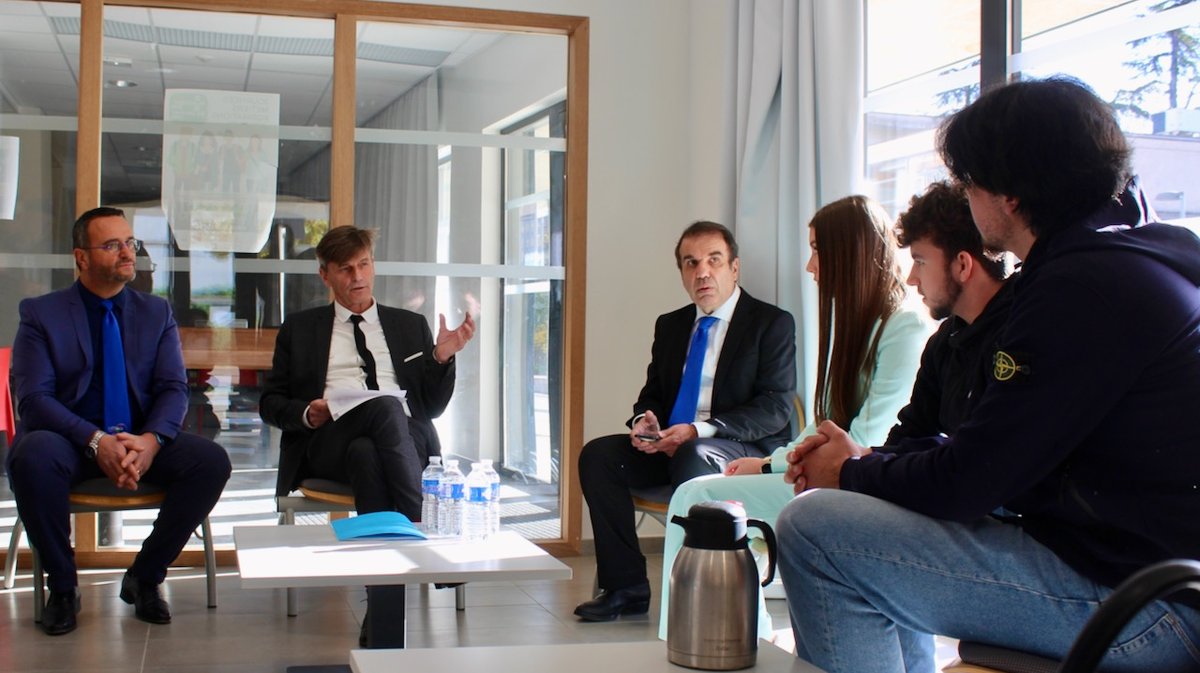 This cooperation is reflected in the mini-company project initiated by BTS high school students. Called "Uniquadé", it aims to create an innovative support in recycled plastic for phones and tablets. A project whose mentor is a local entrepreneur, Julie Valtoux, and which will soon be prototyped. Cooperation with this ecosystem is also evident in training, with the cooperation of the CEA training center in Marcoule. "Beyond our technical platform, we also offer education"says David Hertel, head of education at CEA.
"What I see here are the professions of tomorrowemphasizes Philippe Maheu. Here you are on the right path, now it is necessary to promote these crafts and these formations. »
Thierry Allard