The European aeronautics giant has done virtual reality (VR) and augmented reality (AR) a priority for the whole group. Its subsidiaries Airbus Commercial, Airbus Defense & Space and Airbus helicopters all collaborate on the design of mixed reality applications – a combination of AR and VR.
Airbus' first steps in these technologies are already old. The company started in the late 90s focusing on virtual reality. Fifteen years later, the democratization of these solutions would mark a major turning point for these projects. A kind of rise.
2015: a rise to industrial mixed reality
In the mid-2010s, more advanced and portable models of virtual reality headsets arrived, such as Microsoft's HoloLens. These innovations at the time constituted an opportunity for professionals, especially in terms of deployment. Previously, Airbus focused on expensive equipment for industry only.
2015 represented a "big change" in this field, underlines, on the occasion of IMAgine Metaverse Day, Fabien Dumon, head of the holographic academy for Airbus Defense & Space, an in-house development studio for mixed reality and the metaverse. The marketing of "general public" technologies allowed virtual reality projects for budgets between 5,000 and 10,000 euros, compared to several million previously, he points out.
Therefore, Airbus has started a phase of exploring uses for the industrial world. Especially for AR. "Augmented reality is the main challenge for us in terms of industrialization and use in our industrial uses," says Hervé Routin, Head of Mixed Reality Platform at Airbus Commercial. "Virtual reality is getting very industrialized here, but it's an area that we have little use for today."
In this perspective of growth, the group has redesigned its organization relying on dedicated teams in these three different entities, spread around the world (Europe, United States and Australia).
These "core teams" provide internal mixed reality application development for the group. "Airbus has chosen to industrialize these technologies domestically. This constitutes a strength allowing each of the teams to benefit from the successes of the others and jointly build AR/VR products for industrial use", Hervé Routin justifies.
A shared platform and teams
These "core teams" have all the skills needed for industrialization. They are integrated, business representatives and specialists responsible for understanding their needs and experience. "It's not just about understanding the mixed reality experience that businesses want, but the whole process they're involved in so we can define the need before we define the technical solution. »
Added to this are skills in development, IT integration, architecture and project management. These are included in defining the technological building blocks of applications. Finally, the "heart of the reactor" consists of group developers, supported by UX/UI teams for designing solutions.
Finally, these developments are placed within an ecosystem to integrate data resources, cyber security, the digital workplace, and finally infrastructure and platforms. This ecosystem dimension is growing to take into account the multiplication of data sources (IoT, ERP, etc.) and "tomorrow, the connected aircraft platform to receive data and share it in these experiences. »
In addition to its layout, Airbus has redesigned its platform. The developed applications cover different parts of the life cycle of the manufactured devices. Initially, each application was independent. "We quickly realized that with the multitude of businesses within Airbus and data sources, we needed a central platform. »
Therefore, at group level, Airbus has created a common platform, called R3. This brings together all data access services (3D, process data for manufacturing, etc.), but also a "specific SDK".
This development kit helps speed up application development. Centralization also facilitates security, managed at the platform level and no longer individually for each application.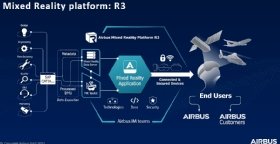 From prototypes to metaverse scaling
Thanks to these foundations, Airbus carried out an initial phase of exploration and gathering of requirements. Thus, nearly 80 use cases were identified, selected for their contribution to value. In addition, 100 prototypes have been developed to test and verify this value hypothesis.
The second phase is that of industrialization, to go beyond prototypes. "The goal now is to grow. We already have several applications used in industrial mode, on assembly lines", announces Vivien Pacqueteau, digital manager of mixed reality and IoT at Airbus Helicopters.
In addition to growth, the group has set itself the goal of adding "all the collaboration features we need that will bring us closer to the industrial metaverse. »
Industrial Metaverse, enhanced support and comprehensive collaboration
This cooperative dimension "will put more than one finger in the metaverse." Thus, it aims to highlight two additional use cases, namely remote assistance and comprehensive collaboration.
"Remote assistance" would offer applications in "all sectors of the group" with the benefits of a reduction in costs and CO2 emissions and a reduction in uptime.
The immersive collaboration will focus specifically on the design of the parts and allow the people in question to interact via avatars. Airbus is also thinking about cross-team workshops and responding to internal requests for hybrid work.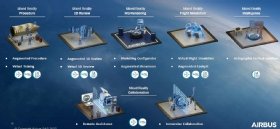 Other applications of the metaverse are on the way
The aircraft manufacturer's catalog of mixed reality applications also covers the use of augmented reality for monitoring production procedures, for example wiring.
3D reviews in the design office, HQ rendering for marketing in product customization, military flight simulation (3D reconstruction of combat zones). The use cases of the metaverse are manifold. Airbus wants to take advantage of this to provide an "immersive and augmented" experience for its employees as well as its customers.
On the customer side, the immersion will make it possible to "present our products, which are increasingly complex, and to start them in an experience around these products", already predicts Hervé Routin.