Priced at €549, the HTC Vive Flow virtual reality headset is unlike any other. Very light (189 grams), it was designed to be carried anywhere, just like a smartphone. Then a question arises: do we want to wear this thing?
of Oculus Quest 2 it weighs 503 grams, yet it is considered "light". Suffice it to say that when HTC offered us to test the Vive Flow, its virtual reality headset weighing just 189 grams, we were immediately intrigued. The promise is certainly not the same between the two headsets, but the HTC Vive Flow is probably closer to the glasses of the future that all manufacturers promise us. Therefore, we were curious to see what the Taiwanese manufacturer was capable of from 2022. Keep in mind, however, that we are only at the beginning of the miniaturization of this technology.
It is traded at the price of 549 euros, the HTC Vive Flow is a strange device, not designed for video games, not autonomous and not fully immersive. What doesn't look like other VR headsets (evidenced by its original appearance, which some will call terrifying, others futuristic) is aimed at a new market, made up of the curious and already convinced by virtual reality. Here's our take after a few weeks with the Vive Flow on our desk.
Strong points
Light and compact
Nice to watch movies
Weak points
Depending on the smartphone
The image is not always clear
Pain in the head
Limited power
Do you want to have it on your face in public?
Ease at the sacrifice of comfort
Not surprisingly, going from a 503 gram helmet to a 189 gram one is nice. Especially in the hand, the Vive Flow impresses with its ultra-portability. You can hold it with two fingers, easily put it in a bag and put it on your head very easily. Unfortunately, it is in the head that we discover his first mistakes.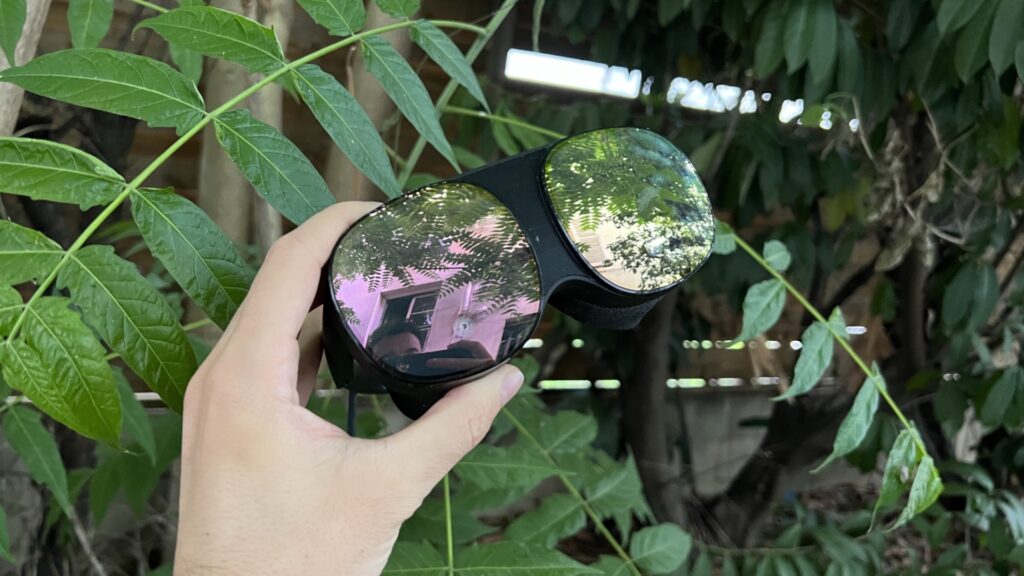 Where a Quest 2 is quite comfortable to wear (especially with the Elite belt, sold for 50 euros), HTC Vive Flow is not at all. Without the foam protection designed to enhance VR immersion, it damages your ears and nose. Really. With the foam shield, which is magnetic and only supposed to be put on when you want total immersion in VR, it's a bit better, but the helmet remains a bit too loose since it's not attached to the skull. As a result, with every sudden movement, the screens in front of the eyes move. So we get nauseous a little too easily.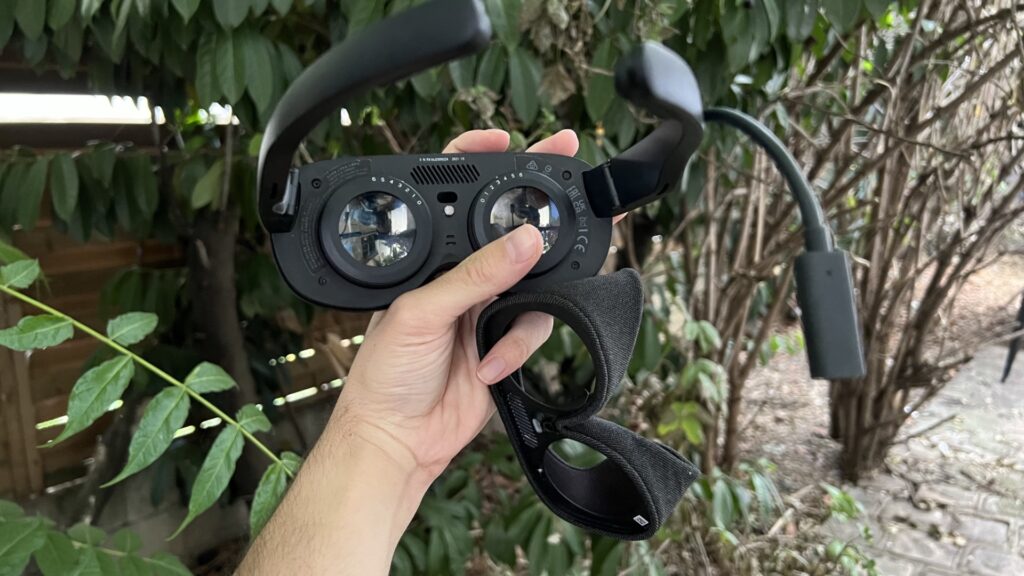 To achieve the lightest VR headset on the market, HTC had to make a lot of sacrifices. Its Vive Flow headset may look like real glasses, but it's not very easy to put on your head. It's a real shame, as the viewing angle inside isn't bad at all. Could it be a better connection around the ears? And foam in all cases at the level of the nose?
While we're at it, note that we weren't entirely convinced by the appearance settings. The shapes allow it to fit either eye, but despite our good vision, we never managed to see perfectly with the HTC Vive Flow. It's probably a matter of proximity to the eyes, but it's still problematic for a gadget you have to hold for a long time. As it is, we just don't want to keep it too long.
Smartphone addiction, good and bad idea
To achieve 189 grams, HTC made two other sacrifices:
The headset doesn't have a built-in battery (well, a very small, anti-power one), which forces you to connect it to an outlet, an external battery, or your smartphone via USB-C to make it work. Not all smartphones supply it with enough power, so a power bank is the best option.
There is no controller supplied with the smartphone, no manual tracking. It is an application to be installed on your Android smartphone (not iPhone) which allows you to interact with the HTC interface in virtual reality. Then we direct the smartphone as if it were a controller.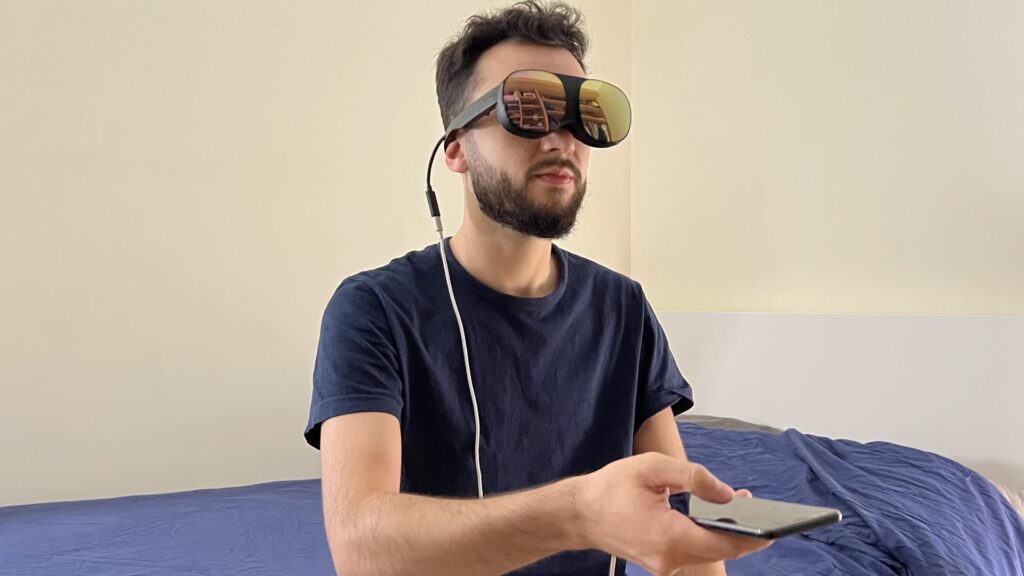 Is it mandatory on a daily basis? Yes and no.
Yes, because it requires leaving a cable dangling when using the Vive Flow, which doesn't quite live up to the promise of ultraportability.
Not because, after all, you always have your smartphone with you.
If pointing your Android device doesn't offer the same level of precision as a controller designed for it (no trigger or ability to grab virtual objects for example), it's more than enough to move from one app to another. It's unfortunate that the view reset is sometimes problematic, which can force the headset to restart in order for the smartphone's position calibration to work properly. We also appreciate the possibility of displaying his smartphone screen on the helmet and piloting it in virtual reality, so as not to be disconnected from the world of virtual reality.
It's clever, especially since it allows HTC to bring apps unavailable in VR, such as Netflix, Prime Video, Disney +, myCANAL or games, to its helmet.
Portable cinema, the real strength of HTC Vive Flow
Because yes, the HTC Vive Flow is an amazing viewing device. Not thanks to the apps available in his Vive Port store, but thanks to the replication of his Android smartphone screen. All the apps you can't find anywhere else in VR (even from Facebook) can be featured here, with exclusive features like local download. HTC has clearly designed its headset to be used on the go, on the train or in the car (passenger seat!!!!! take care.), so you can watch a movie without being disturbed by the light through Windows .
A cool feature, which could be even a little nicer if the helmet was more considerate and its screens were OLED technology rather than LCD (the black background is currently too blue). Either way, it's a really good idea. A kind of VR cinema for smartphones.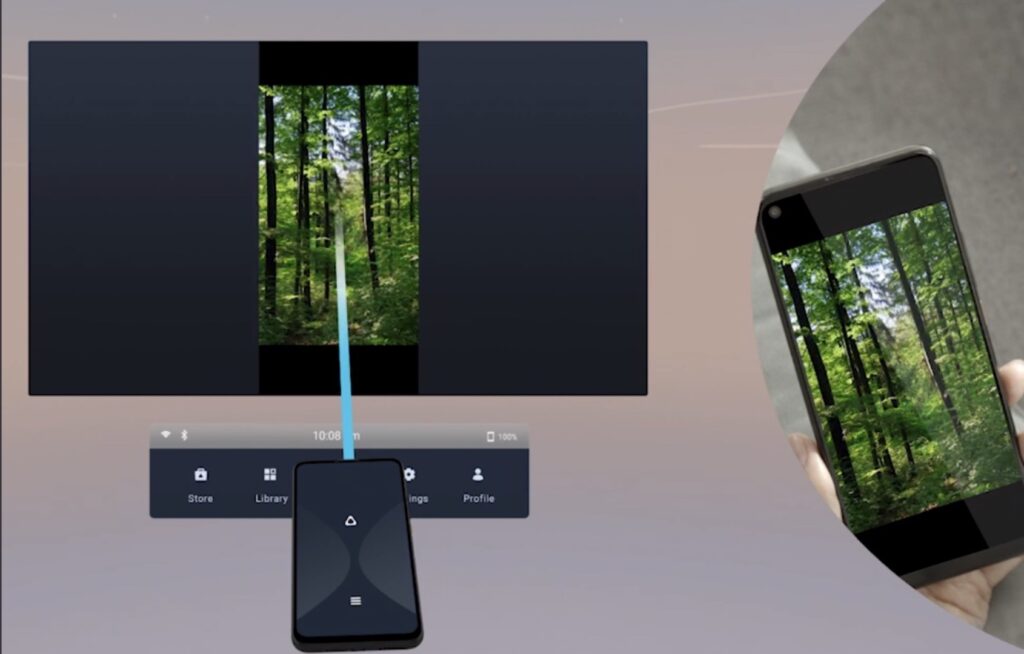 Only flaw, the quality of the speakers in the branch is very poor. It is best to connect the headphones to your smartphone, as the headphones do not have a jack. It's also not easy to put to sleep, which makes it feel unnecessarily hot on a table.
There is no mixed reality and that's a shame
Finally, we wanted to address one (another) of our frustrations with the HTC Vive Flow: there's no mixed reality mode today. Unlike some of its rivals like that of the Lynx, Vive Flow immerses you in a completely virtual reality, with fake images before your eyes. Given its ultraportable nature, we're sorry we didn't see a real-life copy thanks to its cameras, which would have made it possible to keep it in view while walking around the house. By removing the foam, we also have access to a small part of reality, but it is too small for us to walk without hitting the wall.
We imagine the second generation will take care of this aspect. Today, the many slowdowns and bugs we encountered can attest to this, HTC Vive Flow is not powerful enough.
decision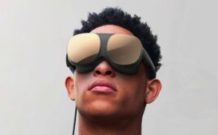 We liked it
Light and compact
Nice to watch movies
We liked it less
Depending on the smartphone
The image is not always clear
Pain in the head
Limited power
Do you want to have it on your face in public?
Well, let's face it, the HTC Vive Flow is not a good product. It is not only the concept that has failed, but also its execution. If we find the idea of ​​having an ultra-easy-to-hold VR headset appealing, it's clear that HTC's product has too many flaws to suit anyone today. It's the first of its kind, apparently ahead of devices that will do much better, but, for now, it's just a toy for virtual reality fans. At €550, it's clearly better to invest in a Meta Quest 2 and the Elite strap. There you will have really interesting experiences to discover.
Are there still things to save on this product? Yes, two. The idea of ​​making it a VR companion for smartphones is good, why does a VR headset necessarily have to be a computer on its own? Then, the opportunity to see (a little) the real world on the sides is nice. With mixed reality, it would have been much more convincing. Can't wait to see Gen 2!
Some links in this article are affiliate links.
We will explain everything here.