IRIS and DGRIS are pleased to announce the renovation of the Defense and Climate Observatory, originally launched in December 2016, with new features: a dedicated website in French and English, and the creation of the "Sur leklima front" podcast.

The Defense and Climate Observatory aims the study of security and defense issues related to climate change. It is coordinated by IRIS under the contract executed on behalf of the General Directorate for International Relations and Strategy (DGRIS) of the Ministry of Armed Forces.

The work logic of the Observatory is based on three research axes: risk mapping, analysis and forecasting.

With one multidisciplinary team, the Observatory consists of researchers specializing in international relations, security, defence, migration, energy, economics, climatology and health. It is led by two scientific coordinators: Julia Tasse and Francois Gemenne.

The Observatory has initiated numerous collaborations with European (Netherlands, Luxembourg) and international (Australia, United States, India) partners, international NGOs, national and international public bodies. These initiatives have made it possible to strengthen cooperation on climate issues and their security implications.
website / www.defenseclimat.fr
The observatory now has its own website which lists all its activities:

• publication : In various formats, observatory researchers publish perspective and strategic reflection notes, operational notes, case study reports by geographic area, thematic study reports, and country files.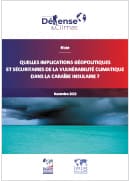 Read the note that has just been published :
What are the geopolitical and security implications of climate vulnerability in the Caribbean?





• "On the Climate Front" Podcast : Researchers from the Defense and Climate Observatory ask specialists and actors from all fields about developments in the international strategic landscape, the security issues that accompany it, and the impacts on defense and the armed forces. A bi-monthly podcast, it is available on most podcast platforms.



Listen to the podcast
Introductory episode with Julia Tasse and François Gemenne, co-directors of the Defense and Climate Observatory.






• Events : The Observatory regularly organizes limited seminars and conferences open to the public, with the aim of advancing dialogue and fostering debate on climate security and protection issues. Conferences open to all can be consulted at RECAPITULATION on the observatory's YouTube channel.



Attend the seminar
Island states facing climate change: study report and feedback from COP27
Tuesday, November 22, 2022, from 9 a.m. to 12:15 p.m.

Learn more:

@ObsDefClim

Defense and Climate Observatory

@ObsDefClim

Defense and Climate Observatory


IRIS, a well-known public service association, is one of the leading French institutes specializing in geopolitical and strategic issues. He has worked for a long time on security and climate issues. IRIS is also a founding member of the International Military Climate and Security Council (IMCCS).

The General Directorate for International Relations and Strategy (DGRIS) contributes to the international policy coordinated by the Ministry for Europe and Foreign Affairs and directs the international action of the Ministry for the Armed Forces.