virtual reality movie Kinshasa Now follows Mika, 14 years old. Accused of witchcraft and banished from his home, Mika must understand the codes of the streets to survive. The viewer is immersed, thanks to a 360° VR helmet, in the middle of the streets of Kinshasa while discovering the daily life of a street child.
summary
35,000 children accused of witchcraft and rejected by their families are struggling to survive on the streets of Kinshasa, DRC. Mika, 14 years old, suddenly finds herself in this terrible situation. To cope with this transition, he must learn the codes of the street, find a way to eat and sleep, but also protect himself by joining a street gang. How will he cope with this new life? As the story unfolds, you have choices. Which path would you choose?
virtual reality projection
Here is his reactionAboulaye-Toureat the end of the show.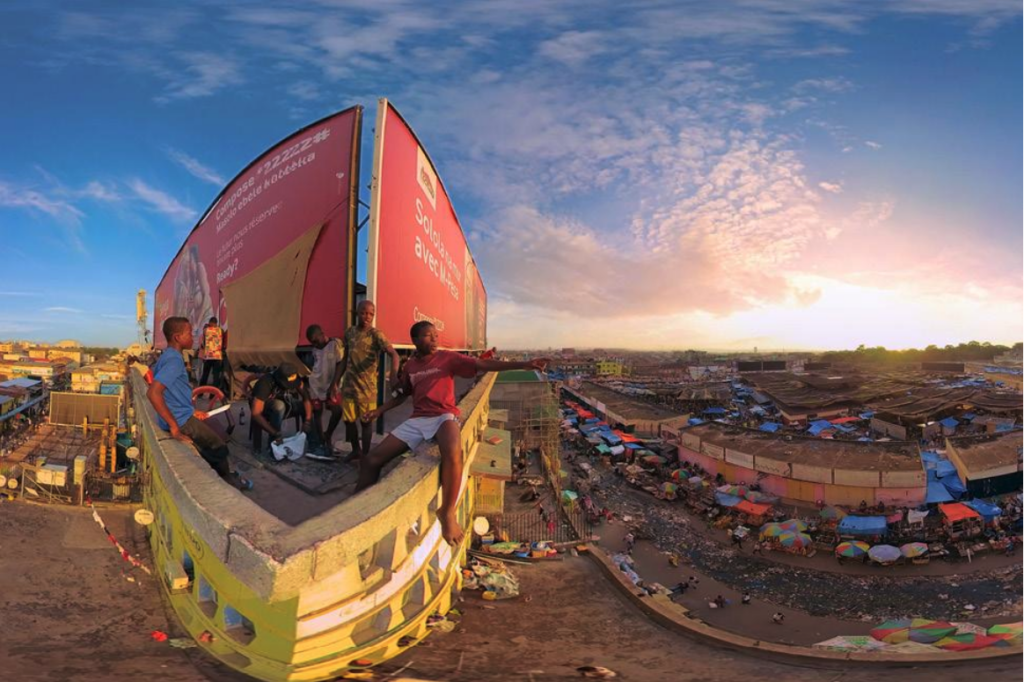 Marc-Henri Weinberg
Marc-Henri Wajnberg studied cinema at INSAS in Brussels. He is a screenwriter, director, actor and film producer. His output is eclectic: he has directed and produced 3000 very short films including the famous collection of 1200 Claps which was broadcast internationally, short films including Le Réveil with Jean-Claude Dreyfus awarded at Cannes and a number of documentaries including Oscar Niemeyer, an architect engaged in the century. His feature film Just Friends represented Belgium at the Oscars (1994).
In 2009, he left the film musicians in Kinshasa and discovered the Kinshasa art scene, causing a revolution in his cinematic practice. Facing the city is a shock, and his project turns into a documentary-style fiction: Kinshasa Kids, the story of a group of so-called "street" kids who form a music group to thwart their destiny.
After Kinshasa Kids (selected at Venice and 70 festivals), he directed Enfants sorciers, Kinshasa, Kinshasa Now (selected at Venice) and the feature film I am Chance (released on May 22) that all deal with the issue of children "from the street ".
Marc-Henri Wajnberg in Kinshasa Now

Making a film in Kinshasa is an experience that marked me for life. Kinshasa Now addresses the topic of so-called "street" children. In the background of the narrative, various themes appear such as family, solidarity, religion, the parallel economy… Through my films, I want to give these children a voice, a visibility. To be as close as possible to their reality, the script is based directly on their experience. All my films made in Kinshasa during the last ten years are the result of collaboration with street children and professionals in the field. During the filming I was accompanied by the Network of Street Children and Educators, which coordinates more than 164 centers that help reintegrate street children and promote children's rights. I also want to pay tribute to artists, visual artists, performers, musicians from the Kinshasa scene who invent and create under difficult conditions. Spectators will be able to discover their work in Kinshasa Now.
A virtual reality shoot
As a filmmaker, I like to make films in the techniques, styles or formats that best suit the stories I tell. ABOUT Kinshasa now, virtual reality has been imposed to better feel the intensity and reality of these lives, to create a sense of immersion and therefore closeness to the children. Making a movie with virtual reality requires sophisticated equipment, a camera
with some lenses shooting 360°. A tricky exercise, especially when staging sequences take place in real-life situations, such as busy streets, markets or churches.
Technical sheet
,Directed by: Marc-Henri Wajnberg
Starring: Mika Bangala, Winner Kanga, David Lemba, Patrick Makambo, Chancelvie Kaponge
Interactive version: 65 minutes of film with 40 possible paths, the duration of which varies from 7 to 25 minutes.
Linear version: 21 minutes
Year: 2020
A Wajnbrosse production
In co-production with RG & Créatifs Associés (DRC), Wim Forceville (Belgium)
With the support of the Cinema and Audiovisual Center of the Wallonia-Brussels Federation, Creative Europe Media, the Flemish Audiovisual Fund (VAF), Wallimage Creative and the Media Fund in Canada, Belga Productions, Tax Shelter, UNICEF, Amnesty International, Trust Merchant Bank,
Jean-François Peterbroeck Foundation, Groupe Forrest International, Wallonie-Brussels International and the Swiss Association of Friends of Dr Janusz Korczak.