The Pullman Paris Tour Eiffel Hotel offers itself an exclusivity: to be the hotel location where NFTs come to life. The works of the new generation Artpoint gallery, specialist in digital art, are exhibited there. Very close to the famous Iron Lady, as if in resonance with its avant-garde, the prestigious establishment is building a bridge between Web 3, a future in progress, and today's world. Through the comprehensive experience it offers to its customers and visitors, it activates different levers: bringing an emotion to life through art, initiating the creative possibilities of new technologies, promoting and supporting contemporary artists, participating in the distribution of NFTs.
We wanted to know more about this pioneering initiative launched with the start-up Artpoint, but also about digital art and its evolution with the integration of NFTs.
From streaming digital art to NFTs
COMPANY Artpoint was born in 2019 from the idea of ​​Laurie Bonin and Julie Corver, both passionate about digital art. Their value proposition? Contribute to the display of digital art thanks to the streaming solution. Hotel Eiffel Tower Pullman Paris then it was among the first to adhere to its innovative concept and thus enrich the experience of its customers in its spaces. From the early days of Artpoint, she embraced broadcast works.
"Every shared space is now a true destination place. We want to create a unique and memorable experience for our customers, and it starts as soon as they arrive. Upon entering the hotel, the guest plunges into a special artistic universe. He is invited to live an immersive artistic experience and contemplate the work of digital artists from around the world. » Andres Lopez-Dafonte, Director of Operations, talks about his partnership with Artpoint in these terms
The idea of ​​Artpoint and its realization are a success, so of course the two founders want to go further. "So far, in our streaming offer, we have connected two families of actors: artists, who have access to prestigious exhibition spaces around the world, and these spaces, who love digital art and make it a place on their walls . Today we invite another art-loving family to join us: collectors, and even more specifically NFT collectors," explains Laurie Bonin. To this growth of the paradigm are added two developments and address changes: it becomes Artpoint.fr Artpoint.xyzand the start-up leaves the bladder of many celebrities F-station to fly alone.
NFT technologies in the service of art
The added value of NFTs in the world of digital art is to solve its pain points.
"One of the obstacles to the full development of digital art is its rare absence. Blockchain technology recreates rarity by tokenizing virtual objects like digital works of art. » describes Julie Corver, co-founder of Artpoint.
To put it another way, digital artworks are, by their very nature, twofold. They can be seen in several different places, hence the stream created by Artpoint. NFTs encourage access to the ownership of a work of art, secure and authenticated, maintaining its distribution, and therefore, depending on the specifics of the art sector, increasing its value. It becomes possible for a collector, through his NFT, to have his digital artwork at home and at the same time exhibit it in a prestigious hotel on the other side of the world. "NFT technology allows collectors, who are art lovers, to support digital artists. By purchasing an NFT, they acquire a work that everyone can admire, but which they can, depending on the terms and conditions, be the sole owner of. They participate in the democratization of this art, in the distribution of works in the real world internationally; they share them and, through exhibitions and visibility, see their value increase. They become patrons of artists," notes Laurie Bonin. The operation – it is rare enough to underline – is beneficial to the collector, the artist and the exhibition venue. The Pullman Paris Tour Eiffel Hotel, convinced of the importance of Artpoint since its inception, was the first to sign a partnership with the company for its new NFT proposition.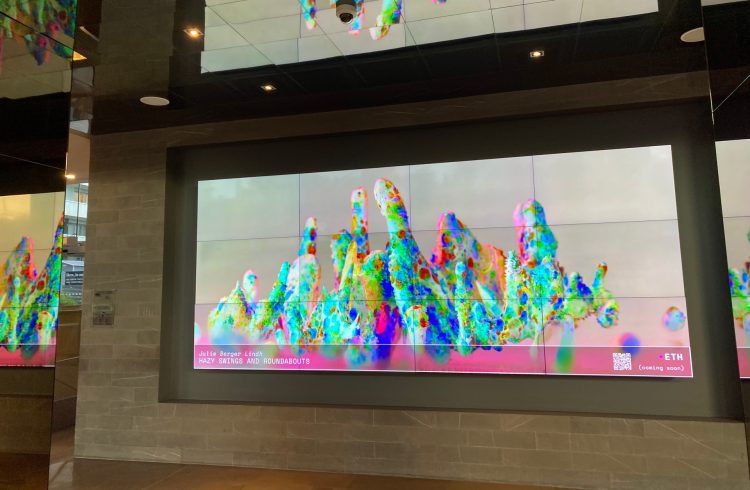 NFTs come to life at the Pullman Paris Tour Eiffel Hotel
The Pullman Paris Tour Eiffel Hotel, already at the forefront, is once again a step ahead. A pioneer in the distribution of NFT in the hotel industry, it also integrates the added values ​​brought by this new technology and this new way of consumption. Thus, collectors, in addition to becoming owners of their NFT, gain access to exclusive advantages at the hotel. "For the first drop, in place since the beginning of October, NFT buyers benefit from privileged conditions: 10% discount per night and a free cocktail. It creates a real community. For the collector, it is the added pleasure of feeling like a special customer, welcomed in a place where he shares his love of art. For the establishment, this is a new opportunity to attract an aesthetic clientele," adds Julie Corver. Customers and visitors can now immerse themselves in the theme of imaginary worlds. titled " The cabinet of imaginative worlds », Artpoint's first "Drop" brings together the works of four artists: benjamin bardouwith a dreamy rendition of Parisian passages, Gael Corbozfor compositions about ideal and magical landscapes, Julie Berger Lingh (Jellyburger) with mineral worlds where rocks dance, and David Szauderfor works filled with surrealism.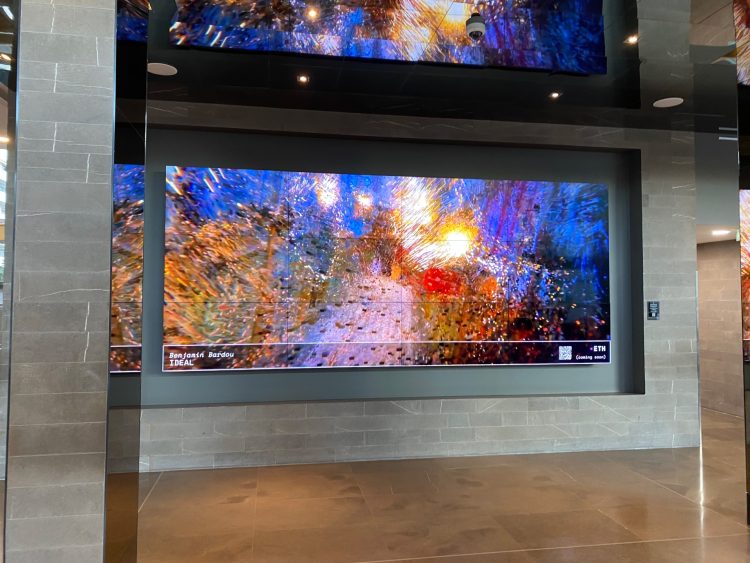 Art is a joy that can be shared. Pullman Paris Tour Eiffel Hotel and Artpoint are convinced of this and embody it. The start-up, through this inspiring collaboration, shows that it is committed to spreading digital art by putting it within the reach of the eyes in places of transition. What if hotel lobbies became, for the pleasure of the greatest number, galleries? If they were to be transformed into experiential and immersive exhibition spaces? And besides hotels, why not imagine other places expanded in this way: headquarters, shopping malls, dining rooms? What if digital art, almost everywhere, opened doors to other worlds?