Hootsuite and We Are Social present an updated version of the Digital Report, the last update of 2022. This report shows the latest statistics about the use of web and social networks, as well as mobile, to better understand actuality digital challenges.
Here are the top 10 figures to remember from the October 2022 edition (see image of one):
7.99 billion people in the world, and the world population is expected to reach 8 billion people by November 15, 2022,
5.07 billion internet users worldwide, i.e. 63.5% of the world's population,
171 million new Internet users over the last 12 months (+3.5%),
5.48 billion mobile users, i.e. 68.6% of the world's population,
4.74 billion socionauts, i.e. 59.3% of the population,
190 million new social media users in the last 12 months (+4.2%),
96.1% of Internet users use their mobile phone to surf the Internet (+0.3%),
6 hours 37 spent on average online per day (less than 20 minutes),
2 hours 28 spent on average on social networks per day (+1 minute),
7.2 platforms used by social users on average every month.
Social networks: Meta shows a loss of advertising audience in all its applications
A significant drop in potential advertising audience in 3 months
The We Are Social and Hootsuite report notes that the Meta group has reviewed the numbers related to its various applications. Thus, according to the latest figures published in the company's ad planning tools, the firm has seen a significant drop in its ad reach in 3 months, compared to the figures reported by Digital Report July 2022.
The breakdowns shown in potential ad audiences from Meta group apps are as follows:
Facebook: -4.1% compared to July 2022, a decrease of 89 million users,
Instagram: -3.8% compared to July 2022, a decrease of 54 million users,
Facebook Messenger: -2.4% compared to July 2022, i.e. a decrease of 24 million users,
Combined reach across all platforms and audience network: -5.5% compared to July 2022, a decrease of 161 million users.
In the We Are Social and Hootsuite report, however, they point out that: "These revisions may reflect a purge of duplicate and 'fake' accounts, and as such, a drop in reported reach does not necessarily mean that marketers can reach fewer 'real' people in their audience targeted"..
Facebook remains the most used social network in the world
If it is quite common to read the announced end of Facebook, the reality is quite different. Indeed, the platform remains the most used in the world and has 2.9 billion active users. The report also points out that despite the recent decline in monthly users on the social network, Facebook's active user base has grown more than 10 times.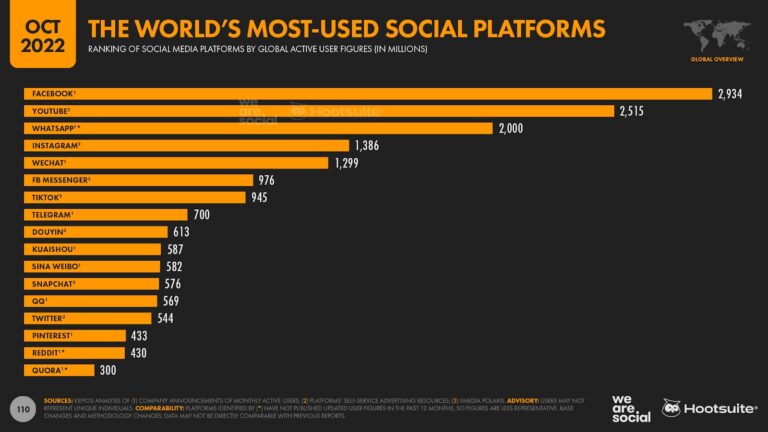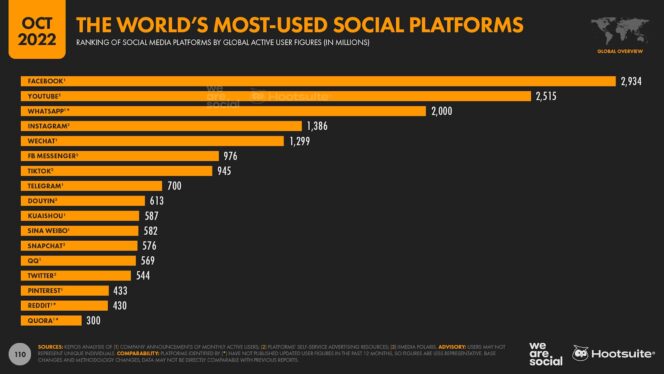 In addition, Meta group applications appear at the top of the world's "favorite" social media podium: WhatsApp (16.1%), Facebook (14.6%), Instagram (14.5%). Furthermore, the report shows that "Users are still two and a half times more likely to choose Facebook as their favorite social platform than TikTok". According to information provided by Data.ai, Facebook ranks behind TikTok in terms of time spent by users per month on its platform. However, time spent on Facebook by social users is increasing, going from 19.4 hours to 19.7 hours over the past 3 months. For its part, TikTok returned to the 2nd place in the ranking, again ahead of YouTube.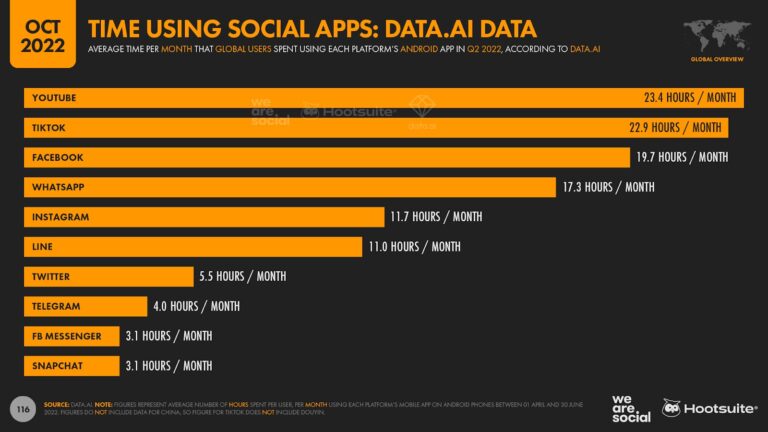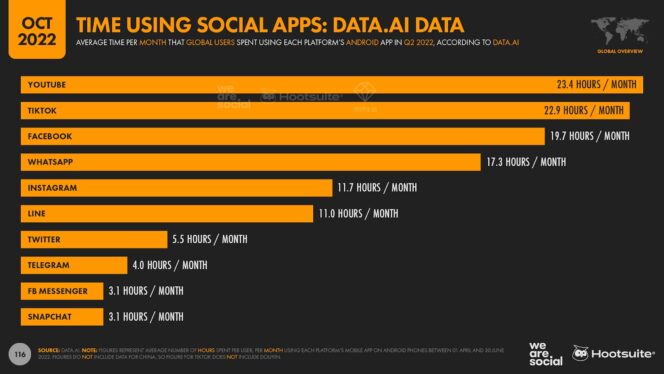 An acceleration of the alignment of Reels
Reels is the short video format launched by Meta to compete with TikTok. According to the October 2022 Digital Report, the number of users marketers can reach with ads on Reels feeds continues to grow. Figures presented in the company's ad planning tools reveal that the global audience for Facebook Reels ads has grown nearly 50% in the past three months.
The latest potential reach figure is approaching 700 million users, reflecting an increase of over 220 million users since July 2022.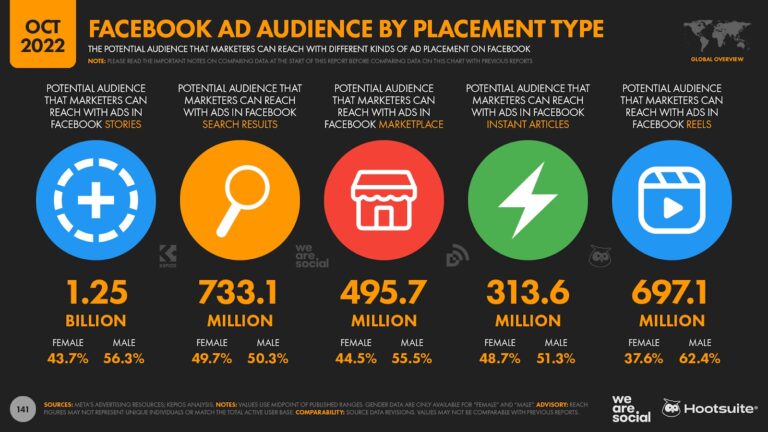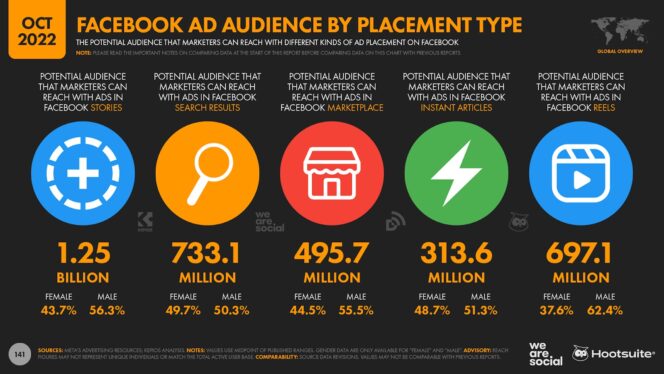 On Instagram's side, the number of users reachable by ads in the Reels feed has also increased since last quarter, but less noticeably. Figures from October 2022 show that Instagram's Reels ads are now reaching 758.5 ​​million users, up 0.5% from the 754.8 million users that featured Meta's ad scheduling tools in July.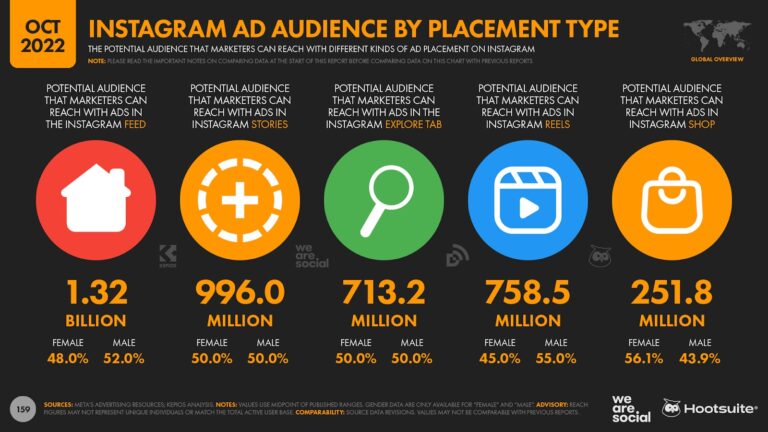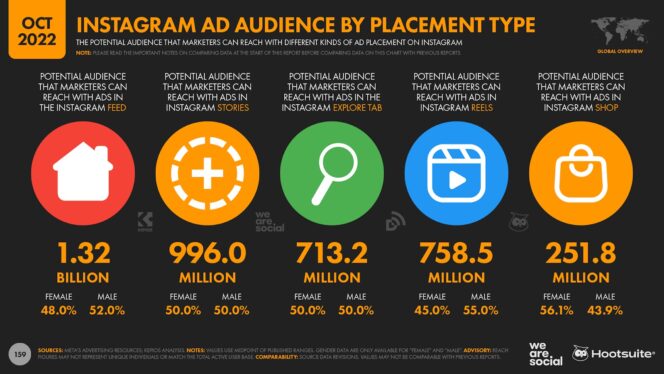 Web: Slower growth of Internet users and time spent online
Internet users will reach "supermajority" status in 2023
The October 2022 edition of the Digital Report claims that the latest research from the ITU (International Telecommunication Union) and GSMA Intelligence shows that more than two-thirds of the world's population will be using the Internet by the end of 2023. In other words, twice as many people will be online as offline, giving Internet users "supermajority" status.
We Are Social and Hootsuite point out, however, that global internet users grew by just 3.5% in 2022, or less than half a million new users per day.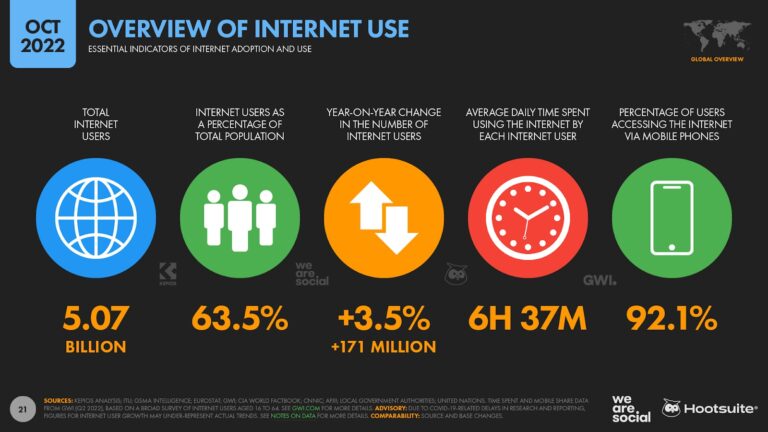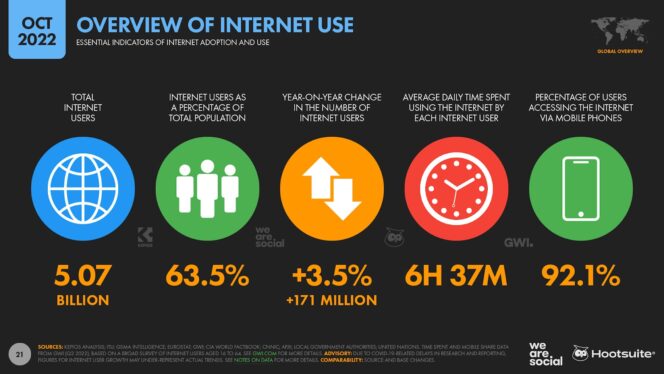 Decrease in time spent online
Research from GlobalWebIndex (GWI) shows that the average time users spend online each day has also decreased in recent months. The latest figures released show that the typical internet user of working age now spends 6 hours and 37 minutes a day using connected devices and services, 20 minutes less than the 6 hours and 57 minutes a day spent online last year past at the same time. the time.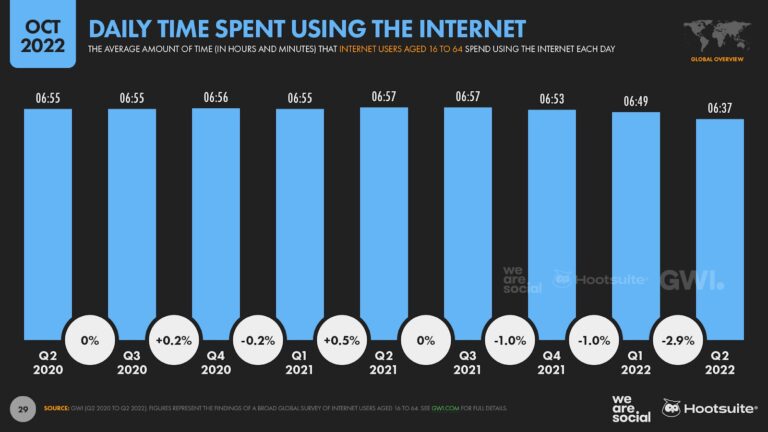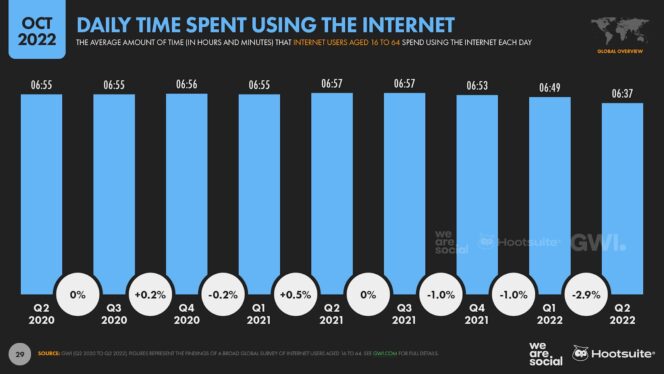 Note that this drop, of 4.8% year-on-year, means that people are currently spending less time online than they did in the second quarter of 2019, long before the pandemic profoundly changed digital behaviors around the world.
We believe the world has truly reached a "saturation point" for time spent online. In recent months, the average daily time spent online has decreased across all generations across the globe, even in growing markets such as the Middle East and Latin America. We believe that this phenomenon is mainly due to a growing mistrust of information and a growing anxiety caused by social media, especially since the latter represents an increasingly important part of the overall time spent online. , says Tom Morris, Head of Trends at GWI.
Internet users who prioritize quality over quantity
However, the study asserts that the overall decrease in time spent online does not necessarily mean that the Internet is losing its importance in people's lives. With the current average reaching 397 minutes per day, the typical global Internet user spends more than 40% of their waking life online. "Assuming that the average person works 40 hours a week and sleeps 7-8 hours a day, the latest figures show that unskilled workers spend more than 60% of their free time using connected technology.the report says.
Moreover, time spent in IRL activities, in addition to that spent consuming so-called "offline" media, such as television or radio, contribute to the reduction of time spent online.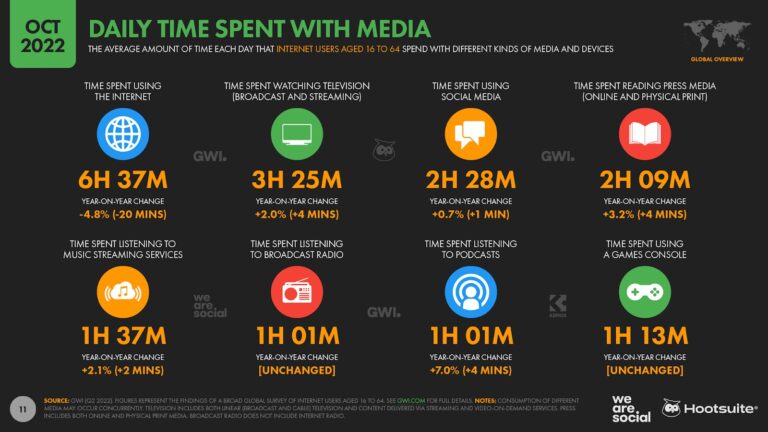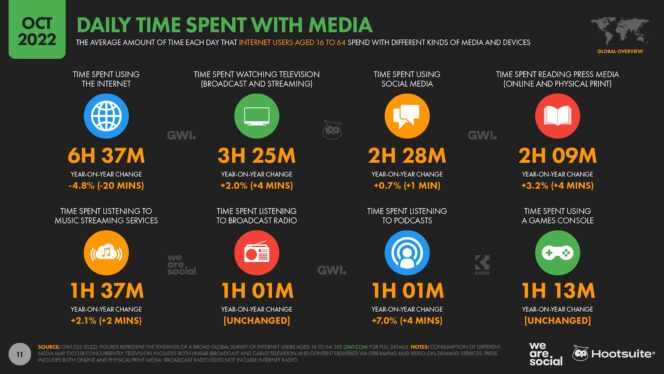 A record figure for mobile data
The main information about mobile usage in the world is related to mobile data. Indeed, the study reports that the 6.7 billion smartphones currently in use worldwide generate more than 100 billion gigabytes of mobile data per month. This means that the typical mobile user consumes an average of 15.2 gigabytes of mobile data every month, which is almost 30% more than the same period last year.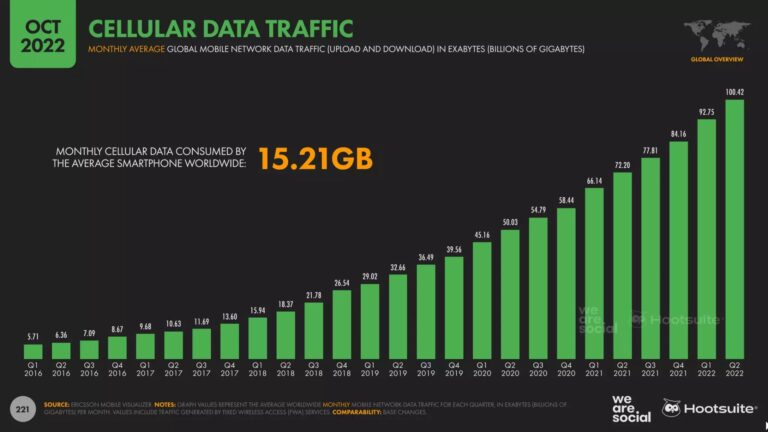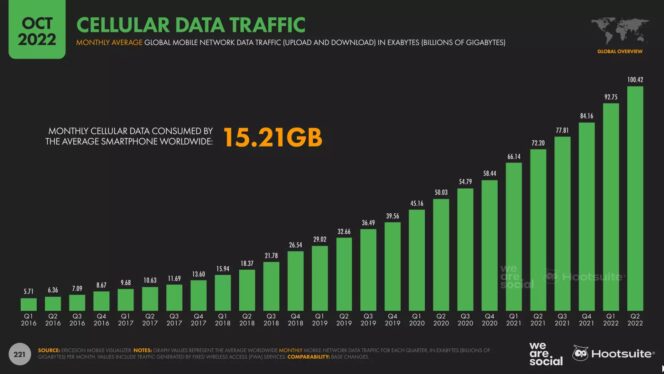 Find all the data shared by We Are Social and Hootsuite in the October 2022 Digital Report update at this page. You can also check out the summary below, which summarizes the 10 surprising trends of this new edition of the report: