Published on04/11/2022IN09:00
From September 16 to 19, a platoon of women linked Lot-et-Garonne with Gironde to participate in the fourth regional concentration of women.
This regional concentration of women organized by the cycle tourism committee of the Gironde department was the occasion for a convergence from Moncrabeau to Libourne by a group of cyclists led by Cécile Lecostey, head of the women's section of the cycle tourism committee of the department of Lot-et-Garonne. . It returns for us on this four-day cycling getaway.
Thursday, the big launch
It's 8:30 am and there are eleven of us: Caroline, Jeanine, Josiane from ASPTT d'Agen, Elisabeth, Jacqueline, Monique, Sylvie from GCA, Valérie de Marmande cyclo, Françoise, Nadine from UC St Sylvestre and me. de Nérac, to meet us in Moncrabeau to travel to Libourne where the fourth regional concentration of women takes place. We are accompanied by Zhak, secretary of the departmental committee, for logistics.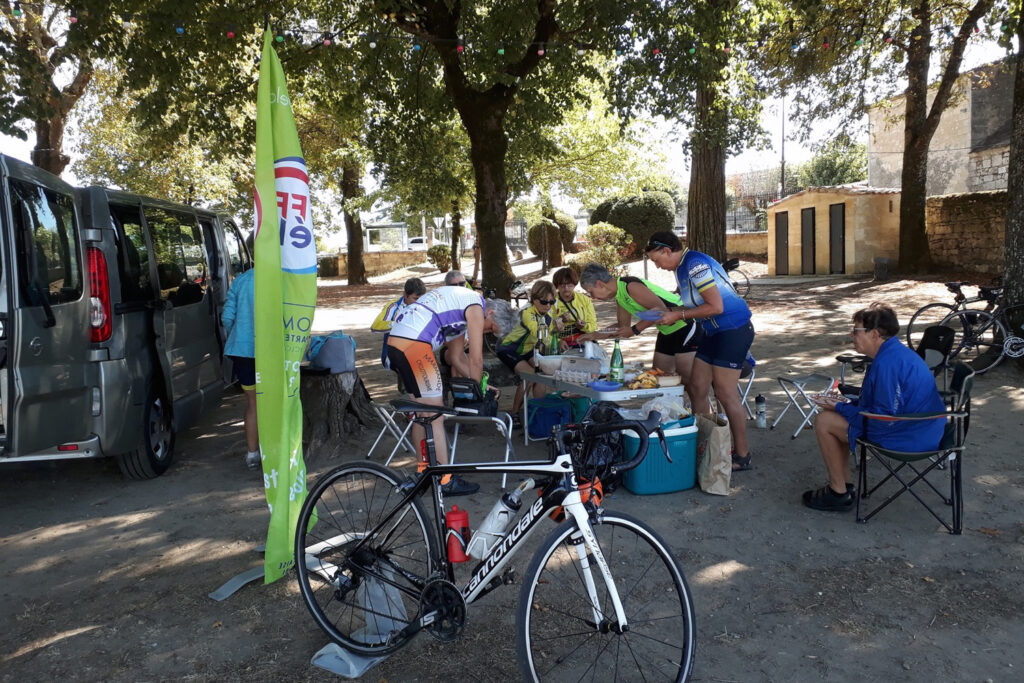 After a festive start given by the mayor, here we go! We drive a few kilometers and discover Vianne, take a long walk through its medieval streets. Back on the road, a small collision between the cyclists, thankfully not serious, but Sylvie will change the bar hanger on the way back…
Here we are in Buzet and what a pleasure to see Dany and Pierrot from club from Marmande to meet us! Especially since Dany made us a delicious cake and a delicious chocolate cake. It's the picnic break, although we haven't driven much…
The Garonne valley presents flat and monotonous roads, we drive fast, find the Garonne canal and arrive in time at Couthure-sur-Garonne Museum where thanks to virtual reality we are "rescued from the waters". For uninitiated readers, a visit to the museum is a must.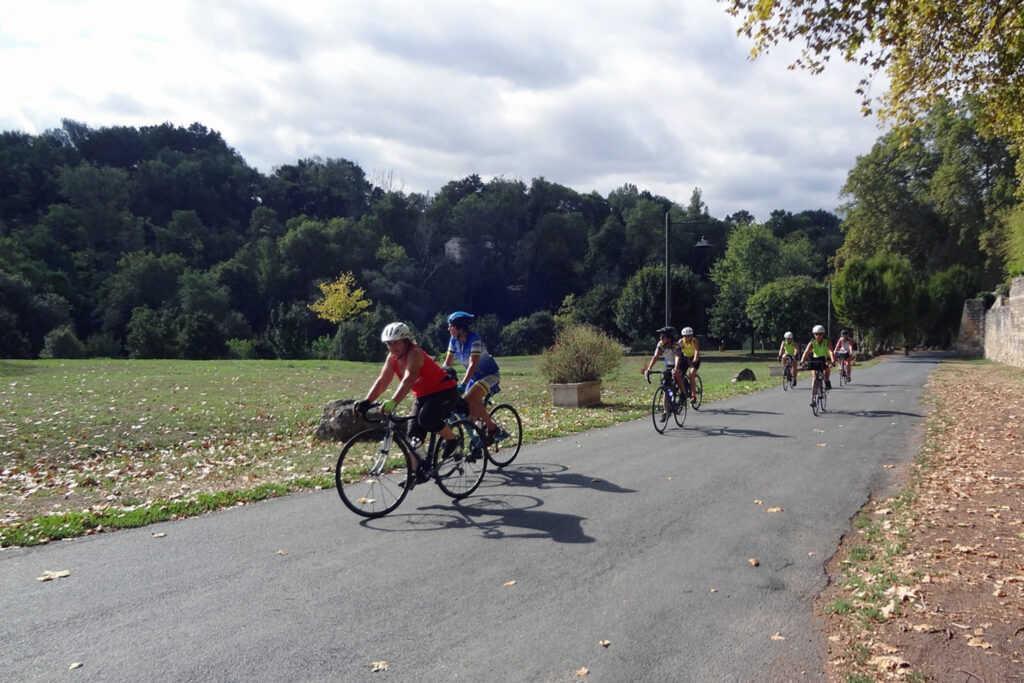 Couhures-sur-Garonne is a village located in a meander of the Garonne and very regularly inundated by its floods. The museum explains the mechanisms that lead to the village being surrounded by water and all the strategies put in place to protect the dwellings and its inhabitants.
We return to our bikes and here we are settled in a comfortable room, table quickly laid, hearty meal with a good mood before a good sleep.
A new day is dawning…
Breakfast with quality products and riding the bikes to face the beautiful hills that we all climb more or less quickly. Here we are in Blasimon where delicious pastries await us at an inn spotted by Jacques and Valérie during their spring wanderings.
New hills and here we are at the gates of Saint-Émilion, where we will climb the cobblestones with a sense of pride. As always, Jacques has preceded our arrival and is waiting for us in the public garden with the table set, the flames of the departmental committee outside.
A few more pedal strokes and here we are in Libourne, welcomed by members of Libourne Cycling Club. After settling into our hotel and a few attempts at coquetry, we are ready to find the cyclotes of the entire New Aquitaine region, we are about 120 who come from eleven departments to meet for aperitif and dinner.
Regional Women's Focus
On Sunday the 18th, here we are at the quays of the Garonne to start the "hillside walk" that will take us through the famous vineyards. We stop in front of Château L'Angélus, pass the village of Pomerol, pass again Saint Emilion and we meet for picnics… It's always fun to find girls from other departments and every year we see a few more young women join us…
We get on our bikes and here we are on a quiet little road to Génissac, then here is a nice 10% climb to reach Grézillac.
The circuit takes us to Voie verte Roger Lapebie, where we will take a break before returning to our accommodation on the edge of the canal. And soon, here we are in the pool admiring Josiane's wonderful dives.
Monday the 19th, the last day of concentration
The sun is always present, what a treat! We take some photos at the bridge, which we will not cross, before leaving Réole, many hills before arriving near Cocumont where we meet Jean-Robert, the president of the Marmande Cycloturist club who encourages us, very surprised to find a group of cyclists. pedaling early in the morning.
Even a few kilometers the circuit is still hilly and there is a well-deserved coffee break in the village of Guérin where we supply the bread. In silence we now travel to Castelljaloux, take our food by the lake and our coffee in the golf bar that will open for us; the place is quiet, peaceful and we enjoy our last picnic…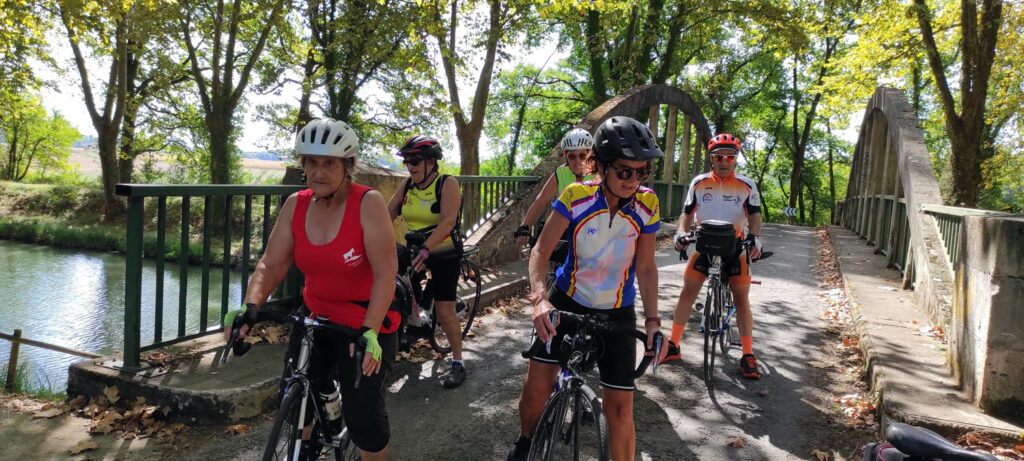 The landscape is no longer the same, we travel calmly on a flat road through the Landes forest. After getting up in the morning it is sensitive… We can also talk… Rest and ride in the village of Durance… It is the custom of the Nérac cycling club to which I belong.
Only a few kilometers without relief before you reach the famous Mézin coast. We all climb at our own pace without difficulty and cover the last kilometers at a good pace. It is exhausted, but smiling that we restore it before we part.
Four days, 337 km, 2759 m of climbing
Many thanks to Élisabeth for her valuable technical advice, Francis for introducing the circuits, Jacques and Valérie for the circuit location and logistics, and Jeanine for the truck rental.
Thanks and congratulations to everyone for the enthusiasm, friendship, energy and good humor!
See you next year, hoping for more of us going to Mont-de-Marsan!
Cécile Lecostey, head of the women's section of the tourism cycle committee of department 47 – Photos: Tuduri Jacques, Cécile Lecostey