Michel Combot is managing director of the French Telecom Federation, which is responsible for the development of the New Deal Mobile project in France, of which Aveyron is a part. Objective: to speed up mobile coverage. And put 4G everywhere, replacing 3G.
The inauguration in Salles-Curan of a new shared 4G mast on Friday, October 21, is an opportunity to assess the development progress of the New Deal Mobile project launched since 2018.
Read also:
Mobile internet: as new cell towers and multi-operator 4G erase white areas
This is an agreement signed between the state, the four existing operators in the territory (Orange, Bouygues Télécom, SFR and Free) and Arcep (Regulatory Authority for Electronic Communications and Posts) to allow the completion of 4G coverage in France.
Michel Combot, in 2022, we are still talking about the digital divide…
with the New Deal Mobile project launched in 2018, the state has made the bold choice not to conduct auctions between operators for more than twenty years.
There are three billion euros invested in networks
Three billion euros will be fully invested in networks. With great ambitions, convert antennas still in 3G to 4G and build new masts, especially in white areas, to allow full coverage of the territory.
Specifically, these new generation 4G towers make it possible for all operators to connect to the same antenna?
Yes. Knowing that each operator has its own program for updating its network with the transition of relay antennas from 3G to 4G including on road and railway axes, increasing signal quality and covering white areas in four.
Read also:
Mobile Internet: Aveyron wants to say goodbye to white areas, the 39th multi-operator 4G pillar is inaugurated
With this multi-operator pillar, the residents of Salles-Curan will now be able to choose the operator of their choice.
State and local elected officials identify the areas to be covered
Where are we with 4G coverage in Aveyron?
Each year, state and elected officials identify the areas to be covered. We don't decide where they go.
At the national level, we have identified 3,600 countries. There are 1,300 left that will be the subject of work. There are an average of 37 areas to cover per department.
79 areas already identified in Aveyron
In Aveyron, we have already identified 79 areas. 39 multi-operator poles have been built and activated. 40 will be off the ground by early 2024. Of course there will be about thirty more places to be added.
Below, the 39 common pillars resulting from the target coverage system (in yellow) have been built and activated in 4G by all four operators. And in white, what they lack.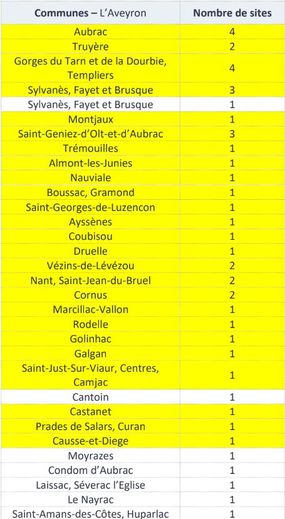 In addition to these 39 newly built masts, nearly 580 3G antennas have been upgraded to 4G. There has been a recovery effort in both existing and construction.
So the goal is to switch 3G antennas to 4G?
By the end of the year, there will be no more 3G in Aveyron, except for people who exclusively own 3G phones.
What about 5G?
The use of 5G is an intended use. On the one hand, in dense areas where there is a lot of traffic. Usually cities like Rodez in Millau where, depending on the use, it is necessary to provide additional network and speed.
The use of 5G is an intended use
It is not necessary everywhere. For example, in Salles-Curan, where with a speed of 70 to 80 megabits per second, there will never be saturation.
On the other hand, for business. We will not replace all 4G antennas with 5G. This has a financial but also an environmental cost. A 5G antenna where there is a lot of traffic saves energy. But in contrast, a 5G antenna that is not in use would consume power for nothing.
We are careful to target places where there is real use and not consume too much energy and raw materials.
Four operators sharing the same antenna, this is not done anywhere else in the world
How is this 4G merger an innovation and a technical achievement?
Four operators sharing the same antenna, this is not done anywhere else in the world. It is really an innovation because it is not easy to coordinate the networks of four operators on the same pole. It took time to develop the technique.
Our great strength is that we have developed a common, equally funded program.
In the region of Occitania
The Occitanie region had 10,932 sites for all operators on July 1, 2022. Among these sites, 10,649 were equipped with 4G. Between March 31, 2018 and July 1, 2022, 5,036 new sites switched to 4G.
As of 1 July 2022, 208 sites had yet to migrate to 4G. These places are located in 52 pillars that serve 66 municipalities.
In addition, 5 multi-operator pillars from previous government programs have yet to be built: project management is provided by the relevant local authority. In addition to the countries that will be upgraded to 4G and built, a total of 669 shared towers will be built and financed by operators between late 2019 and mid-2024 under the target coverage system.