Sunday, October 30, 2022 ▪ 14:00 ▪
4
min read – by
Mikaia ANDRIAMAHAZOARIMANANA

Although less famous than fiat, cryptocurrencies are starting to gain ground in our daily lives. Now we can use it to buy houses, coffee, clothes, electric cars… It may also be that cryptos help us build solid assets for a peaceful retirement. A recent study by Charles Schwab confirms this thesis.
Charles Schwab, cryptocurrencies as an alternative to retirement savings
Finance giant Charles Schwab has posted the results of a online survey on cryptocurrency investments in 401(k) accounts. It's called " 2022 401(k) Participant Study – Gen Z/Millennials Focus ".
1,000 401(k) retirement plan savers, between the ages of 21 and 70 and actively working at a company with at least 25 employees, were surveyed by Logica Research.
Here is an excerpt from published results by Charles Schwab: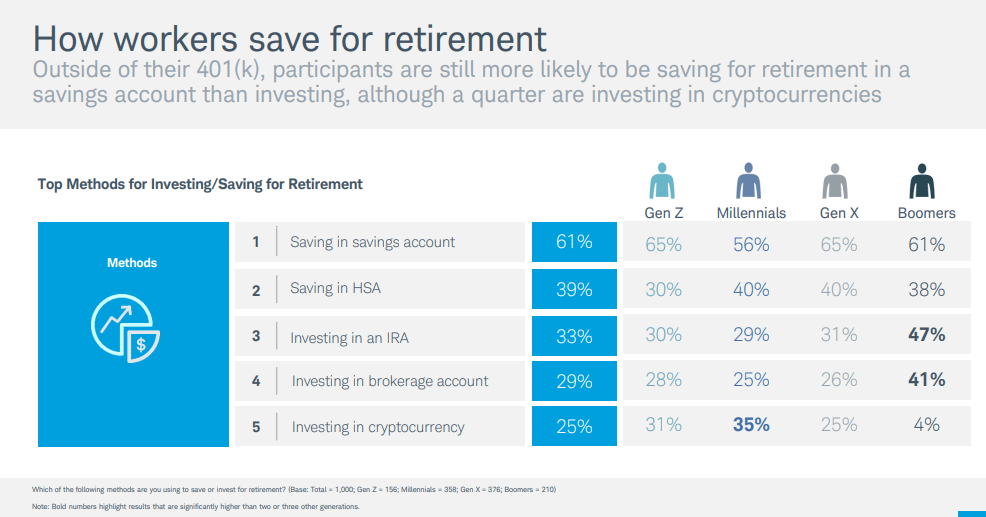 As we can see, more than 30% of Gen Z and millennial workers would favor investing in annuities and cryptocurrencies in their 401(k).
As for their current choice of investments:
47% of surveyed millennials confirmed making investments in cryptocurrencies;
43% of Gen Z agree to do the same;
33% of Gen X workers invest in these assets;
4% of "baby boomers" invest in it.
The same report states that cryptocurrencies are among the 5 most popular retirement savings methods. Bitcoin, ethereum, dogecoin, etc., occupy 2e position in the ranking of the most popular alternatives among Gen Z savers. While millennials place them in 3e position.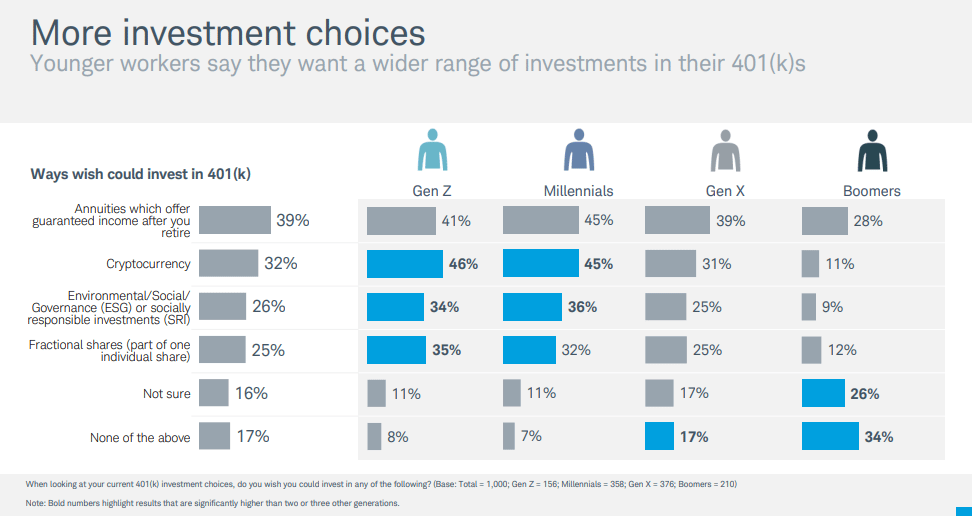 The United States is concerned about the situation
bitcoin.com, which analyzed this Schwab report, highlighted an increase in interest in cryptocurrencies as a means of investing in respondents' 401(k) accounts. If at the moment, they favor annuities with 39%, 32% of them see crypto as another way to cope reliable income after retirement. As the results above suggest, millennials and Generation Z are more likely to choose cryptocurrencies.
However, this trend for crypto-assets is viewed with suspicion by the US Department of Labor. Last April, the institution raised concerns about Fidelity's integration of bitcoin into 401(k) retirement accounts.
However, US government advice hasn't stopped Generation Z and millennials from jumping on the cryptocurrency bandwagon. Charles Schwab's survey confirms that they see no downside and are ahead of the curve when it comes to adopting these assets.
Get an overview of news in the world of cryptocurrencies by subscribing to our new service of newspaper daily and weekly so you don't miss any of the essential Cointribune!
The blockchain and crypto revolution is underway! And the day the impacts are felt in the world's most vulnerable economy, against all odds, I'll say I had something to do with it.