French mobile game studio TapNation claims more than 700 million downloads worldwide. In 2022, the publisher is exploring new territory: Web3. At the head of the project, Rémy Di Mascio reveals this ambition to JDN.
TapNation is launching Web3 gaming projects in 2022, which ones?
We enter Web3 with three projects planned by the end of the year. Our first project is a co-creation with the NFT Metadams collection at blockchain Cardano. They were looking for a video game specialist to create a metaverse connected to their universes NFT. The goal is to create the first Cardano metaverse in terms of daily active users. The first version will be released in the fourth quarter of this year.
The second project is a partnership with Ternoa blockchain, a solid French blockchain in the market (designed by start-up Capsule Corp.editor's note) : is about implementing Caps, the blockchain cryptocurrency, in our games. The project should also see the light of day in the last quarter, with a three to four month testing phase to determine the best way to use the cryptocurrency. Finally, internally, we have the project to create an NFT-oriented game from A to Z, with external partners, but led by MeetNation. It's a real challenge because we want an app that serves the player, that's the number one point.
Why this desire to use blockchain and NFTs in your games, previously completely non-existent in the TapNation environment?
We do not consider ourselves blockchain experts and this is very important: we are experts in the gaming world. The difference is that blockchain players will use this technology to make a game when we first think about the game and try to find the optimal technology for it to work. They tend to throw off the behavior of the players and are somewhat out of touch with what the audience wants.
However, if we're being honest, the general public doesn't necessarily know what a blockchain is and isn't interested in it. The idea is to make this technology invisible to his eyes. This is the big challenge, and it's not just for TapNation, but for all companies in the market, whether it's mobile games or triple A. You shouldn't even use the terms cryptocurrency, blockchain, NFT, although these are great tools and we want to educate and support players as we move forward in this technology.
You mentioned developing an internal Web3 game. Can you develop your own blockchain, like Axie Infinity with Ronin, Ethereum's own layer-2?
We do not claim to be technical enough to create our own blockchain, whether it is a layer-1 or a layer-2. Our vision for Video game it's really about working with partners hand in hand so that it's beneficial to the blockchain we choose and both beneficial to our players. At the moment, we cannot yet communicate about the chosen solution, we are still hesitating.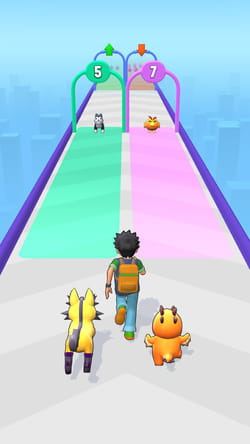 Cryptocurrencies and NFTs are still often associated with a sulphurous reputation, especially in the gaming community. Can't you deprive yourself of part of your base?
If we manage to make this part invisible, there is no reason for these players to refuse to use NFT or even cryptocurrencies. The key is to provide added utility and value. Today, players play to play and have no financial or material incentive, so if you can add an extra element in a subtle way, it becomes acceptable to this audience. We have nearly 700 million downloads across all our games. If we convert just one percent, that will already be a big step.
What do you think of Web3 in terms of the economic model?
We assume Web3 is extra for us. Currently, TapNation is profitable and a well-run business with no issues in terms of revenue. Web3 is a way for us to try out a new industry without financial pressure. Of course, we consider elements such as the financial market, but this is not our primary motivation. Today, some of our games have amassed 200 million players. The Web3 part still remains a place in comparison.
"Some of our games have 200 million players"
New regulations are emerging in Europe, in particular MiCa and TFR in force from 2024. Will imperatives like KYC (Know Your Customer) complicate your task in terms of user experience?
We'll follow the rules, no debate, but yes, things like KYC can be a bit of a drag because in our universe, any extra step like filling in a last name, first name or email breeds reluctance. We will have to approach it in a very intelligent way and support our players.
Former art director and motion designer in the communications sector, notably at Edelman, Remy Di Mascio joined TapNation game studio in 2020. In 2022, he took over as head of Web3's new department.