Anyone looking to sell or rent a property can now, with a few simple mouse clicks, find out which broker in the area is best suited to guide them. This is possible with the new HouseMatch matchmaking platform, let's say the first Tripadvisor for real estate agents in our country. Hundreds of thousands of reviews have been collected on the platform from more than 5000 brokers from all over Belgium. With the help of artificial intelligence, real estate owners connect with brokers that best fit their properties and personal expectations, says co-founder Nathan Coox.
The sale of a home is already carried out in three out of four cases through a real estate agency. But how exactly do sellers and landlords decide which real estate agent to work with? Research by Smooved, the Brussels company behind HouseMatch, shows that word of mouth is the most important criteria for eight out of ten when choosing a particular broker. Nearly two out of three even sign a contract with the first real estate agent they strike up a conversation with. And that's not always an instant success story.
For most people, selling their home is the most important transaction of their lives and carries many emotions. However, finding a custom broker is very difficult nowadays. When you browse the internet, you will either be bombarded with flashy ads that only focus on commissions, or you will be lured by portal websites where brokers pay to appear exclusively in their results. Real estate agents are also difficult to compare. Qualitative criteria such as reputation, communication and the way of working are very important. With HouseMatch we have now created a platform that can help everyone make a qualitative decision. Nathan Coox, co-founder of Smooved
Goal Matching Platform
In concrete terms, sellers and homeowners can navigate to HouseMatch starting today, where they can get a free overview of brokers in the area. They also immediately see your reputation and size. Owners can further refine by indicating what type of property they offer (price range, size, location, style, etc.) and what service they expect (daily contact, one or more file managers, etc.). After a few clicks of the mouse, intelligent software links all these criteria with the hundreds of thousands of reviews in the database and the brokers' historical portfolios. A few seconds later, you'll receive an estimate of how well real estate offices in the area fit those criteria. Thanks to HouseMatch you will discover which brokers best fit your real estate project.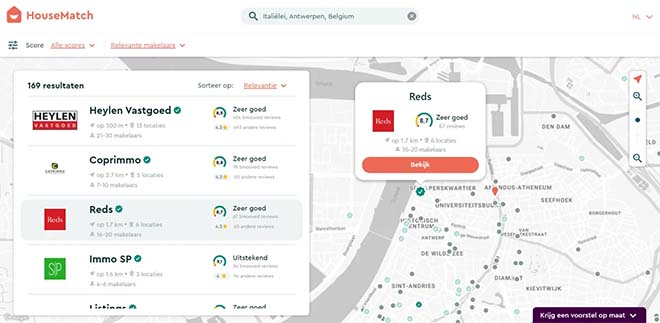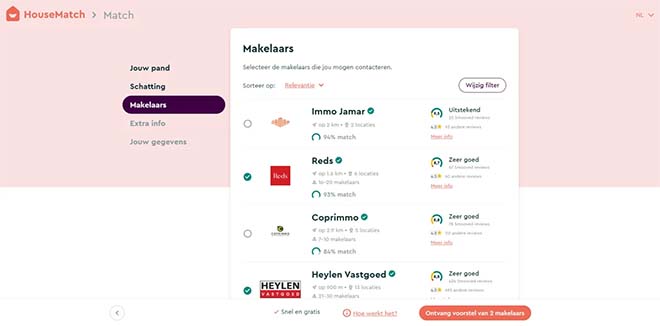 Unlike existing websites, HouseMatch real estate agents cannot pay to be the only ones referred or to rank higher. The experiences of other sellers or owners are decisive here. That makes HouseMatch the first objective platform for choosing a broker. You also decide for yourself who can contact you, without having to fill in your details first.
Tens of thousands of trusted and verified reviews
And where exactly do those criticisms come from? Since launching at the end of 2019, more than one in eight real estate offices in Belgium have turned to Smooved for numerous services, such as helping buyers with relocation management and providing quality control to sellers.
The latter has allowed us to collect and verify the experiences, or reviews, of tens of thousands of sellers and owners. A single source of reliable information on a large part of the Belgian market. We then anonymize the reviews and aggregate them on our HouseMatch platform. Additionally, we have collected hundreds of thousands of unverified reviews left on public websites or social media. We have also added it to our platform. For example, we have managed to paint a reliable image of the reputation of more than 5,000 real estate offices in our country. Nathan Coox, co-founder of Smooved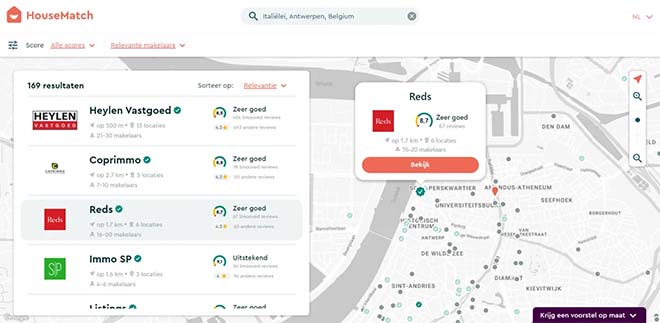 Coox also emphasizes that HouseMatch only collects reputable real estate agents on the platform, so users don't come into contact with rogue brokers.
With HouseMatch we want to take the real estate market to a higher level. We inform owners and sellers about what a real estate transaction implies and we present the added value of real estate agents. The market share of real estate agents has increased by more than half in the last ten years. We are convinced that this will only continue to grow. Nathan Coox, co-founder of Smooved
The new HouseMatch platform can be found from Wednesday June 1 at www.housematch.be.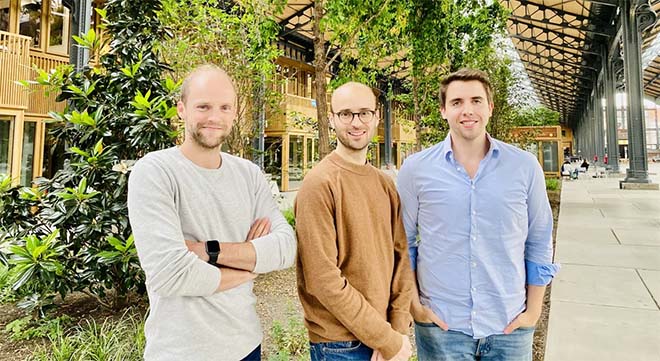 The founders of Smooved. fltr: Laurens Vanpoucke, Ignace Buelens, Nathan Coox
Also read: