More and more law firms are appointing a director who is not a lawyer. Three office managers, from Boels Zanders, Florent and HVG Law, tell us how they experience the legal profession as non-lawyers. "I'm almost always the outsider."
Photos: Roel Dijkstra Photography
Johan Verhagen Boels Zanders
Johan Verhagen (photo above) was a bank manager for many years, but moved to Boels Zanders Advocaten in 2017. As managing director of the Limburg office, Verhagen is still regularly surprised by differences with the banking sector. "The famous fax: I didn't know what I was hearing!"
"After fifteen years as a director in local banks, it was time to take a new step. At that time, supervision in the banking sector had already been further intensified, to the detriment of the autonomy of the banks themselves. In addition, profitability was under constant pressure. That made the job less and less fun. After the umpteenth reorganization, I decided to broaden my horizons. After a year of interim work, Boels Zanders came forward with an offer I couldn't refuse: they were looking for a director who could contribute to his growth ambitions. Together with two managing partners, I am responsible for the daily management of our locations in Venlo, Maastricht and Eindhoven.
Where the banking world struggles with government gone wrong, it's a different story within the legal profession. The criteria used here cannot be compared with those used by banks and accounting. With the Bar Association as the main control body – the name says it all – he looks like a butcher inspecting his own meat. We note that supervision is in full swing. During an office visit or an inspection of the Order, we have to fill out more and more questionnaires and provide information.
I anticipate that oversight of the legal profession will only intensify further. I also see a role for myself as a director in this. At Boels Zanders we set the bar very high in this area. This sometimes leads to internal discussions, because it creates a lot of paperwork in daily operations. Lawyers prefer to practice only their profession. Anything on top of that is ballast. But I'm happy to discuss this, because compliance, risk management, and integrity will be more and more important in the future.
digitization
Another big difference with banking is the level of digitization. The famous fax: I didn't know what I was hearing! The legal profession is now experimenting with automating the work of merchandise, but you've been able to fix money matters yourself via your smartphone for years. The digitization of our simplest services is also on my plate. We are setting the guidelines for this together with internal and external specialists. An interesting puzzle, because it means that we will sell fewer hours. But if we can't serve our clients in this area, they will eventually stop coming for the specialized work.
What has positively surprised me is the long-term financial health of law firms and certainly Boels Zanders. As a banker, he looked at numbers for hundreds of companies each year, and often they didn't look like your average law firm. It is really special that this sector manages to stay financially stable for so long.
This financial health also contributes to a good atmosphere in the office. Unlike the bank, where there have been more and more downsizing, Boels Zanders is an environment where the focus is on growth and progress. Also, there are nice people who are good at their profession. After so many years it was quite exciting to get out of the gilded cage of the sofa, but I haven't regretted it for a moment.
Lisette Rikkers, Florent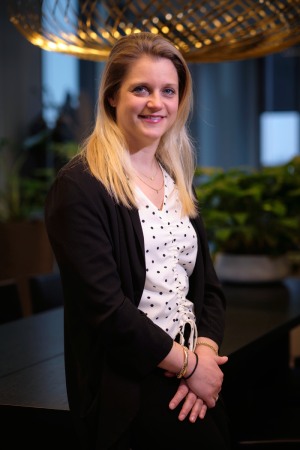 When Lisette Rikkers, as a human resources specialist, was asked to find a new director for Florent, she herself decided to raise her hand. Rikkers has been COO in the Amsterdam office since 2020. "I had no management experience, but facilitating, connecting – I can do that."
"I'm almost always the weird one. Not only at the board, but also at all partner meetings, I am the only one who is not a lawyer. I did study law, but my legal knowledge is no longer up to date. That is not necessary: ​​lawyers serve the client, we serve the lawyers. My added value lies in the operational organization of this office.
During my studies I did an internship at a law firm. Useful, because he made me realize that I didn't want to be a lawyer. Sitting all day reading or writing is not for me. By chance I came to the human resources profession. At the beginning of 2020 I received a call from my former internship supervisor, who had opened a new office in the meantime. If you wanted to contribute to a greater professionalization of Florent? From the blueprint I made for them, it was clear that the board lacked someone to lead the staff. Someone with a liaison role between the different departments and the lawyers.
We were looking for a candidate with ten years of experience in the legal profession, which seemed to be an important requirement. But during the process something began to bubble up in me. Could that role be for me? I had no management experience, but facilitating, connecting: I can do that. This would be a great opportunity to develop myself. After a summer break filled with self-reflection, I decided to take the plunge. Fortunately, my question "Can you see me doing it?" was an enthusiastic response. After the conversations that followed, I gained the trust of the associated group, a great feeling. At the end of 2020 I joined the daily board as COO.
think broadly
'Let's do it like this', I hear regularly. Lawyers are conceptual thinkers: they think in solutions. A nice environment, but sometimes a bit one-dimensional. I think more broadly: what does such a solution mean in a practical sense? What investments are needed? Do we have the knowledge or the in-house manpower? What impact does it have on our employees? And also: how do other offices deal with this? Just as a lawyer looks at case law, I look at reference reports.
I don't know everything equally well, but then I look it up or leave it to one of the specialists on my team. And we always consult with the lawyers if something is going to land. They keep us on our toes again. Finally, I present a plan in which all aspects have been taken into account. "What if we do it like this?"
enthusiasm
What sometimes irritates is the packed schedule of my two co-pilots. They also continue to run their practice, so sometimes I have to claim time and attention to fine-tune things. By the way, that applies to most partners. Now I know that I have to communicate succinctly, because the customer always comes first.
At the same time, that enthusiasm makes working with lawyers fun. I also find my work very interesting and I like Florent very much. But I have never seen him as proud as the lawyers in his profession. A swearing-in or jubilee ceremony is widely held and in most rooms there is a band on the wall or a statue of Lady Justice on the desk. In that sense, lawyers are a special group of people. But one where I feel at home."
Eva Verhoef, Law HVG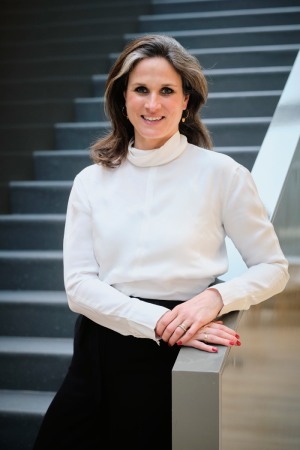 When Eva Verhoef started as a recruiter at HVG Law in 2007, she never imagined that she would still be working there fifteen years later. And much less that she would be on the board in 2022. "Now I often think and write like a lawyer."
"The first time I attended a board meeting, I had read all the documents from front to back. They should go through it line by line, I thought. If there's one thing I've learned at HVG Law, it's that half the job is not an option. When you do something, you do it well. Now I go into the meeting more relaxed, but I still prepare well. Critical questions are guaranteed. That's what I like: if my ideas are blindly accepted, things would get boring.
With a Hospitality School diploma in his pocket, the legal profession was not an obvious choice. I was interested in an acquaintance who worked at HVG Law: he didn't even want to come and talk? In 2007 I started as a recruiter. From the first day I realized: here you work at the forefront. Lawyers are verbally strong, sometimes they surprised me with their vocabulary. However, I immediately felt at home, partly thanks to my first coach who trained me wonderfully. I discovered that lawyers and civil notaries are critical, but also intelligent and creative. And a bit quirky. Like me, actually.
I went from recruiting to human resources and then to marketing. As a senior manager, I worked closely with the board. As such, I also attended board meetings and partner meetings. There my projects were presented by one of the directors. That went well, but more and more I thought: I want to be there myself. When there was a change in the board of directors in 2019, we decided to integrate my responsibilities into the daily management. That felt like a nice acknowledgment of my role within the organization. My portfolio includes marketing, innovation and much of operations.
Get used to
Both the partners and I had to get used to this new form of government. What exactly was my role? How did I relate to the partners? Most of them had known me for years, of course, but one non-lawyer on the board was new to everyone. It took some time to find a way into that.
What helps is that I often work with different partners on projects. This is how I show my added value as a specialist and get acceptance of the partner group. Based on our own experience, we all seek the best end result. With that in mind, I experience difficult conversations as good conversations. Now I feel completely comfortable in my position. I think the fact that my role has been fully accepted by the organization says a lot about HVG Law.
open visor
In 2007 I never thought that I would still be working here fifteen years later. And it certainly isn't that he would now play a role in day-to-day management. To keep an open mind, I follow various education and training courses, also outside of HVG Law. I'm glad I've always been given the space to continue to develop. After all those years between lawyers and civil notaries, I am no longer so easily verbally emotional. In fact, now I often think and write like a lawyer."
This article was previously published on the last number for Advocacy Magazine. Click on the cover to open the magazine or go to the magazine page. You can also request a free subscription here.