Quinten François is a Belgian crypto investor and much-discussed "educator". With his YouTube account having more than 140,000 subscribers, youth and investmenton Twitter and with a really successful book, Quiten shares his extensive knowledge about the cryptocurrency industry on a daily basis.
Crypto Insiders recently had the privilege of doing an exclusive interview with Quinten. In the interview, we talk about his background, the path to success, and important learning moments that may be relevant to all cryptocurrency investors. Read this and much more in this fascinating and above all instructive interview!
Quite a few readers will have heard of you, but I think there are very few readers who really know your background. For those people: Who is Quinten? For example, what did you do before you started with cryptocurrencies?
In fact, I've been working on all kinds of projects since I was 13 years old. A bit of the entrepreneurial side in me, it was already there when I was 13 years old. By setting up many projects and often coming across certain things, I have always learned a lot from them. It never really turned out to be a hit, but that's where I learned to find something that's right for me.
For example, I've been active in the music industry and tried to do projects with other people and that wasn't always really my thing. It was clear then that I needed to have something that I could do on my own, something that was scalable and that I liked.
I also started investing on the side when I was 16 years old. I was still not allowed to invest when I was 16, but I did it through a Binq account I opened in my parents' name. This is how I really started investing.
I was active on investor forums and there I saw more and more about crypto. So I really started to do more research. I was also very skeptical at first, which I think is also a healthy attitude to start with.
Because it actually went very well from the beginning, I never made any big mistakes, that bit me more and more. I continued investing until I was 21 and then all the pieces of the puzzle fell into place for me. He knew very well what he wanted: scalability, doing something alone and social media was also something he really wanted to do. And the part of the investment, of course, which could then be applied to cryptocurrencies.
That's basically how I got into crypto. I was active on investor forums and there I saw more and more about crypto. So I really started to do more research. I was also very skeptical at first, which I think is also a healthy attitude to start with.
In what year did this happen, when did you first come into contact with cryptocurrencies?
In 2013, I first heard about cryptocurrencies, but I really started researching at the end of 2016. In the beginning of 2017, I started investing in cryptocurrencies. That was also the time when I noticed a gap in the market to start making YouTube videos about crypto.
At that time it was still very difficult to do your own research. There were some forums, but there were very loose pieces of information.
So I thought to myself, "Can't I make it easier for people by pouring my research into a 10-15 minute video?"
I did that and actually from the first video I posted back in April 2017 it turned out to be a reasonable success and I actually kept going.
Of course, he has also written a book, The Bitcoin Revolution. How did the idea of ​​writing a book come about? Of course, that's different than making YouTube videos.
That's how it is! First of all, actually because I thought that at that time there wasn't really a good Dutch book that contained all the information that people needed. Especially since I also felt that there was a real need for that information, for an alternative to what the media was saying. The reports on crypto back then didn't really make any sense.
So I thought: "People must have something to understand cryptocurrencies in an easy and accessible way, but not by watching thousands of videos." Actually, it was also my mother's idea, during the bear market of 2018. I was in a serious rut ​​then too: my views were gone, part of my portfolio was gone, and the income was not coming.
I continued to study crypto and learned new things like technical analysis. Then my mother said, "Why don't you put everything you know in a book?" That put the mill to work for me and I finally wrote the book in 2019, I looked for a publisher at the end of 2019 and that was immediately the biggest in Belgium. In September 2020, the book was finally official.
It also turned out to be a pretty successful book, right?
Yes of course! I am also very proud of it, more than I think on my YouTube channel. It is the best-selling Dutch book on cryptography. Ranked among the top 10 best-selling books on finance and management for one year. It's good that it turned out to be such an unexpected hit.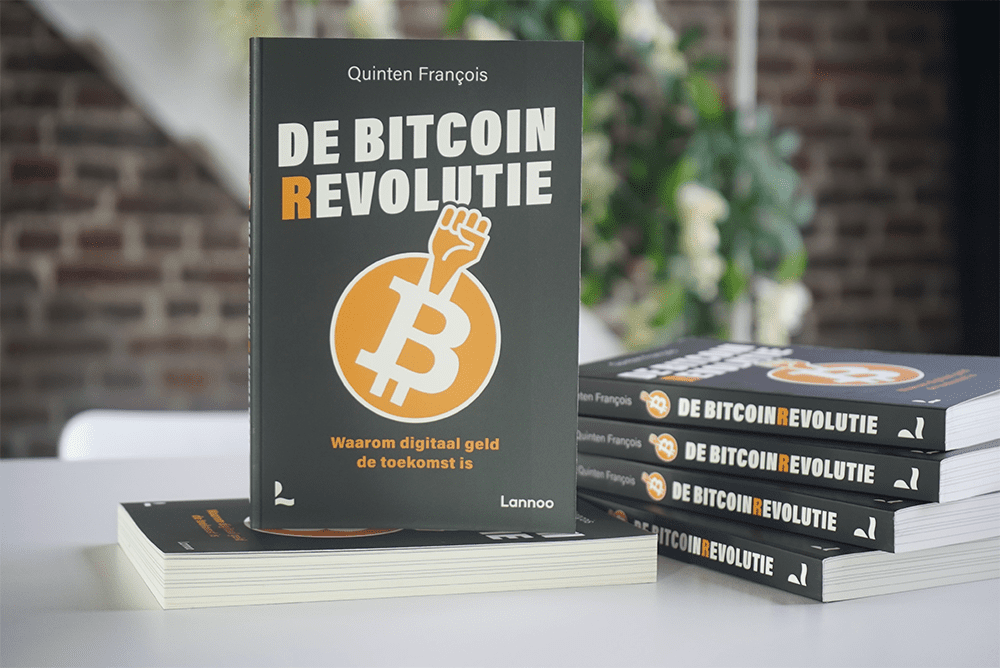 You've obviously had quite a bit of success over the years, but it seems unlikely to me that this road to success has been an easy one. Can you tell us about the difficulties you have experienced and the lessons you have learned from them?
I think it comes down to a few things. Perseverance is very important. There are ups and downs in every business or success story. People often see the path from A to B and this looks very easy, but it is really ups and downs.
In 2017 everything went very well for me, but then everything collapsed and as I said: I had no more income, my cryptocurrency portfolio had evaporated by more than 95% due to errors.
And what kind of errors are we talking about?
I didn't make enough profits and I also didn't manage my portfolio well enough in 2017. Some altcoins are running and no matter how much they rose in late 2017, so much that they also fell in the bear market. And that was very painful. It really was a deep mental dive in 2018, but perseverance is very important. Really believe in yourself.
Just believe in yourself, have confidence in yourself. Despite the fact that I lost 95% of my portfolio, despite the fact that everyone around me no longer believed in cryptocurrencies at all. In 2018, I literally got messages from people: "Is it done with crypto?" But I was so convinced that in a few years we would return to the previous level. "I'm into something no one else believes in right now." That was a great opportunity for me.
So I went in with everything. I really didn't have 100 euros left in my account. I really thought, "Fuck it, it's all or nothing.
You really have to be convinced of what you know for yourself. For me, that also resulted in one of the best decisions I ever made and that was at the end of 2018 when the bear market was almost bottoming out. So I went in with everything. I really didn't have 100 euros left in my account. I really thought, "Fuck it, it's all or nothing."
I was 23 at the time, still living with my mom, and I truly believed at the time that it was the opportunity of a lifetime. I'm going to put in as much as I can now. This resulted in me buying bitcoin (BTC), on three occasions. First at $6,000, right before it went down. Then to $4,100 and then to $3,400. I also bought a lot of ethereum (ETH) at $120 and $80.
I think everyone experiences it. If you want to be successful you just have to believe in yourself and ignore the noise around you. Just ignore what others say, who don't know enough about the subject. Those people shouldn't mess with your head.
Now we have mainly talked about the past; How did you get to where you are now? But what do you do in everyday life?
Now I'm working on all kinds of things with crypto, but I also decided last year that I want to travel for a while. In May of last year I received part and I no longer felt 100% good in my role as a YouTuber. I thought it was a very lonely existence. I missed the physical companions around me.
Then I said, "Okay, YouTube doesn't have to be full time anymore, I just want to travel first and new opportunities will come naturally."
Then I focused mainly on Twitter. I find this much more enjoyable to do. It's also a different community, something that appeals to me more, the more 'hardcore' community. YouTube is often the first place people go and that's a different kind of interaction. Twitter is much more personal, but you can also do it from anywhere in the world.
Now I also advise two crypto projects. An NFT project that is active in the music industry, ie TopDJ.io† And another project doesn't have a website yet, but it's a metaverse project aimed at gamers. They're building that metaverse right now and it's looking great.
You went all-in in 2018, of course. Suppose now someone comes to you: "Remove, I intend to put everything I have into crypto." What do you say to that person? Would you support him or advise him to think very carefully first?
Of course, it's never good to go all-in. When I did, the situation was very different. First, it was a bear market back then. Second, the prices were very different. Third, the economic situation was different and fourth, I did it simply on the basis of my own knowledge. I was so convinced that this was the perfect time.
But if we're talking about someone else, I would never say, "Go all out." If he or she wanted advice from me, that actually says a lot about the other person's level of knowledge. So he or she doesn't really know enough about the subject to be able to justify an 'all in'.
I would never say go with everything. Especially if you have to answer to someone else. I had no responsibility at the time. I didn't have a house, I didn't have children, we didn't live together. At that time I only lived in a room with my mother. If I had lost everything back then, that would be it. Then it would have started again.
I would never say go with everything. Especially if you have to answer to someone else.
Then the stars aligned for me. I wouldn't do it again now. There is a lot of uncertainty, we don't know what crypto is going to do in this economic and geopolitical environment. So no, just limit it. It is always good to get into crypto, for example with the DCA strategy.
follow quinten On twitter And be sure to check out his YouTube channel as well. youth and investment†