ministries
blog post | 03-14-2022 | Others about BZ's work
Women around the world are working on sustainable solutions to climate change. However, they often have no say in climate policy. While women as effective and creative leaders can do a lot to address climate change. Therefore, the Ministry of Foreign Affairs supports partners around the world who are committed to climate change, women's rights and female leadership.
Women are more affected by climate change, but often do not participate in decision-making. They also tend to have less access to financial resources and technology. The Foreign Office believes that it is important for women around the world to have a voice in climate policy, because only a diverse climate policy is effective and sustainable. Read here how women are leading the way in El Salvador, Nigeria, Indonesia, Brazil and Kenya.
Mangrove restoration in Nigeria
In Nigeria, women are taking the lead in restoring mangroves in the Niger Delta.
In the Niger Delta you will find one of the largest mangrove forests in the world, but due to oil spills and dominant swamp palm trees, the mangrove forest is in danger of disappearing entirely within the next fifty years. The delta is being devastated by acid rain, drier soil, flooding and pollution, which has prevented locals from fishing or processing cassava in the delta.
To protect the Niger Delta and its local residents, the Lokiaka Community Development Center trains women and girls in restoring the mangrove forest and biodiversity in the delta. More than 250 local women have already received training and have cleared 36 Nipa palm plots and planted a million mangrove saplings.
Mangrove restoration is an important tool to address climate change. A mangrove forest can store up to four times more CO2 than a traditional rainforest. In addition, the mangrove also provides natural protection against flooding, improves water quality and is an important breeding ground for fish.
Through GAGGA funding, organizations such as Both ENDS, Global Greengrants Fund, and Mama Cash support the Lokiaka Development Center in various activities, such as mangrove restoration. In the coming years, the center hopes to restore at least 500,000 mangroves per year and 5 million mangroves during the United Nations Decade for Ecosystem Restoration.
Sustainable Agriculture in El Salvador
Women with disabilities during the civil war are working on sustainable agricultural innovations in El Salvador.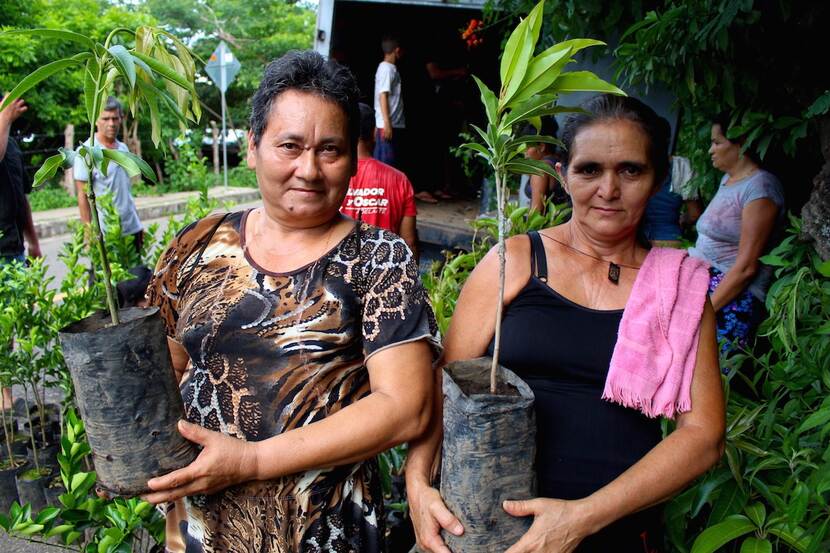 In El Salvador, it is generally believed that only men work on agricultural innovations, but in Association of War Wounds of El Salvador (ALG) (Association of Victims of the War in El Salvador) It is precisely women who are trained in sustainable agriculture.
Many women who were disabled during the civil war in El Salvador now grow corn and beans because they cannot live on the small pensions they receive from the government. But periods of heavy rain and long droughts also make this increasingly difficult. "We had to find new ways to make ends meet," says Olga, executive director of ALGES. "So we taught ourselves how to do things differently."
ALGES trains women in the use of plowing machines. As a result, working the land requires less time and physical strength, allowing more women with disabilities to participate. The women also learn about the use of small irrigation systems, ecological fertilizers and the cultivation of climate-resilient crops. The ALGES women's backyards now grow organic tomatoes, cabbage, chili peppers, cucumbers, mango saplings, and avocado.
GAGGA supports ALGES to promote the participation of women leaders with disabilities in the conversation about food security and women's rights and to increase the knowledge and experience of women with disabilities in sustainable agriculture.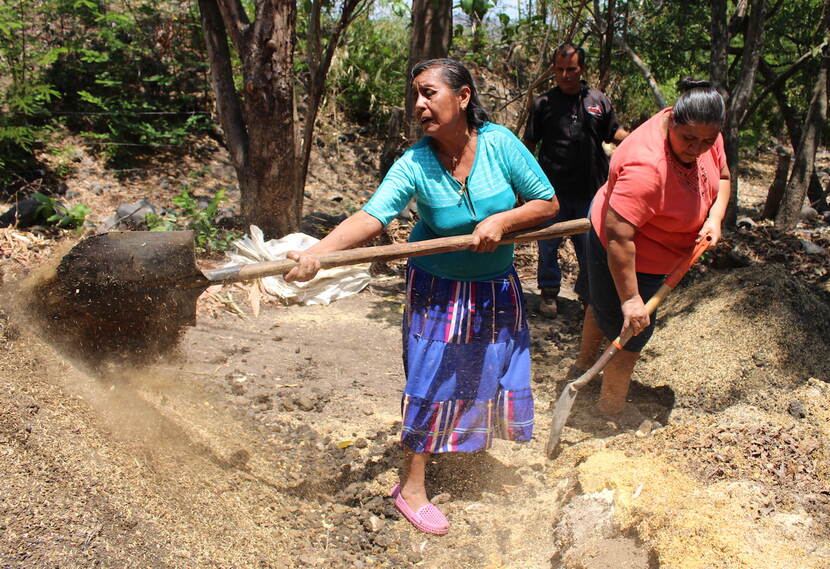 The Ministry of Foreign Affairs funds partners such as the Global Alliance for Green and Gender Action (GAGGA) who are committed to female leadership and equal rights for women and girls.
GAGGA works for a world where women have equal access to water, food security and a clean and safe environment. By supporting more than 400 organizations in more than 30 countries in Africa, Asia and South America, GAGGA brings together the collective strength of women's rights organizations.
Reforestation in Indonesia
In Indonesia, women are working to raise awareness about climate change and sustainability.
Yuliana, 27, watches farmers in her country suffer from long periods without rain, poor harvests and devastating cyclones. She travels around Indonesia with the Geng Motor Imut action group to raise awareness about climate change and distribute climate-resilient trees and seedlings. These trees ensure that water stays in the soil longer and less erosion occurs.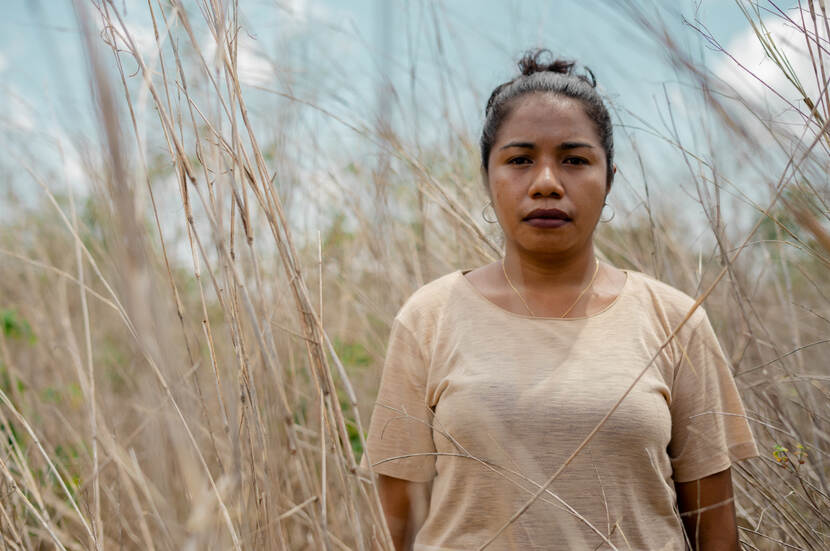 Yuliana's ultimate goal? No more hunger due to bad harvests and no more dry rivers. "But that will only work if more people commit to the climate and our planet. If people like you and me who have the opportunity to work on this don't even try, who will?
of the program Voices for just climate action supports the Humanistic Institute for Development Cooperation (HIVOS) Yuliana, so that more people are protected from the consequences of climate change.
Protection of the Amazon rainforest in Brazil
The indigenous women of Brazil have been fighting for years to preserve their territory and protect the Amazon rainforest from mining and pollution. In recent years a new challenge has been added: climate change.
Telma sees that her environment changes rapidly. Due to increased deforestation and air pollution, these changes are accelerating. The impact of climate change can be felt in Telma's hometown: the rivers are drying up, it is heating up, and the risk of forest fires is high. This has an effect on agriculture, but also on the health of the local population.
like head of the Union of Indigenous Women of the Brazilian Amazon Telma defends the rights of indigenous women. 'Indigenous communities not only care for their environment; they take care of the whole world. It is time for the voice of indigenous peoples to be heard, even outside of Brazil.'
of the program Voices for just climate action supports HIVOS Telma to better protect indigenous inhabitants and the Amazon rainforest against the consequences of climate change
The Ministry of Foreign Affairs supports it Voices for just climate action of the Humanistic Institute for Development Cooperation (HIVOS), so that women and other underrepresented groups have a central role as creators and promoters of innovative solutions for climate change.
Circular economy in Kenya
Women in Kenya are working towards a circular economy by recycling plastic and old computers.
In Kenya, less than 10% of the population has access to a computer. The Boost program aims to change that. Therefore, program participants refurbish second-hand computers, which can then be used in Kenyan hospitals, schools, and government institutions.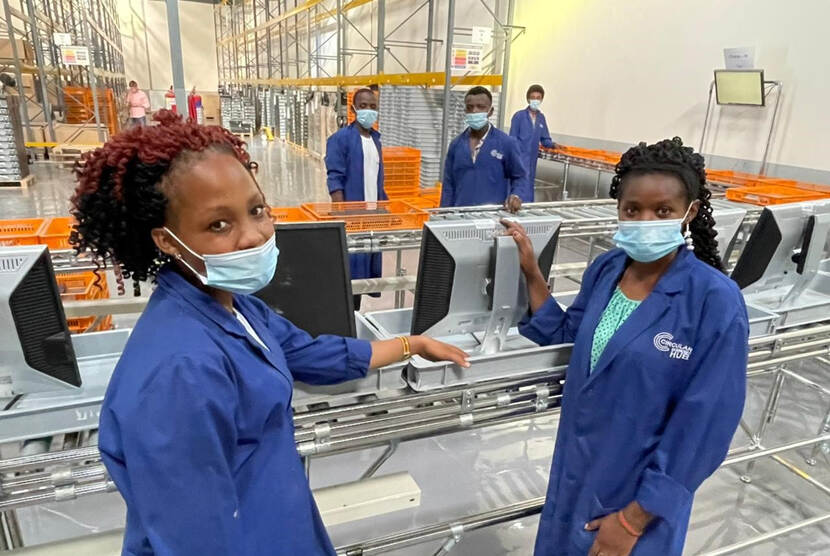 The Boost program has a specific focus on women. At the training center, the women receive training on how to handle electronic waste, but also on the reuse of raw materials. Through this recycling training, the teachers hope to motivate the women to set up their own circular business. And with success: for example, participants now sell earrings made from plastic waste and collect plastic bottles that can be reused to sell water at a lower price.
The Netherlands Entrepreneurship Agency (RVO) supports the Boost program of the SDG Partnership Facility. This public-private partnership focuses on the following Sustainable Development Goals: ending hunger, ensuring food security and sustainable agriculture (SDG2), inclusive economic growth, employment and decent work for all (SDG8) and strengthening the global alliance to achieve the goals. SDG 17).