AntwerpTuesday, March 8, was International Women's Day. In this context, the Antwerp Strong Women Network organized several free activities between March 8 and 12, such as debate evenings and workshops. They concluded today with a full day of workshops at the Alma Women's Center, part of CAW Antwerp, with a fashion show as the final piece. Twenty women with a migration background designed and made all the garments themselves. "They suffer twice as much discrimination because they are a different colour, wear a headscarf or speak a different language."
Antwerp has more than 50 organizations committed to women with a migration background. For many women they are an important base of operations, a source of inspiration or simply a place where they can be themselves. The city supports this network group, which has been given the name 'Antwerp Strong Women's Network'.
For the first time, Antwerp women's associations worked together on International Women's Day from 8 to 12 March. Several associations opened their offer to the general public for a week. The week concluded on Saturday, March 12, with inspiring workshops at the Alma Women's Center in the Paleisstraat. For example, there was an interactive workshop on identity, a group discussion on gender equality, a session on addiction prevention, but also care for women with disabilities.
emancipation of women
But perhaps the highlight of the day was the fashion show put on by some of the Alma women. A group of twenty women between the ages of 30 and 60 from different origins -Morocco, Afghanistan, Iraq, Syria, Niger, Somalia, Guinea, Congo, Suriname and Uruguay- designed and made the clothes. The women put on professional makeup and paraded themselves in the fashion show. At the end they showed the traditional dress of their country of origin. The show also featured powerful quotes from strong women from around the world, who have been a role model for women's empowerment.
"The fashion show was not just about clothes or fashion, but about the growth process and the strength of women," says Ingrid ter Maat, coordinator of the Alma Women's Center. "In the women's center we organize weekly workshops and activities for women with migratory backgrounds in vulnerable situations. We noticed that women, often from a traditional gender role, show a lot of interest in our sewing and cooking workshops. It's important that those women feel comfortable, but we also want to empower them and allow them to try new things. So we tried to encourage them to design clothes for them as well. This is how the fashion show came about, in which these women show their most beautiful creations to an audience and feel beautiful, proud and strong".
(read more under the photo)
stereotyped
The fashion show was held in the context of Women's Day. "I am often asked if that day is still necessary today. The answer is yes: the fight against gender inequality is not over yet. This is evident in the sexually transgressive behaviors that are still common, the salary gap that still exists, the lack of affordable childcare,… We are mainly committed to women of migrant origin, because they suffer twice as much discrimination on several fronts. because they are a different color, wear a headscarf, or speak a different language. Organizing a fashion show may sound stereotypically feminine, but if we start from a role these women feel good about, we can do more than push women into roles they don't know about."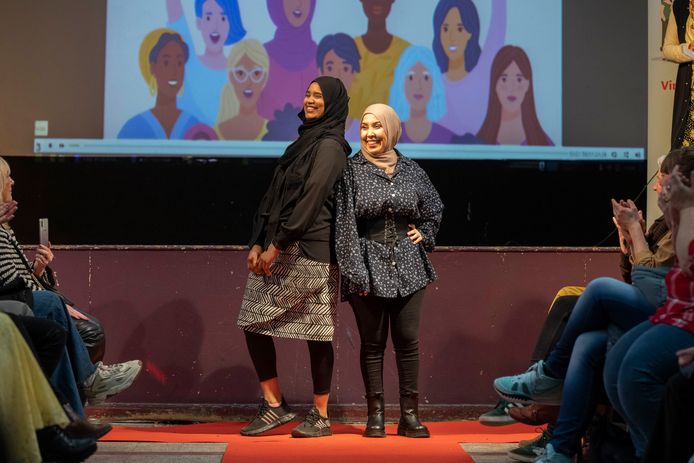 Free unlimited access to Showbytes? which can!
Sign in or create an account and never miss a thing from the stars.

Yes, I want free and unlimited access