Today, Solana (SOL) managed to get the most votes in the Crypto-Insiders premium Discord group. Solana managed to gain a lot of popularity in a very short time and is now also one of the biggest and most popular cryptocurrencies on the market. The SOL price managed to rise around 2% in the last 24 hours. However, over the last seven days, we saw the price decline by about 12%. SOL is ranked 9th by market value at the time of writing.
What is Solana?
Solana's goal is to improve the scalability problem of distributed networks. He wants to do this by making sure that a network can process many more transactions per second than it currently can. In the end, if we all want to make our purchases and daily expenses with cryptocurrencies, we cannot afford to wait half an hour in the supermarket for the transaction to be confirmed and completed. That is why it is important that transactions are processed immediately.
Furthermore, Solana is a platform on which smart contracts can be written and on which other projects can also be built. This is basically what Ethereum (ETH) can do as well, however Solana is becoming more and more of a real threat to that platform.
recent developments
One piece of news no one has missed is that Wormhole, the bridge that allows users to transfer digital assets between different networks, has been hacked. The hacker was able to loot around 120,000 WETH here, which was roughly equivalent to $320 million. The hacker somehow deletes the verification. firms that made the system think it was a legitimate transaction. In this way, he was able to create 120,000 ETH on Solana. He sent 93,750 back to Ethereum.
Also, in some more positive news, Solana managed to launch Solana Pay on February 1 this year. Solana Pay is essentially a payment system that allows the consumer to make daily purchases through cryptocurrencies. The seller can choose to charge in a stable coin, so the store does not bear any price risk. The transaction will go directly to the seller's wallet and costs nothing. By using Solana Pay you can also add specific extras. For example, the customer can be informed about discounts or sales of the store through Solana Pay if they wish, but they can also receive special and personalized discounts based on their loyalty to the store. If the customer often buys shoes from him at a specific store, the retailer may choose to give this customer an additional discount on his next purchase.
In addition, Solana Pay also does something with non-fungible tokens (NFT). Therefore, it is possible that if a client limited edition she also receives an NFT from these shoes that can be worn in a metaverse. In this way, her avatar can also walk with the shoes. The customer then also receives an NFT from the receipt of the shoes, so that she can always prove through this NFT that she is actually the owner of these shoes. When a new pair of limited edition shoes comes out, she can be notified through the Solana Pay app. So the app is full of useful features like this.
What else can we expect from Solana?
Solana is, as mentioned before, one of the most popular coins at the moment and it did not become that by doing nothing. Of course, there will be many updates and new Solana apps to come. Unfortunately, the roadmap for 2022 has not been announced yet. However, this does not mean that the project does not accomplish anything this year. Although we cannot say anything about the new updates yet, a popular event is coming up.
For example, there is a new Solana Hackerhouse in the program† This event will start on March 14 and will run until March 18. This event makes it possible for developers to work on new technical innovations in a central location over several days. The advantage of the fact that it is a central place is that as a developer you meet many other like-minded people here and can train or collaborate with them. Of course, this is also a smart move for Solana because it also puts them in contact with a lot of new, undiscovered talent who will eventually want to keep Solana. So it will be interesting to see what new developments come out of this.
Market sentiment
A survey conducted by CoinMarketCap shows that 73% of respondents say that Solana is a good project. However, it seems that almost 30% give a negative rating. This could be related to the negative price action that the cryptocurrency has been experiencing for several months.
As you can see in the graph below, SOL's average search volume per week is dropping quite a bit. The absolute peak took place in September 2021. After this peak, we see the search volume gradually decrease. This corresponds to the price displayed in the technical analysis section.

Technical analysis
The SOL price, like many other coins on the market, has generally only been falling in recent months. This, combined with a support line that started in August of last year, is causing a very large descending triangle to form on the chart. This pattern is normally a bearish pattern. The fact that the price has already tested the support line several times but has not broken it yet is an interesting fact. At the time of writing, we are hanging on this support line. This will be an important moment for the race. So on a downside breakout, we could drop further. There is also no nearby support line that can absorb that blow. The next support is only around $50.
Although the 200 days moving average (MA) still seems to be curving up, the 50-day MA has already broken through strongly. This means there is a death cross occurred. This is, as the name suggests, a bearish signal. The RSI is currently quite in the middle. This also means that there is still plenty of room to go lower. Everything indicates that SOL is still bearish at the moment.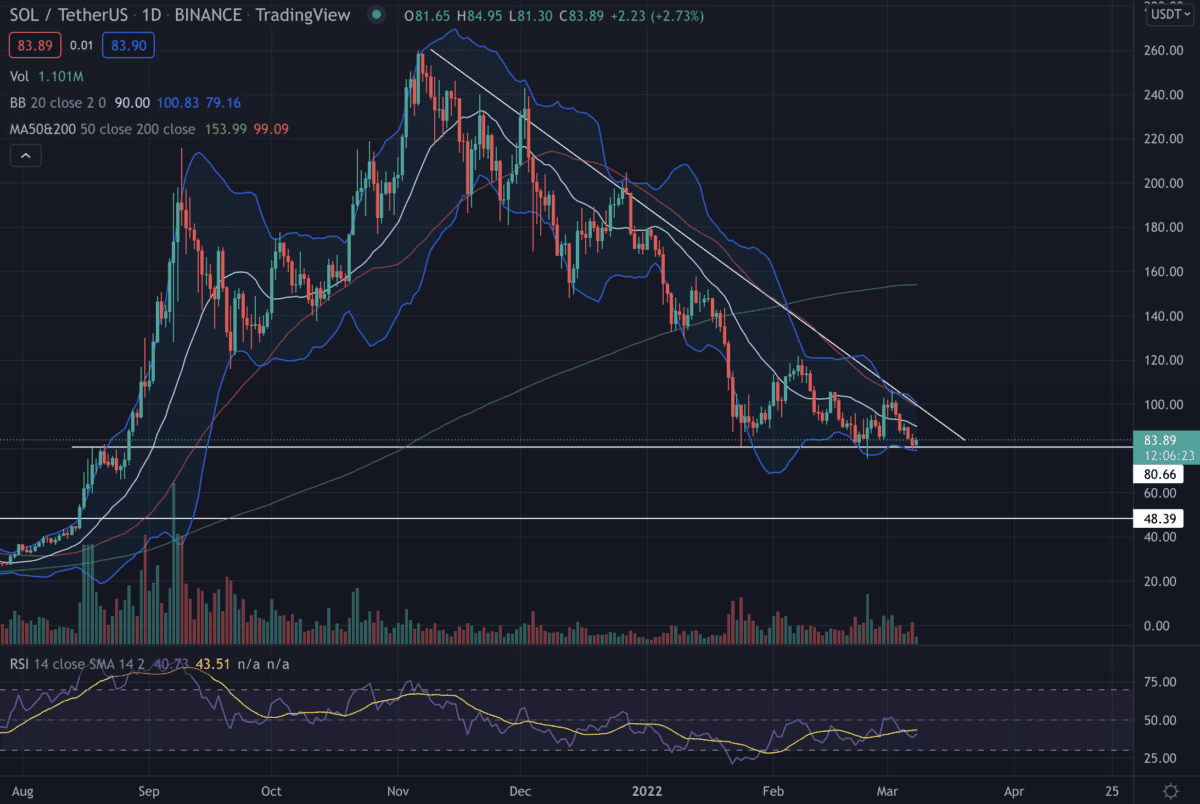 What are the expectations for the next period?
Whether the news will have any further impact on the price depends on a host of factors that vary daily. Considering taking a position at SOL? In our discord channel for members we discuss it news and we will continue to share more updates with you. One of our analysts will also share some additional technical analysis here that will delve into the price. Here you can easily get in touch with our crypto analysts and coaches, they will be happy to help you make an informed decision.