Last weekend, Disneyland Paris welcomed many visitors for the launch of the 30th anniversary, with new experiences such as "Dream… and shine brighter!" the new show in Central Plaza in front of Sleeping Beauty Castle, the "Disney D-Light" pre-show with drones, and the new "Gardens of Wonder" where art and nature come together. Europe's No. 1 tourist destination – with more than 375 million visitors since its opening on April 12, 1992 – has also announced the reopening of the iconic restaurant Walt's – An American and new collaborations with iconic brands, such as Bodum, Pandora and Bic . Camille Dhont, Jamie-Lee Six, Emma Heesters, Julie Vermeire and Henri PFR traveled from our country. Familiar faces immersed in the magic of Disney.
Creating unique shows is part of the DNA of Disneyland Paris: The Lion King: Rhythms of the Pride Lands and the Disney Junior Dream Factory are examples of successful shows that add to the magical experience for guests. On the occasion of the 30th anniversary of Disneyland Paris, a new show is presented every day, several times a day, in Central Plaza at Disneyland Park, in front of the renovated Sleeping Beauty Castle. Sleeping Beauty Castle is more beautiful than ever after a 12-month renovation. This show offers visitors the opportunity to see Mickey, Minnie, Donald, Daisy and their friends in their new iridescent costumes, created especially for the 30th anniversary. Other popular figures such as the Ghost from Aladdin, Rapunzel and Jessie and Woody from Toy Story will also attend. Dream… and shine brighter! tells a story around three themes: "Laugh harder", "Open your heart" and "Believe in your dreams", with more than 30 dancers and Disney Characters, colorful new cars, two new songs and a combination of 20 Disney songs. The new floats are contemporary in style with abstract shapes and iridescent and transparent materials that sparkle in the sunlight and take the show to an even higher level.
Mickey and Minnie's dressing room is a gold mine for any fashion addict: over 450 costumes, now joined by new iridescent 30th anniversary looks. Since 1992, more than 200,000 garments have been designed in the workshops of Disneyland Paris, making it one of the largest costume collections in Europe. Hatters, pattern makers, seamstresses… in total more than 40 Cast Members work in the workshops of Disneyland Paris. To design the 30th anniversary outfits, more than 2,000 lines of rhinestones were sewn, more than 700 yards of fabric were printed, and more than 190 jewels were needed.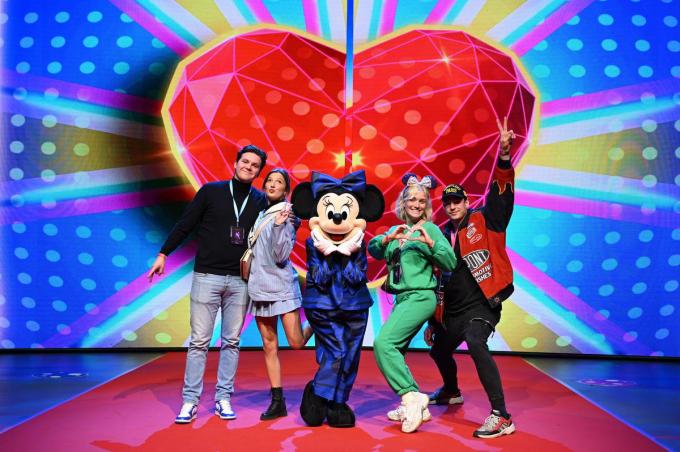 In addition to the entertainment program specially developed for the 30th anniversary, visitors can enjoy the existing experiences with their family or friends. They can try more than 50 attractions, whether they are thrill seekers, adventure seekers or enchanting journeys, there are attractions for everyone. As night falls, guests are treated to a spectacularly enchanting new moment, preceding the much-loved 'Disney Illuminations' shows. This new pre-show, called Disney D-Light, combines video projections, illuminated water jets, light effects, fog, famous Disney songs, and most importantly, drone choreography for an extra touch of magic. around the iconic renovated Sleeping Beauty Castle. Filled with special effects, the different scenes will transform the Castle like never before. On the occasion of the anniversary, and for a limited time, there will be a light and air show with 200 drones to end this new pre-show of the night in an unforgettable way. The drones have been designed with the help of the European expert Dronisos, an official supplier of technological products based in Bordeaux. These synchronized drones form a bright '30' in the sky just above Sleeping Beauty's Castle, while the new theme song 'Un monde qui s'illumine' plays in the background. The soundtrack was recorded with a symphony orchestra of over 60 musicians at London's renowned Abbey Road Studios. It is the first time a Disney Resort has used drone technology for a daily outdoor show on its Castle. This innovation is another step forward in developing immersive and spectacular experiences for Disneyland Paris guests, where technology paves the way for enchantment.
Meet and greets with Disney Characters are gradually returning to their original format. They offer visitors a chance to meet and greet their favorite Disney Characters, get close to them, pose for a photo or ask for an autograph. An unforgettable moment! The beloved show Mickey and the Magician returns on April 23.
To celebrate its 30th anniversary, Disneyland Park will be reimagined with new décor such as Gardens of Wonder with 10 enchanting, themed installations of 30 Disney and Pixar kinetic sculptures "come to life" in front of Sleeping Beauty Castle. They celebrate wildlife and the diversity of beloved Disney and Pixar characters. The Gardens of Wonders offer an enchanting walk for visitors. The 30 works of art are inspired by various sources of inspiration, from children's windmills to the world of Salvador Dalí. They combine materials, colors and lighting effects to create an enchanting atmosphere in Central Plaza. The 3D modeling and handcrafted production of these 30 works of art was carried out by the landscape and entertainment teams in collaboration with two French companies, After and Plastic Studios, who have experience in set design and whose unique skills have contributed to guest experience for years. Many specialists such as engineers, technicians, painters, 3D modelers and more have worked for months with the Disneyland Paris teams to create the poetic Gardens of Wonder. The Disneyland Paris Landscaping team has also collaborated with a Parisian start-up, Aglaé Design, to create innovative luminescent techniques to make surrounding plants glow in the dark thanks to a 100% natural, biodegradable nutritional serum. This technique reveals a beautiful new side of nature around Sleeping Beauty's Castle.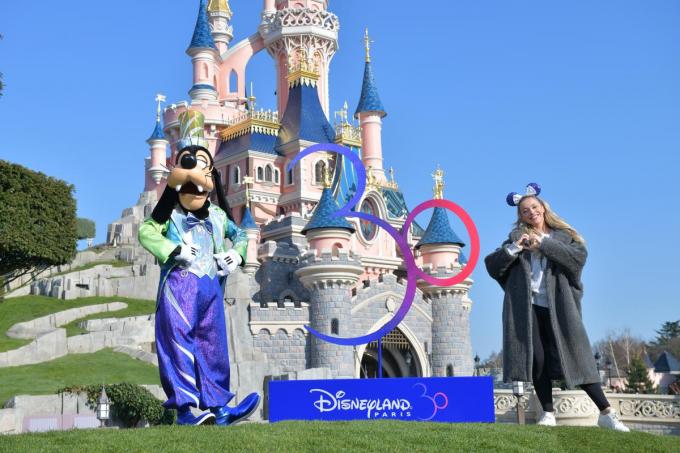 In addition to the many visitors who visited Disneyland Paris on the occasion of the start of the 30th anniversary, there were also international celebrities, accompanied by their family and friends: Camille Dhont, Julie Vermeire, Jamie-Lee Six, Henri PFR and Emma Heesters. Each of them had the opportunity to discover all the news and their favorite attractions and shows, including the new Disney D-Light pre-show, which ends with a drone show over the iconic Sleeping Beauty Castle.
For the 30th anniversary of Disneyland Paris, Minnie asked British designer Stella McCartney to create her first pantsuit at Disneyland Paris. Minnie Mouse will wear this new outfit beginning March 31, for Women's History Month, at a Photo Location in the Studio Theater. Visitors will have their photo taken with Minnie in a colorful and beautiful setting that exemplifies her image as a fashion icon throughout the years. "I am delighted to be working with the one and only iconic Minnie Mouse. I designed a custom outfit for her to celebrate the 30th anniversary of Disneyland Paris. Minnie has always had a special place in my heart. We share the same values. What I love about Minnie is the fact that she embodies happiness, self-expression and authenticity, and that she inspires people of all ages all over the world. Also, she has great style! And as part of a global partnership with The Walt Disney Company, Stella McCartney is launching a one-of-a-kind Minnie Mouse t-shirt as part of International Women's Day. This t-shirt will be available exclusively online and in Stella stores beginning March 8, 2022. And starting in spring 2022, Stella McCartney will launch a line of limited-edition merchandise, inspired by the Disney classic Fantasia. Fun Facts Disneyland Paris has its own creative studio that focuses on product development. It constantly follows the latest trends in shapes and colors and also follows the latest technological advances. The team, made up of a hundred talented Cast Members who work in the fields of drawing, shopping, fashion design, visual merchandising and window design, have spent almost 18 months developing these new collections. (PADI and Disney)