The original Oculus Quest was the Nintendo Switch of the virtual reality world. For the first time, it was possible to play serious VR titles without a PC with just the headset on. This way you kept your mobility and wireless connection, and if you still wanted to play a PC VR game with a bit more graphics, you could connect the Oculus to your PC with a link cable to allow many people to connect. take over the independent part of the most powerful PC Glasses. Perfect, but could it be better? Oculus Quest 2 came out a year and a half later. Is he also an independent superstar?
First impression
The Oculus Quest 2 comes in a sturdy, well-organized box — not one you can never put your devices back in once you take out your headset and controllers. As nice as that is: the box is very large. You don't throw it in a backpack to virtual reality with friends. A stupid choice, because you also want to take this VR headset, which requires no PC and no wires, on the go and show it to the whole world (and above all: let the whole world experience it).
As nice and simple as the packaging is, I would have preferred a more compact box or maybe even a bag to safely carry the device around, as is the case with the Sony WH-1000XM4 headphones, for example. On the other hand, there is of course more money to be made from the separately available cases, so Oculus probably chose to use this case for that reason.
Oculus Quest 2 Hardware
In terms of hardware, the Oculus Quest 2 is much better than its predecessor. For example, the screen has increased its resolution from 1440×1600 to 1832×1920 pixels per eye and the refresh rate has been improved to 120Hz. The biggest advancement in hardware is under the hood: the Quest 2 is powered by the Qualcomm Snapdragon XR2 processor with 6GB of RAM.
Compared to the Quest 1's 2GB of RAM, this is the most notable and welcome upgrade. Storage options have also doubled down, because where the original Quest had a base 64GB model and a more expensive 128GB option, the Quest 2 has a base 128GB model with the option of a 256GB version. Enough of numbers, because if you have something to do with virtual reality, it is experience. What is it like to put on glasses?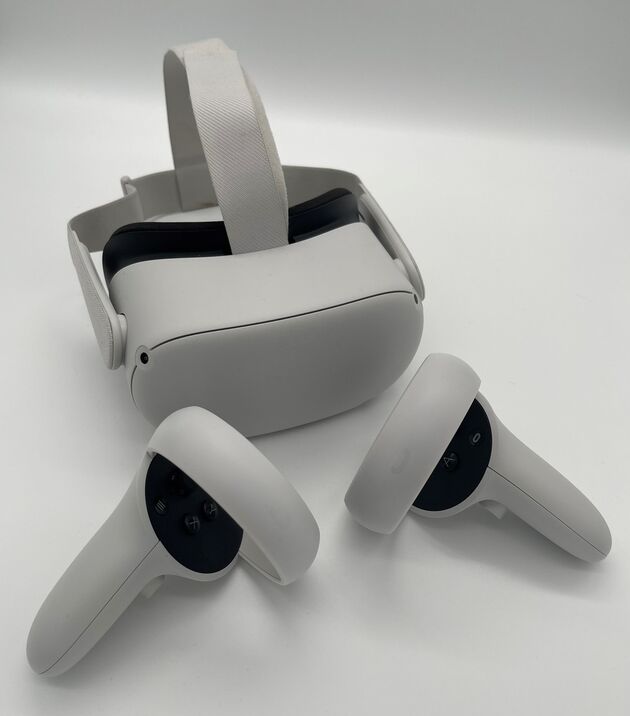 facebook mandatory
When you first turn on the Oculus, you have to log in to your own Facebook account almost immediately, and that's immediately followed by a major downside of the device. You can't use Oculus Quest 2 without a Facebook account. This may be a reason for many people not to buy Quest. Especially since you can also go directly to Facebook Messenger: that way, if you put on your glasses with a friend, she can read all your messages. Fortunately, you can disable Facebook Messenger, but not log in through Facebook.
Once you've logged in, you'll end up in a virtual space from which you can choose which one. For example, I really like Japanese: it feels like you're in a Japanese temple and it's very relaxing. That's certainly good for the first few times you use it, because there's a lot that comes to you with the VR goggles on. Each time, your eyes have to get used to the resolution, where to look, how close things are, etc.
very soft
Still, you'll probably get used to it pretty quickly. Due to the improved resolution and refresh rate, everything seems to be a bit smoother, and this is especially noticeable in video apps like Netflix and YouTube. Unfortunately, VR games don't have next-gen quality in terms of graphics, so you'll notice it less quickly. Thanks to the new processor, everything runs a little better in fast and busy games. Which also loads faster than its predecessor.
After a while, you realize that the headband is a bit plain: if it were a bit more luxurious, it would probably be easier to leave it on longer. On the other hand, you can only use the battery for two or three hours, so at the same time we understand that Oculus has chosen this combination. Plus, here we are again, Oculus also sells more luxurious headbands with a built-in battery for longer game play.
Virtual reality
At the beginning of virtual reality, I had a handful of "virtual experiences" that briefly showed the potential of virtual reality for the future. Think of the virtual roller coaster or a 360 degree video in poor quality where you could look around. Very good, especially if you want to quickly show your friends or family what you are doing.
But that future is already here. Since the demo, much better experiences and fitness apps have appeared that allow you to work on yourself in a fun way with the help of a game of skill. Perfect for today's corona life where going to the gym is sometimes not possible. Or for people who have a pretty high threshold to go to a gym. If you prefer to take it easy, there are also meditation apps. If you miss the office, you can use a productivity app that lets you work in a virtual office.
metaverse
Of course, we can't ignore the idea of ​​the Metaverse in this. If we really spend more time in a virtual world online, it will do so with VR goggles (or AR goggles) on our heads. Oculus Quest 2 offers an interesting glimpse of what it should look like. The fact that the main menu is already a kind of room gives that feeling of living in a VR world, but there is more.
There are also apps that allow you to sit online with other people in a theater to watch movies. You can even talk to other people, throw popcorn at them, or sit next to someone else. With Oculus Quest 2 in mind you can better imagine what such a Metaverse can mean: how you will also make purchases there, like new Nike shoes for your avatar, but above all: how you will be able to interact with other people. Of course, everything is still a bit rigid, but in the future the technology will be better again, more will be invested in these types of platforms and the experience will feel even more fluid.
Virtual reality games
At the moment, though, the main reason for VR headsets remains for gaming. For example, serious titles from developers large and small have been released. Think of more accessible games like Beat Saber or Dance Central, but also very long games like The Walking Dead: Saints & Sinners and Medal of Honor: Above and Beyond that are easily over 10 hours long. This makes Quest 2 very versatile and there is something for everyone.
Playing on this device works like clockwork. You feel in Dance Central exactly as if you were dancing in a club (just check every now and then that you're not accidentally dancing to a plant out of a closet, like you) and in The Walking Dead you can be completely surprised if suddenly a Walker appears to be behind you. It's an intense experience for your senses, so we don't immediately see that we would do this for 10 hours straight, but VR for a few hours a day is a very enjoyable activity and can also be healthy, because you do it. Move.
Nausea
Of course, there's always a risk in VR that you'll feel very nauseated after removing your goggles. It really depends on what you do with the glasses. In a game like Dance Central everything feels so real and you determine the moves yourself, so you're less likely to experience it than in a video where you're on a roller coaster car. So your body is more easily confused because the brain is expecting something different than what is actually happening to the body. It is good to take a break from time to time, because you notice that it is an exhausting activity, especially for the eyes.
Oculus Quest 2: Our verdict
For someone new to VR, the Oculus Quest 2 is a more than good choice as a first VR headset. It's much better than its acclaimed predecessor in every way, and it comes at a much better price, too. The Oculus Quest 1 costs €500 for the 64GB version, while the Oculus Quest 2 currently costs €350 for the 128GB version. More virtual reality for less money. However, for that you have to give up something, namely some of your privacy, because you are forced to use a Facebook account. If this isn't an issue for you, then the Oculus Quest 2 is the way to go in VR.
Laura Jenny

When you're not tapping, you're floating somewhere in the wonderful world of entertainment or on a plane to some great place in the real world. Mario…