Hesitantly, we shuffled inside and took a seat in the spacious, high room. The seats are in front of a giant screen on which a presentation will later be projected. At the rear of the high-rise office is a full-width glass wall with a spectacular view of the San Francisco Bay and the Golden Gate Bridge. I get up to enjoy the view. The place of business is the headquarters of Salesforce, the American technology company that makes CRM software (customer contact software).
Unfortunately: the entire encounter takes place in virtual reality; physically I am in my own house, with a large virtual reality glasses (the Oculus Quest 2) on my head and a controller in each hand. Salesforce has recreated its Silicon Valley headquarters pixel by pixel, including the stunning view captured by drones. The company has been working with this type of glasses for a few months, both for internal meetings and for meetings with clients.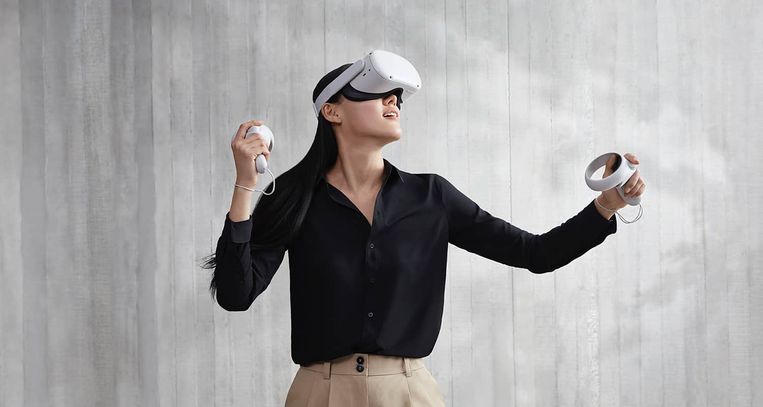 Salesforce has 60,000 employees in over a hundred offices around the world, including the Netherlands. Maintaining 150,000 customers is also a challenge for Salesforce during the global coronavirus pandemic and associated work-from-home work. "Companies around the world have learned one thing: If you don't have a digital way to connect with your employees and customers, you don't have much of a chance of survival," says Michiel van Vlimmeren, director of Salesforce Netherlands.
Hence the VR glasses. Of course, Salesforce also uses video conferencing via Zoom or other apps, but like other companies, Van Vlimmeren and his colleagues also run into limitations: a lack of real contact and loss of focus because employees are inclined to do something during a Zoom meeting. do the opposite. For example, track email.
Pandemic

The Netherlands innovation team took the lead last year with the introduction of virtual reality in the workplace. Around 150 pairs of glasses circulate in Northern Europe, 100 of which are in the Netherlands. Meetings are held here every week, with an average of between ten and fifteen participants. According to Van Vlimmeren, we are only at the beginning of a development with these glasses, now that various studies have shown that people will also work from home more often after the pandemic. Once started with virtual rollercoaster rides, games, and porn, the glasses appear to be getting serious application in the form of meeting rooms with PowerPoint presentations. Although Van Vlimmeren sees the benefit mainly in the creative processes.
Logically, Salesforce is not the only one that sees the possibilities of virtual reality in the workplace. Facebook recently announced the arrival of Horizon Workspace. It is a virtual reality application, also intended for Oculus glasses, that allows people who are distant from each other to meet in a virtual space. Facebook's Mark Zuckerberg is a firm believer in these kinds of apps. He is supported in this by hard figures. For example, IDC predicts that global spending on vr and ar (augmented reality, glasses that just project an extra layer of information on top of the ordinary world) will grow sixfold, from $12 billion last year to nearly $73 billion. in 2024. The market research firm explains the sharp increase due to the corona pandemic and the accompanying substantial investments by companies.
emotions

Ton Wilthagen, professor of the labor market at Tilburg University, also has high expectations for this type of new technology. "One of the lasting effects of the corona period is that people will work from home more and meet remotely." Therefore, the need for good solutions is great, which is why technology companies invest in them. Because with Zoom, according to Wilthagen, you can no longer get fat in the future: 'Everything is a bit stunted, as if you were looking at a class photo with sound. And half the time they're looking at each other's wallpaper. You are not in the same environment as your interlocutor, which is really a big disadvantage.'
Virtual reality could solve that problem in the long run, Wilthagen thinks. So there is a lot of innovation to be done. Because virtual reality doesn't work perfectly either. Wilthagen calls the lack of interaction a big drawback at Zoom: "You can't clearly see if your conversation partner is in a bad mood." If VR wants to do this better than Zoom, it will have to take big steps, because there are only slick avatars in front of you, with no trace of emotion at all.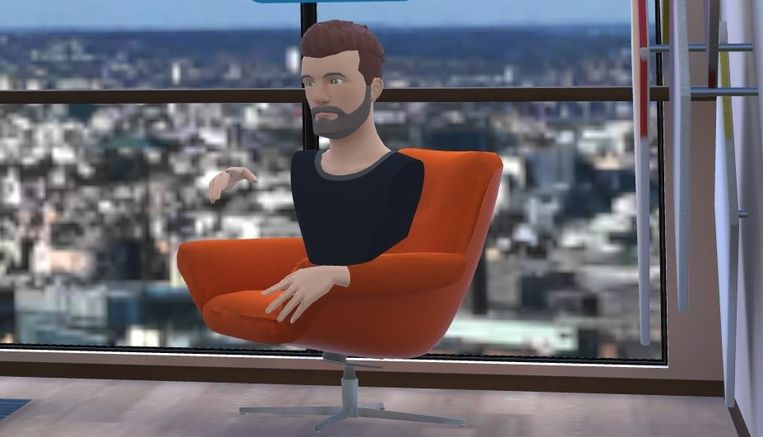 There are still more obstacles to overcome. The still high purchase price of a virtual reality set, for example. The Oculus Quest 2 from Facebook costs at least 350 euros. Also, the first use requires some practice. Salesforce tries to remove these barriers by sending customers and employees a briefcase with an integrated video screen with clear instructions.
Journalists attending a demo on a warm September afternoon are also sent such a suitcase ahead of time so they can practice lifting virtual objects and moving around a room. Salesforce uses existing virtual reality software called Glue. This allows employees or clients to visit virtual spaces, make presentations, but also keep track of their mail or take notes. The latter is, in fact, impossible to do: typing a word on a virtual keyboard is already quite an achievement.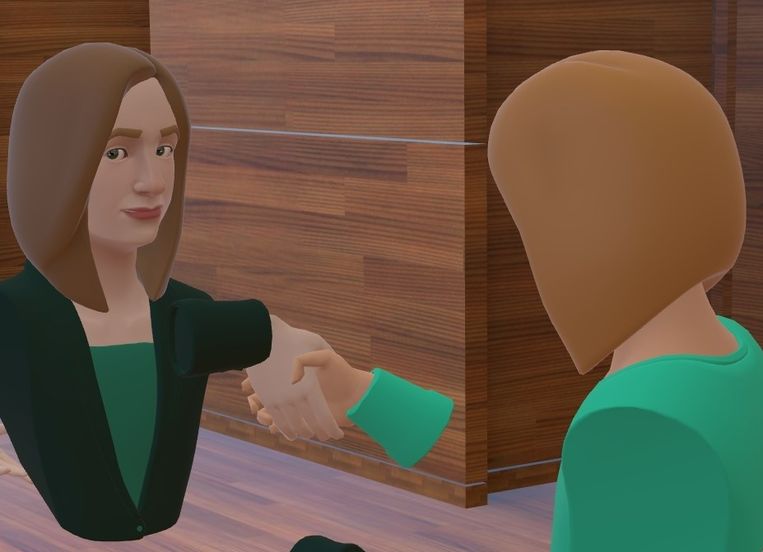 What goes much better at the first meeting: shake hands, pour a cup of coffee or play a game of chess. Virtually everything, of course, which is a major limitation, especially with coffee. More important is the feeling that everyone is truly in one room, without the distraction of all sorts of screens or desktop clutter. Clever tricks like spatial audio contribute to this. If a doll is to your right in a room, the sound will also come from the right. And if you get close to a group, conversations become clearer.
Once the first discomfort has been overcome (how do I move in a virtual space, how do I feel?), others take its place. He is still a cumbersome, heavy, pinching colossus on the head. And the VR glasses only last a few hours on a single battery charge. But before that time, your carrier's battery is also long and empty.